As much as many people might like the notion of owning a top quality home cinema receiver and speakers, they're horrified by the thought they'll have to visit retailers, research components and evaluate umpteen different brands before finally taking pot luck on a selection. Who can blame them?
That's why Onkyo is taking the confusion and legwork out of the process. It's launching three new, fully-matched home cinema receiver/speaker packages that are designed to be easy to set up, simple to operate and a blast to listen to… properly integrated home cinema without the tears, in other words.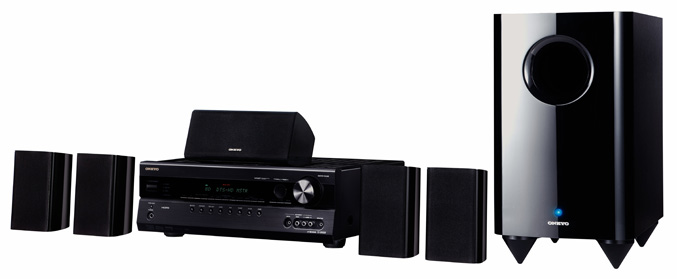 HT-S6305 – 5.1channel Home Cinema receiver/Speaker package with iPhone/iPod dock
Our top of the range package offers a specification that's bleeding edge in every respect. Comprising the TX-SR508 7.1-channel receiver (see separate release for full details) and gloss-black finished HTP-638 5.1-channel speaker system (with wall-mountable satellites) this high-performance combo will leave your senses dizzy with excitement when fed a Blu-ray with a HD audio soundtrack.
Like all Onkyo 2010 packages this one decodes 'lossless' Dolby TrueHD and DTS-HD Master Audio, as well as every other surround sound format. Powerful 192kHz/24-bit DACs from Burr-Brown have been fitted, offering crisp, clear audio with a high inherent resistance to sonically degrading jitter.
Delivering 130w per channel (plus 150w from the active subwoofer) there's more than enough power held in reserve to deal with the most challenging of soundtracks. Gamers' needs, too, are addressed with four specific DSP modes that'll genuinely enhance their playing experience.
A quartet of 3D video-compatible HDMI 1.4 inputs are provided to hook up all your audio/video sources, along with two sets of component video inputs. Having the latest incarnation of HDMI onboard also means that audio from your HDTV's tuner can be sent direct to the receiver, saving the owner having to run an extra optical cable.

The receiver at the heart of the system is the 7.1-channel TX-SR508, also sold separately as a standalone receiver. You might wonder why a 7.1-channel receiver is being supplied with a 5.1-speaker system… the answer is to give consumers a choice.
A quick explanation: the receiver has a built-in Dolby Pro Logic IIz mode that allows owners to enhance the sense of home cinema ambience by placing an extra pair of satellite speakers above their screen, making seven in total (plus the subwoofer). Understandably, many package purchasers are quite happy to use the five speakers and subwoofer supplied but the potential to upgrade the experience is at least there, ready to be taken advantage of as and when required.
Alternatively, owners might wish to use the receiver's Powered Zone 2 multi-room facility and place the extra pair of speakers in a second room (a kitchen or dining room perhaps) and listen to a different stereo source there.
The ease with which a system can be set up is of primary importance to package buyers so Onkyo has made the process as simple as possible with a straightforward quick start guide. The company was the first to colour-code all its loudspeaker inputs for ease of connection (identification labels are supplied for the colour-coded speaker cables) and there's also an informative Onscreen Display that's overlaid on top of the video picture you're watching.
Getting the speaker system correctly installed will take just a matter of minutes thanks to the Audyssey 2EQ auto set-up system fitted to the receiver. Just connect and place the supplied microphone and the system works out all the distance/levels automatically using a set of sound pulses… easy!
Included in this package is Onkyo's excellent UP-A1 iPhone/iPod dock, enabling audio and video playback via one cable to the receiver without the need for a separate power supply (front-panel audio and AV inputs are also fitted for non-Apple devices). Want to add a DAB+ tuner? No problem, the optional UP-DT1 can be daisy-chained via the Universal port.
As a total, one-stop home cinema solution the HT-S6305 really takes some beating… just add a HDTV and your favourite audio/video source and you'll be at the movies in no time at all.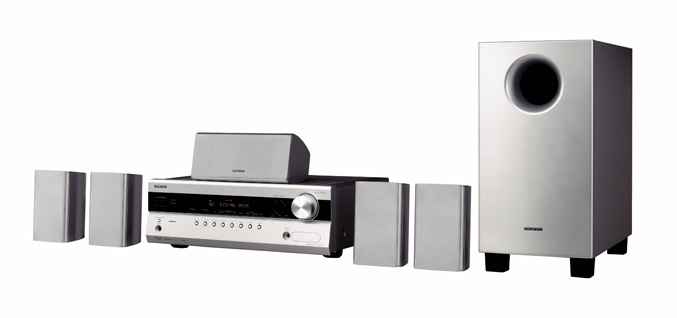 HT-S5305 – 5.1-channel Home Cinema Receiver/Speaker Package
Don't need all the power and features of the HT-S6305? This option will save you a tidy sum of money while delivering all the essentials for a knock-out home cinema experience.
Based around the HT-R538 5.1-channel receiver and HTP-538 Gloss Black 5.1-speaker system this option is slightly more modestly powered, offering 5 x 100w plus 100w from the active subwoofer.
Rearwards you'll find three 3D video-compatible HDMI 1.4 inputs instead of four, banana plug-compatible outputs for left/right channel only, and there are no front panel AV inputs. Internally, however the receiver uses the same DACs and DSP as the more expensive model, ensuring that the quality of audio resolution is on a par.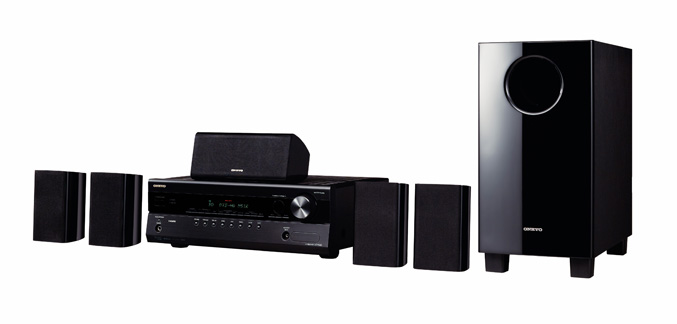 Set-up is manual instead of automatic but the clear and unambiguous overlaid Onscreen Display will help you get the job done in a few minutes. While there's no iPhone/iPod dock supplied with the package the inclusion of Onkyo's Universal port means that it can be added at any time in the future (along with a UP-DT1 DAB+ tuner, should it be required).
HT-S3305 – 5.1-channel Home Cinema Receiver/Speaker Package
Calling this an entry-level package really doesn't do it justice. Built to the same impressive standards as its two higher-end cousins this package is based around the slightly simpler HT-R380 5.1 channel receiver, delivering a hefty 5 x 100w of power.
The accompanying HTP-338 5.1 speaker system features a slimline, slightly less substantial active subwoofer than found with the HT-S5305, making this well-specified package eminently suitable for smaller rooms. Unusually at this low-price point, buyers still get the intuitive overlaid OSD, simplifying both set-up and day to day operation.
With a trio of 3D-capable HDMI 1.4 inputs, however, you can connect just as many HD sources so you won't lack for anything when it comes to connectivity there – once again adding a DAB+ tuner module or iPhone/iPod dock (or both!) is simplicity itself, thanks to the included Universal port.
Onkyo believes this package, the most affordable of the trio, will appeal strongly to the gaming fraternity, in particular, and to those on the tightest of budgets – it's where 'real' home cinema truly begins…
Source: Onkyo