Boston Acoustics, Inc., a world-renowned manufacturer of high-performance loudspeakers, is making big sound from incredibly small and stylish speakers with its new SoundWare XS 5.1 Surround Speaker System (MAP: $499).
The system features the smallest loudspeakers Boston Acoustics has ever introduced – five ultra-compact SoundWare XS satellites, each measuring less than 4 inches, plus a compact subwoofer. Artfully designed to complement any interior décor, each tiny satellite provides the rich audio power and performance of a true two-way speaker, with a 2½-inch (65mm) woofer and a ½-inch (13mm) tweeter. An attractive compact powered subwoofer completes the system with a 100-watt (250-watt Peak) amplifier and 8-inch (200mm) driver. The SoundWare XS 5.1 system is expected to be available in July 2009 in both black and white.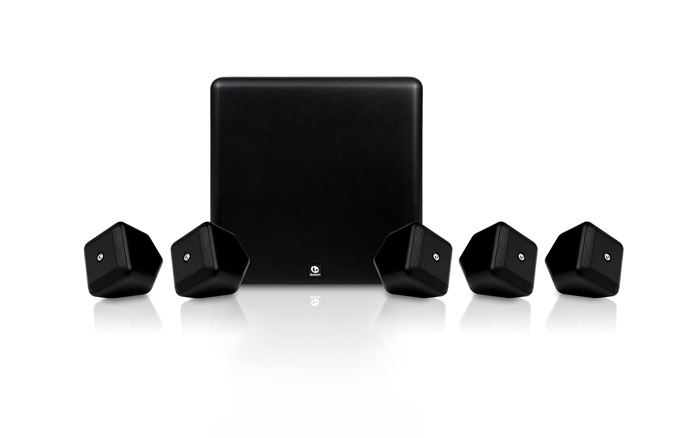 Looks Great, Sounds Great – Tabletop, Corner, Wall, or Ceiling!
The tiny SoundWare XS satellites feature SoundWare's signature polyhedron shape, as well as the line's unique articulating mounting bracket, which allows for an unprecedented range of easy and flexible placement options. They can be installed into a corner, in the middle of a wall, where the wall meets the ceiling, or even placed behind a couch facing straight up for total invisibility. The two included brackets mount the speaker just 1 cm from any flat surface or flush in a corner, and when mounted flush on a wall, the speaker can be aimed downwards or sideways to provide ideal positioning.
Noted Joe Stinziano, Senior VP of Sales and Marketing for Boston Acoustics®: "Our new SoundWare XS 5.1 loudspeaker package is sure to energize the entire category, offering consumers a high-value combination of style, sonic performance, placement flexibility, and space efficiency. The super-compact satellites are perfect for integrating elegantly into any room location and décor, and the matching compact powered subwoofer delivers the deep bass response necessary for true cinematic sound."
Compact Subwoofer Delivers Deep Rich Bass
The SoundWare XS system's 8-inch powered subwoofer, with its powerful 100-watt (250-watt Peak) amplifier and compact design, can be hidden in a corner, placed behind furniture, or can take "center stage" without taking over your living room. This great sounding and great looking powered subwoofer completes this amazing surround sound speaker system.
Stand Out or Blend-in For consumers who want to customize the look of their SoundWare speakers to stand out or complement the décor of any environment, all SoundWare speakers feature "Paint-Ready" cabinet surfaces.
Source: Boston Acoustics