Breakthrough Noise-Canceling Technology Eliminates Ambient Background Noise from the Microphone to Provide Crystal-Clear in-Game Communications.
Creative introduced Silencer, its proprietary noise-cancellation technology, with the release of the Creative Tournament Gaming Headset HS-1100-the world's first product to incorporate Creative's Silencer. Creative's Silencer is a breakthrough in voice technology that allows the user's voice to be clearly heard by other gamers they are communicating with, because Silencer intelligently eliminates ambient background noise to provide improved voice fidelity. So now a gamer can have music blaring in the background, have their dog barking, or pop cans of Red Bull, because Silencer will block out the ambient noise. Teammates and allies can hear their voice more clearly than ever before possible in online gaming. Silencer technology will be unveiled for the first time this week with the introduction and live demonstrations of the Creative Tournament Gaming Headset, at the Consumer Electronics Show in Las Vegas in the Creative exhibit #30651 in the South Hall of the Las Vegas Convention Center.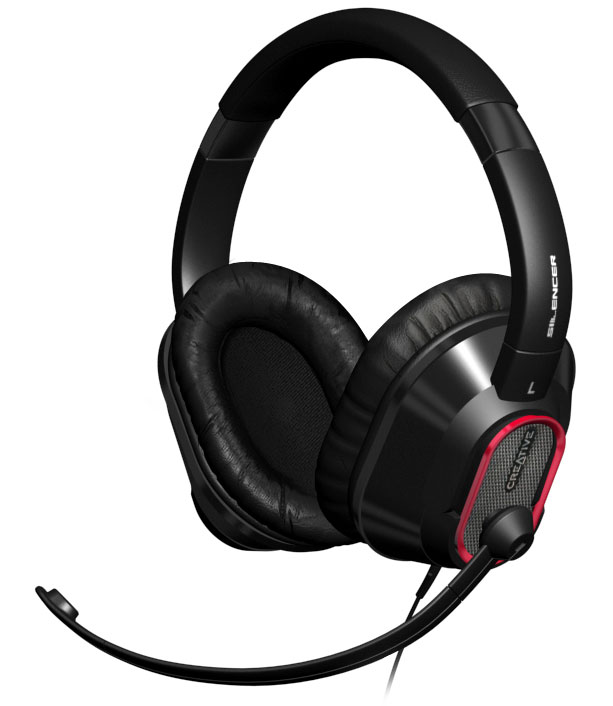 With the Silencer technology, gamers will be blown away whether they're playing an intense 5 v 5 Counter Strike™ match or a raid in World of Warcraft™," said Steve Erickson, VP and GM of audio and video at Creative. "Our award-winning audio engineers are passionate about gaming, so they had a lot of hands-on experience when they invented Silencer, which was developed specifically to give gamers a competitive advantage."
Just as Silencer is a breakthrough for in-game communications, Creative's proprietary X-Fi audio technology has set a new standard for game audio. The Creative Tournament Gaming Headset HS-1100 includes 40mm neodymium drivers for excellent sound quality, plus Creative's proprietary X-Fi audio technology, for improved audio playback:
X-Fi Crystalizer® technology leverages audio algorithms to intelligently and selectively determine how to restore the highs and lows from sound effects and voices that were damaged or diminished during the game audio compression process.

X-Fi CMSS®-3D technology creates virtual surround sound in games so you hear your opponents in their precise location even when you can't see them.
The Creative Tournament Gaming Headset HS-1100 also features:
VoiceFX which offers up to 18 selectable voice-morph personas that range from Aliens to Orc, for more engaging in-game voice communication

40mm Neodymium magnet drivers for excellent sound quality

A detachable microphone boom allowing the headset to be used as regular headphones in non-gaming scenarios

Ultra-comfortable earpads for extended gaming sessions

An in-line volume adjustment with microphone mute control

Foldable earcups offer convenient storage
Pricing and Availability
Priced at US$129.99, the Creative Tournament USB Gaming Headset HS-1100 is scheduled to begin shipping in Spring 2009. For more information visit www.creative.com.