Hercules unveils the DJ Console 4-Mx, the latest version of their DJ Console line, which features a large touch-sensitive, jog wheel, a built-in audio interface and intuitive control over 2 and 4 virtual decks.
The suitable for mobile DJs Console 4-Mx has steel and aluminium crafted body with dimensions of 15.75″ x 9.8″ and 3 clearly distinct sections which reproduce a set of 3 separate mixing devices: 2 decks and 1 mixing console, distinguished by color (grey/black), feel (brushed/lacquered) and material (aluminum/steel). The console provides enough space for a wide variety of controls including 89 controls in 2-deck mode and 150 controls in 4-deck mode.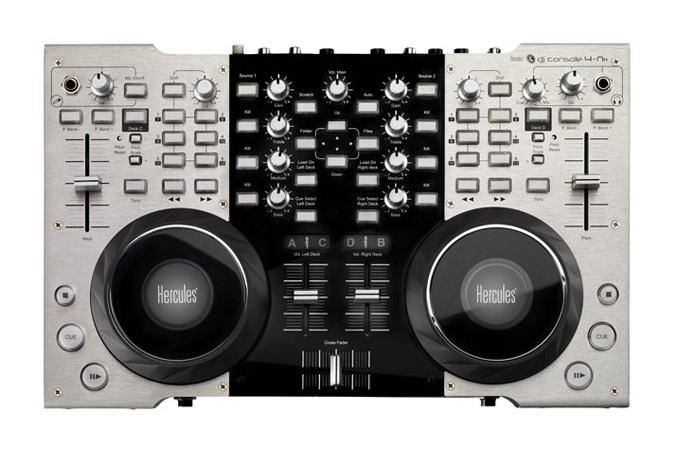 The two large jog wheels(4.7-inch in diameter x ¾-inch in height) have been designed for scratching with similar dimensions to CD players. The wheel's Detection Sensors featuring an integrated technology that detect the weight of the user's hand on the jog wheel tops and that cause them to depress by less than 1mm, like on some CD players, or the felt mat on vinyl turntable. This mechanical type of detection in the controller works under all conditions and eliminates the kind of interference that can disturb electrical detection-like static electricity, or by lighting truss systems, carpeting or shoes which electrically insulate the DJ.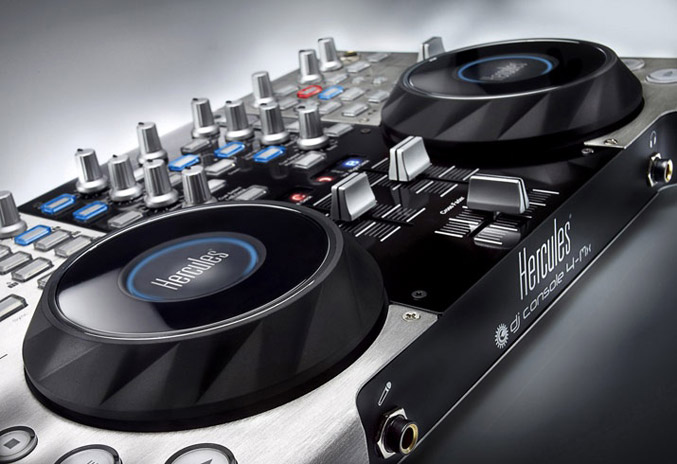 In the center of each jog wheel, have a backlit Indicator, that indicates the activation of  Touch Wheel mode, which lets the user scratch, or stop/restart music playback by simply changing their hand's pressure, while the External Ring made from non-slip texture gives additional control.
Features:
Multiple Controls – 89 controls in 2-deck mode and more than 150 controls in 4-deck mode
The effects/loops/Hot Cue zone – 6 transport buttons can be doubled up using its Shift button while a rotary encoder lets you modulate these effects
Control Customization Option – Customize these 12 controls, by assigning a function to each of the buttons, changing the bank of functions on the fly during a mix, and/or modulating the effects or the length of a loop
Pitch Faders – provide extended 14-bit resolution, a 60mm range of travel, and easily adapt to the DJ's needs thanks to 2 buttons to change the pitch scale
2 independent stereo outputs on the back panel, for mixing and previewing tracks:
4 RCA connectors to connect a hi-fi system or a mixer
4 mono jack connectors (6.35mm) to connect PA gear, with a Ground Lift switch on outputs 1-2 (in the event of a ground loop)
1 stereo jack connector (6.35mm) for headphones, with the user's choice of one connector on the top of the console, or one on the front panel
2 analog stereo inputs (4 RCA inputs) to connect audio sources:
4 input levels: phono level (for vinyl turntables), consumer line level (-10dBv, for MP3 players), pro line level (+4dBu, for studio gear), and boosted pro line level (+8dBu, for the most powerful DJing CD players)
1 microphone input, with talk-over function, with the user's choice of one connector on the top of the console, or one on the front panel
2 Standard Decks – the DJ Console 4-Mx can switch from (decks A and B) to two other decks (C and D) easily via the 2 Deck Switch buttons and deck names are displayed in the console's mixing section and all of its controls send and receive another set of MIDI commands, which lets the software know which virtual deck each command applies to
In 4-Deck Mode- the console sends more than 150 different commands to the software
Extra Controls and Customization – DJs mixing on 2 virtual decks can also enjoy a 2-deck extended mode: the Deck Switch buttons, which turn decks A & B into decks C & D in 4-deck mode, then double some controls on each deck, while keeping the deck's basic controls unchanged (such as the jog wheels, Play/Cue/Stop buttons, and volume faders)
The new Hercules DJ console comes also bundled with Atomix Productions' VirtualDJ7 LE 4-Mx DJing software , allowing for mixing on up to 4 virtual decks on both PC and Mac. It will be available from November 22, 2010. at an SRP of $449.99.