ASUS, the leading provider of intelligent and innovative home theater PC solutions, announced today the first member of its new O!Play Series digital media player line: the O!Play HDP-R1 HD Media Player. Aimed at providing stunning 1080p Full High Definition entertainment across a wide variety of media formats, the O!Play HDP-R1 HD Media Player boasts several exclusive features-such as a Music Shuffle feature and ultra-fast eSATA interface-for the best living room digital entertainment experience.
Stunning Full HD 1080p Resolution and Vast File Format Support
The O!Play HDP-R1 is currently the world's only High Definition media player which supports an extremely wide range of file formats, including MPEG1/2/4, H.264, VC-1, and the popular RM/RMVB. With the O!Play HDP-R1, users can share their videos and photos instantly from their PCs and notebooks in enhanced clarity and high definition with friends, family and colleagues-all in the comfort of their living rooms or conference rooms.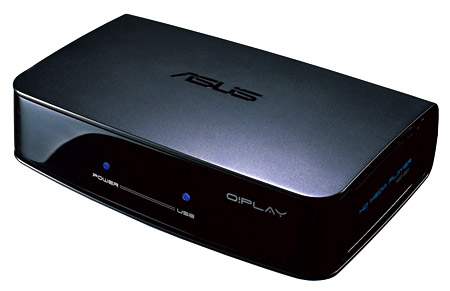 Exclusive Music Shuffle Feature for One-touch Music Playback
The O!Play HDP-R1 is the first high definition media player to provide a music shuffle function via a dedicated button on the remote control. With a simple touch of a button, the O!Play HDP-R1 collates all the music files in storage and then starts playing the music in random order. With the music shuffle function, users can enjoy their tunes both instantly and effortlessly without having to manually import any music files into the O!Play HDP-R1.

Exclusive eSATA Support-6 Times Faster than USB 2.0
While high definition content delivers stunning images, it also requires huge bandwidth to render the image quality to perfection. With the exclusive eSATA interface on the O!Player HDP-R1, users can experience up to 6 times faster transfer speeds* as compared to USB 2.0, virtually eliminating any delays in delivering high definition entertainment to the user.

Easy Access to Networked Content with LAN Support
The O!Player HDP-R1 is equipped with LAN support which allows users to stream their files effortlessly from their PCs-doing away with manual transfers of multimedia data from one device to another. Users can simply download and keep the multimedia files in their notebooks or PCs and still be able to enjoy them through the O!Player HDP-R1, be it in the living room or study.
Specifications
Supported video formats
MPEG1/2/4, H.264, VC-1, RM/RMVB
Supported video file extensions
.mp4, .mov, .xvid., .avi., .dvix., .asf, .wmv, .mkv, .rm, .rmvb, .flv, .ts, .m2ts, .dat, .mpg, .vob
Supported audio formats
MP3, WAV, AAC, OGG, WAV, FLAC, AIFF
Supported image formats
JPEG, BMP, PNG, GIF, TIFF
Supported subtitle formats
SRT, SUB, SMI, SSA
Outputs

HDMI
Composite Audio/Video
Optical Digital Audio

Inputs

USB2.0 *1
eSATA/USB2.0 combo port *1
RJ-45 LAN port *1
DC Power In

Dimensions
181.0mm x 125.3mm x 47.7mm
Power source
12VDC, 2A
Power consumption
<10W
Operating temperature
5°C(41°F)~35°C(95°F)

Source: Asus