iHome, a leading supplier of innovative iPhone / iPod speaker solutions, announced two new App-Enhanced offerings: iA5 and iA100.
The integration of App-enhanced hardware to the exploding app market that has already produced over 3 billion downloads across 50 million iPhone and iPod Touches currently in the marketplace, is the next frontier in products made for iPhone/iPod. Designed to work with iHome+Sleep, the soon to be released free app for the iPhone / iPod Touch, these new speaker solutions are the first alarm clocks to offer advanced features when used together with an app. Both products include tracking sleep patterns and gathering Sleep Stats, customizable alarms and music settings and new ways to interact with the most popular social networks, all through a user-friendly touch screen interface.
iA5 App-Enhanced Alarm Clock Speaker System for iPhone and iPod: winner of the CES Innovations Award for the Personal Electronics category, the first device from iHome to take advantage of their free downloadable App, iHome + Sleep, the iA5 will turn nightstands everywhere into a personal information hub that will connect users with the world around them.
Studio Series iA100 App-Enabled Alarm Clock with Bluetooth and FM Radio for iPhone and iPod: with astounding clarity and depth from Bongiovi Acoustics Digital Power Station, the iA100 turns the clock radio into a wireless control center. Equipped with Bluetooth and a built-in microphone, users can answer and place calls via speakerphone, as well as wirelessly stream music from their Bluetooth enabled phone, PDA or computer.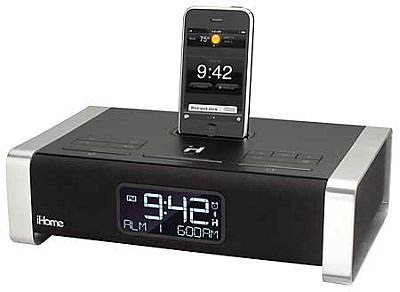 "By combining our expertise in hardware with thoughtfully crafted lifestyle applications, we're helping users harness the true power of the iPhone OS platform," said Evan Stein, vice president of Marketing, iHome. "The introduction of our first-ever App and App-Enhanced alarm clocks delivers the most customizable experience we've ever created."
The new App-Enhanced speaker line will be available later this year. For further information, please visit www.ihomeaudio.com.
Source: iHome, PR- Inside