NAD Electronics, the highly regarded manufacturer of high-performance audio/video components, introduces the Masters Series M2 Direct Digital Amplifier, delivering a new level of audiophile amplifier performance. The realization of a decade-long research project, the immensely powerful M2 is the Consumer Electronics industry's first true digital amplifier available to consumers. Dynamic and musically revealing, the M2 produces music that seems to come from the structure of space itself; wonderful, precise, easy to enjoy for hours without tiring.
Long a leader in amplifier technology, NAD is the first well-known audio/video brand to develop a revolutionary product like the M2 — a digital paradigm-breaker that sets new benchmarks for both objective and subjective musical quality. The M2 is shipping this summer at a suggested price of $5,999 (U.S. MSRP).
Superior to all previous so-called digital amplifiers, the M2 can be thought of as a Digital-to-Analog Converter (DAC) that directly drives a loudspeaker with the same precision as the best low-level DACs. More sophisticated than the Class D analog amplifiers often erroneously referred to as "digital," the M2 is the first digital amplifier to exceed almost all the best analog amplifiers for low noise and distortion. At the same time, the M2 can deliver startling power: 250 Watts to each of two channels, and 500 Watts dynamic power. As such, the M2 redefines what is possible with digital amplifier technology.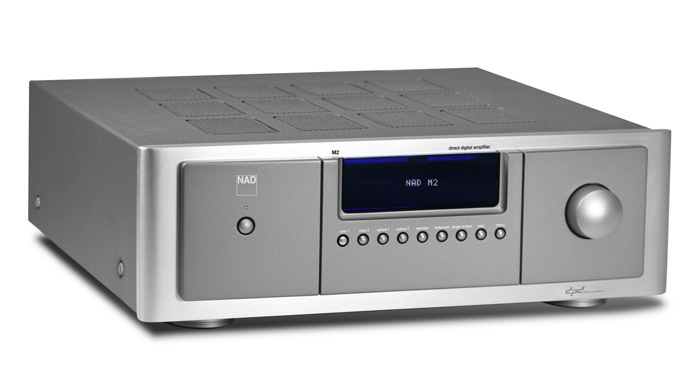 The M2 is also the FIRST digital amplifier to fully exploit the resolution potential of High-Definition (HD) audio, the FIRST to fully implement digital error correction, the FIRST to use it to reduce distortion, and the FIRST to introduce the innovative Direct Digital Feedback Amplifier architecture developed by U.K.-based Diodes Zetex Semiconductors Ltd. in collaboration with NAD.
The M2's extremely wide data path generates blinding speed and precision with record-setting low noise and distortion for stunning musical intimacy, a feeling of being closer to every performance. A built-in Analog-to-Digital Converter accommodates existing analog audio sources such as turntables and FM tuners.
More information is available from NAD's M2 White Paper, and later at www.nadelectronics.com as units start shipping this Summer.
Source: BusinessWire