SANYO  introduced four ultra-compact digital voice recorders. Each device offers convenient MP3 recording and long battery life for extended use.
Select models offer advanced features including a built-in stereo microphone, USB file transfer, up to 29 hour battery life, expandable SD memory card slot and up to an amazing 544 hours of record time (with an optional 8GB SDHC card).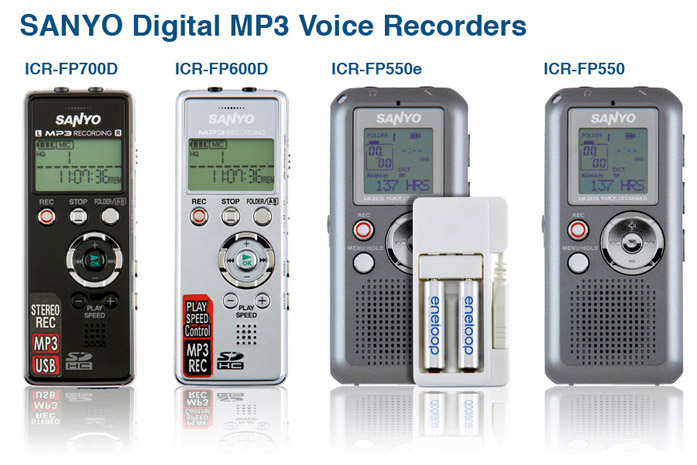 "SANYO's new line of MP3 recorders raises the bar in digital voice recording technology," said Tom Van Voy, Vice President of Marketing and Product Planning, SANYO Consumer Products Group. "Students, business professionals and music enthusiasts will be pleased to know that our stylish, high performance designs feature universal MP3 recording; making them easy to use and the recorded content easy to share" Set for U.S. retail availability in early May 2009, SANYO's advanced new digital MP3 voice recorders include the ICR-FP700D ($129.99 MSRP; Black), ICR-FP600D ($99.99 MSRP; Silver), ICR-FP550e ($79.99 MSRP) and ICR-FP550 ($64.99 MSRP).
SANYO ICR-FP700D
• High Quality MP3 Recording Format (up to 192k bits/sec stereo encoding)
• Built-in Stereo Microphones
• Expandable Memory with SD Card slot (1GB SD Card Included)
• Convenient USB file transfer (cable included)
• Up to 544 Hours of Recording (with optional 8GB SDHC card)
• 29 hour battery Life* ("AAA" alkaline battery)
• -50% to + 200% Playback Speed Control (MP3 files)
• Voice Activated System
• File Edit Function
• Timer Recording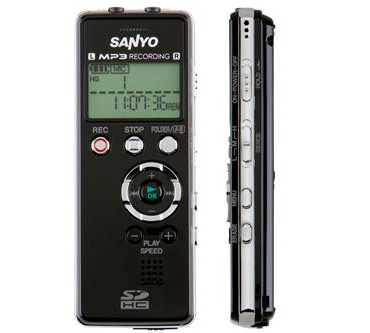 SANYO ICR-FP600D
• High Quality MP3 Recording Format (up to 192k bits/sec stereo encoding)
• Built-in Microphone (monaural) and External Stereo Microphone Jack
• SD Card Slot for Up to 544 Hours of Recording (with optional 8GB SDHC card)
• 29 hour battery Life* ("AAA" alkaline battery)
• -50% to + 200% Playback Speed Control (MP3 files) • Voice Activated System
• File Edit Function
• Timer Recording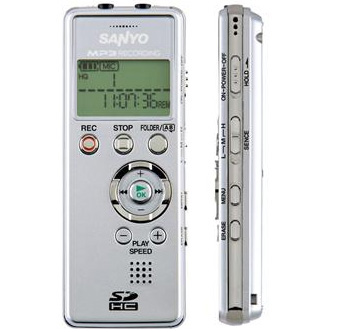 SANYO ICR-FP550e
• MP3 Audio Recording
• Two Rechargeable eneloop Batteries ("AAA") and USB charger included
• Up to 280 Hours of Recording Time
• Built-in 1GB Internal Flash Memory
• HQ/SP/LQ Recording Mode
• Dictation/Conference Microphone Sensitivity
• Voice Activated System
• MP3 Stereo Music Playback
• Fast/Normal/Slow Play Speed Control
• A-B, One or All Repeat Function
• Recording LED Indicator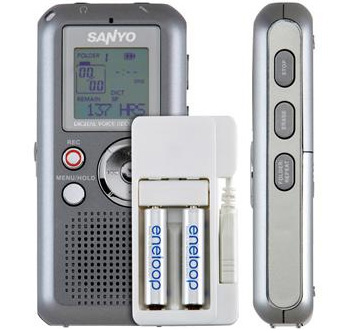 SANYO ICR-FP550
• MP3 Audio Recording
• Up to 280 Hours of Recording Time
• Built-in 1GB Internal Flash Memory
• HQ/SP/LQ Recording Mode
• Dictation/Conference Microphone Sensitivity
• Voice Activated System
• MP3 Stereo Music Playback
• Fast/Normal/Slow Play Speed Control
• A-B, One or All Repeat Function
• Recording LED Indicator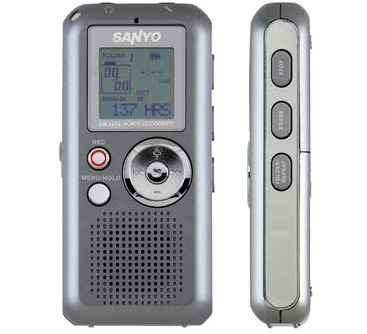 For more information on SANYO's digital voice recorders, please see:
http://us.sanyo.com/Digital-Voice-Recorders