ASUS today announced the launch of the ASUS Cine5 PC speaker which provides accurate 5-channel surround sound in personalized spaces such as study rooms. With its all-in-one design, the Cine5 delivers realistic and dynamic surround sound to satisfy consummate gamers and personal entertainment users. To deliver exceptionally full sound from a compact form factor, ASUS drew on its expertise in high-performance audio cards during the development.
Leading Surround Technology for True Cinematic Enjoyment
The Cine5 is the first PC speaker in the world to offer leading surround sound presence with the new "EmbracingSound Theatre HD" technology. This patented technology leverages on a discrete 5-channel output to deliver full audio surround, which users can experience whenever they are directly in front of the speaker. In a First Player Shooter game, the Cine5 provides precise sound location that improves shooting accuracy and heightens gaming thrills. The Cine5 also revives 5-channel audio from any down-mixed 2-channel source—for a high-fidelity, multi-channel sound during PC gaming or movie sessions.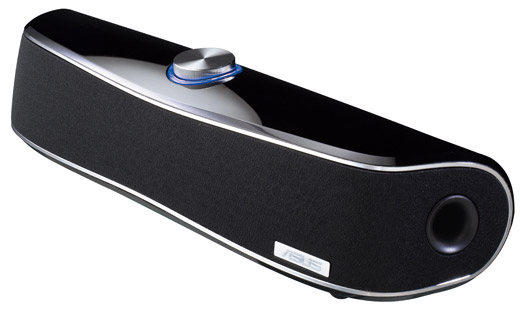 Space-saving Design and Convenient Home Entertainment Setup
By integrating an array of speaker drivers into a single bar, the Cine5 PC speaker helps users save space in their study rooms. Additionally, installation is simplified by eliminating the need to set up multiple satellite speakers—users just need to place the Cine5 PC speaker below the computer monitor. No positional adjustment is necessary to get the sweet spot for audio recreation.
Refined Audio Performance
Utilizing premium speaker drivers and a specially-designed bass reflex port, the Cine5 provides 15dB more bass than speakers of similar size, thus revolutionizing bass delivery in compact speakers—to add depth to games and movies. Also, its multi-driver configuration reduces individual driver load by 50%, resulting in better high-frequency responses for more brilliant sound.
Dress Up PCs with Elegance
The Cine5 PC speaker represents a modern form in PC speaker design. In a user setting, the three elements of a curved shape, black glossy finish, and its metal knob delivers a touch of elegance. It also blends in with most monitors, with its overall design featuring metal or rubber stands of different heights.
I/O and Control

3.5mm jacks for multi-channel inputs
Headphone output
DC in / Power switch
Volume knob / Mute button

Output Level

Frequency Response

Product Size
(W*D*H mm)

373 x 100 x 100 (With metal stands)
373 x 100 x 80 (With rubber stands)

Package Content

Cine5 Sound Bar Speaker x1
Power adapter (12V/3A) x1
5.1 channel audio cable x1
Rubber pad speaker stand x4
Metal speaker stand x1
User manual
Source: Asus