Onkyo has announced an elegant all-in-one micro system -the CS-545, which includes CD player, AM/FM tuner, USB connection and built-in iPhone/iPod dock
Onkyo CS-545's digital amplifier offers 2 x 50w of power output into its compact case, a 40-preset AM/FM tuner (UK: DAB/FM tuner), a multi-mode timer/clock, which can wake you up with your favourite radio music, a front-panel USB interface, allowing you to play music stored on devices such as flash drives or portable audio players. The build -in CD player can handle MP3-encoded CDs as well as CD-Rs and CD-RWs, with four MP3 playback modes – Normal/Random, Memory/Folder. The Digital Direct Dock  is capable automatically to recharges your Apple device and other features include a sleep/play/record timer, bass/treble controls, subwoofer pre-out, video output (for iPhone/iPod), battery-free memory back-up system (to keep your stored channels if there's a power cut) plus banana plug-compatible loudspeaker sockets.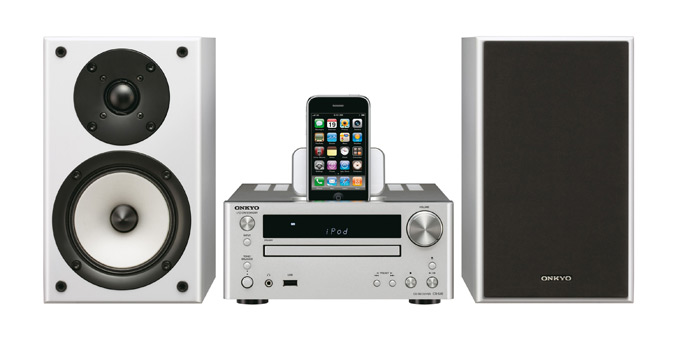 The CS-545 is available also with or without Onkyo D-045, 2-way, bass-reflex loudspeakers with 2.5cm soft dome tweeter plus a 12cm OMF (Onkyo Micro Fibre) mid/bass drive unit made from a pure cotton weave and aramid fibre.  The system will be available in black and silver from August for 350 euro.
Features:
Sources – CD, iPhone/iPod, Tuner, USB, Aux
Integral iPhone/iPod Digital Direct Dock
AM/FM tuner with RDS (UK version: DAB/FM tuner)
Alarm clock functionality
2 x 50w power
1 x Audio input, 1 x Video output (for iPhone/iPod)
1 x USB port, 1 x Headphone jack, 1 x Subwoofer pre-out