Spy MINOX cameras have in the past been the dream tool of under-cover agents for almost 75 years.
To ensure this legend continues into the digital age, MINOX, the miniature camera and optics specialists from Wetzlar, Germany, have designed the new MINOX DSC. An ultra miniature camera that maintains the renowned 8×11 dimensions but at the same time contains modern state-of-the-art technology.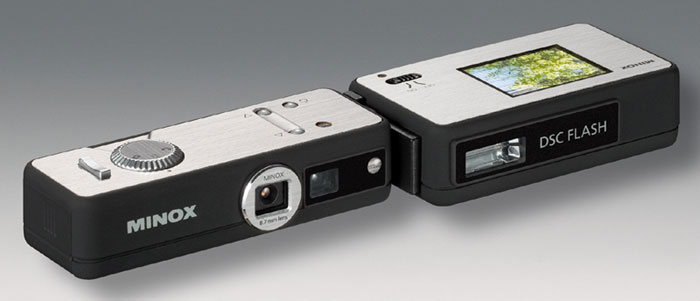 A digital version of the world-famous and legendary MINOX Spy Camera.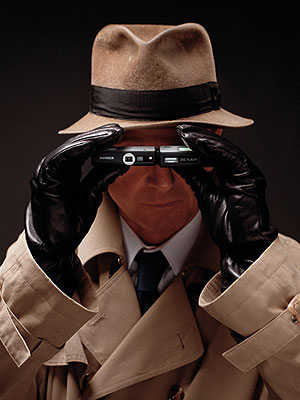 "It is not often that a designer gets the opportunity to deal with a legend. This MINOX classic has remained unmatched in photographic history", says head designer, Jens Kohlhase, and adds: "It's fascinating to me how much technical know-how can be packed into such a small space. Adapting the legendary spy camera to accommodate complex digital technology and still keep its ultra-miniature format was a real challenge."
With the new Digital Spy Camera (DSC) MINOX continues its tradition as developers of unique and sophisticated camera technology. Giving the company its name, this tiny spy camera was and still is a perfect symbol of the innovative strength of MINOX. In photography the name MINOX stands for precision in the smallest possible available space – or you could say, big ideas in a miniature format.
"The small spy camera has remained a legend", says MINOX Managing Director Thorsten Kortemeier. "The first thing one associates with MINOX 8×11 cameras is James Bond. Following that trend, the DSC is so small that it can disappear into a clenched fist. It can be taken anywhere and capture images of very good quality. It is a lot more than just a small camera, the DSC turns every photographer into a modern day spy", Kortemeier adds with a wink.
Technical Data MINOX Digital Spy Camera
Image sensor
5,0 MP, CMOS Sensor (3,2 MP hardware-resolution),
Dimensions 6,59mm x 4,9mm, 8,21mm diagonal
Image resolution
Still: 2.560 x 1.920 pixels (interpolated)
Videoclip: 640 x 480 pixels
Memory
Internal memory 128 MB NAND flash memory
External memory: mircro SD card up to 16 GB
Viewfinder
Optical (galileian-style)
Display
1,5'' TFT LCD display, 480 x 240 pixels
Flash
DSC: LED Flash
DSC flash/display-unit: electronic flash: GN 12 (ISO 100/21°)
Lens
4 elements glass lens with IR filter glass
Focal length
8,7 mm (corresponds to approx. 42 mm with 35 mm format)
Lens aperture
F 2.8
Focus range
1m to infinity
White balance
Automatic
Shutter speed
Automatic
Power supply
Rechargeable lithium-ion-battery/mini USB-cable
Auto power-off
OFF-Mode after 1 min. inactivity
File format
Still: JPEG
Videoclips: AVI
System Requirements

PC

Microsoft Windows ME/2000/XP
Intel Pentium III, 450 MHz or higher
128 MB RAM (recommended)
USB 2.0 High Speed
800 MB free hard disc space
Internet Connection


Mac

Mac OS 9; Mac OS X 10.x
500 MHz Power PC G3 or higher
128 MB RAM (recommended)
USB 2.0 High Speed
800 MB free hard disc space
Internet Connection
Computer interface
mini USB-cable
Dimensions
DSC: 86mm(L) x 30mm(W) x 21mm(H)
DSC flash/display-unit: 76mm(L) x 41mm(W) x 21mm(H)
Weight
DSC: ca. 90g
DSC flash/display-unit: ca. 80g
Scope of delivery
DSC, flash/display-unit, lithium-ion-battery for DSC and flash/display-unit, chain, mini USB-cable, USB-cable for recharging flash/display-unit, carrying case