The α digital SLR family grows with two new cameras from Sony that team responsive 'freestyle' Quick AF Live View for responsive shooting with class-leading image quality and powerful, easy-to-use creative features.
The α350 incorporates a brand new 14.2 effective megapixel APS-C type CCD sensor for amazingly detailed, lifelike imaging. It's partnered by the α300 that offers near-identical features with a sensor resolution of 10.2 megapixels.
Both new cameras bring the α line-up to four feature-packed, easy to use models from the entry-level α200 to the tough, responsive α700 for enthusiasts and semi-professionals. There's also a comprehensive α family of more than 24 compatible lenses plus lighting systems and other accessories.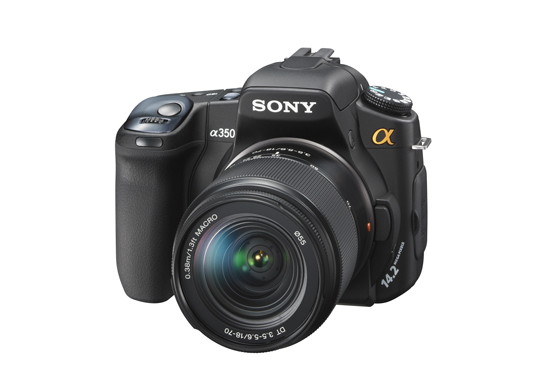 Quick AF Live View for high-speed, creative shooting
The α350 and α300 are the first digital SLR cameras to feature Quick AF Live View technology. Unique to Sony, this all-new system fuses the convenience of live image preview with the responsive TTL phase-detection system and rapid continuous shooting that's prized by digital SLR users. For the first time ever, Quick AF Live View overcomes the technical limitations that have made ultra-fast shooting and viewing impossible in live view mode.
In addition, an advanced new centre-cross 9-point AF sensor assures faster, more accurate AF performance in live view as well as optical viewfinder shooting modes.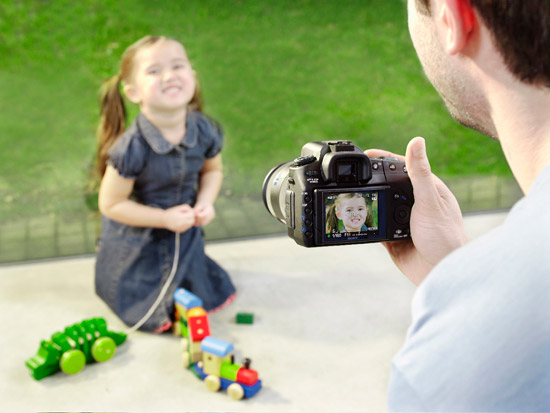 Photographers of all abilities can compose images with greater comfort and freedom using the 2.7-inch LCD screen. Tilting upwards by up to 130 degrees and down by up to 40 degrees, the variable-angle screen allows photographers to remain face-to-face with their subject. The effects of exposure compensation and white balance can be conveniently previewed in live view mode. There's also a bright, clear optical viewfinder that offers an alternative to live view shooting.

Superb imaging quality
The α350 features the latest iteration of Sony's advanced BIONZ image processing engine that optimises the extraordinary performance potential of the high-resolution CCD sensor.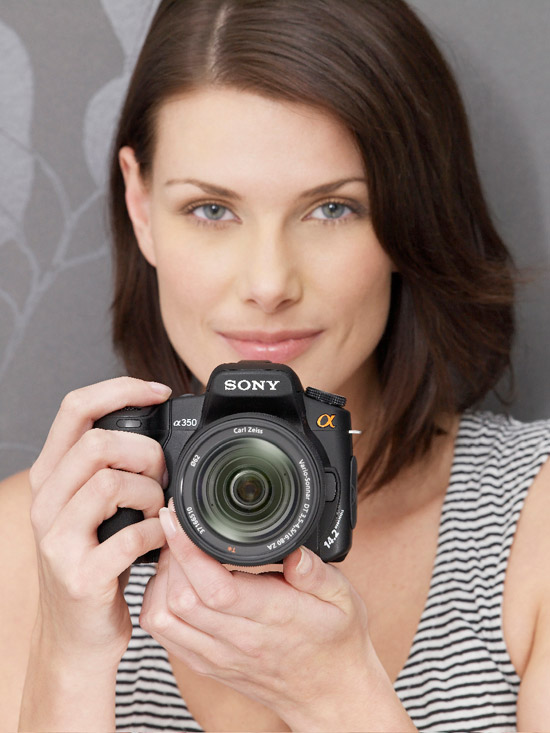 Powered by the BIONZ processor, the enhanced D-Range Optimiser automatically ensures balanced exposures with rich shadow and highlight detail. Improved detection of backlit scenes now delivers even more beautiful results, even with problematic against-the-light subjects.
Sensitivity is boosted to a maximum ISO 3200, allowing successful handheld shooting in low-light conditions without flash. A special High ISO Noise Reduction mode improves picture quality still further at increased sensitivity settings.
Super SteadyShot™ inside now offers improved anti-shake performance when shooting handheld with all αα100.
lenses. A new control algorithm now boosts correction to between 2.5 and 3.5 steps, compared with the 2.0-3.5 step range of the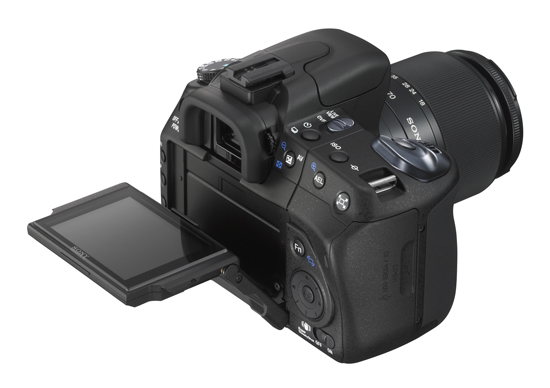 Greater shooting and viewing convenience
The α350 and α300 have been designed for greater shooting comfort and wider creative options, even for entry-level photographers who haven't handled a digital SLR camera before.
Available in Live View mode, a Smart Teleconverter function gives an instant digital zoom factor of 1.4x or 2x to increase the effective focal length range of your chosen α lens. Even with digital zoom activated, the extremely high resolution of the camera's 14.2 megapixel sensor ensures flawless, detail packed enlargements.
Both cameras are brilliantly easy to use, thanks to the intuitive display that lists frequently used functions with a quick press of the Function button.
In common with other α models, the Anti-Dust drive and protective sensor coating minimise the harmful effects of dust entering the camera body during lens exchange.
Both models also feature a class-leading shooting stamina of up to 730* images (410 images in Live View mode) from a single charge of the high capacity InfoLITHIUM™ battery (NP-FM500H). Accurate confirmation of remaining capacity is displayed in % increments on the 2.7-inch LCD for extended shooting without worrying about power levels.
*CIPA standard
Available as an option, the powerful new HVL-F42AM Flash unit is ideally suited to the needs of experienced digital photographers and newcomers alike. Alongside ADI metering and wireless remote operation, it offers automatic WB adjustment with colour temperature information plus an evolved Bounce System with vertical adjustment up to 90°, left to 90° and right to 180°.
Also optional, the VG-B30AM Vertical Grip allows comfortable handling in portrait or landscape shooting positions. The grip holds up to two NP-FM500H Rechargeable Battery Packs for an extended shooting stamina of up to 1460* images (820 images in Live View mode) from a single charge.
*CIPA standard
Both cameras can utilise the new GPS-CS1KASP GPS Unit. Compatible with all new Sony α, Cyber-shot and Handycam models, this ultra-portable unit records up to a month's worth of global positioning data to help map your memories. Photos can be tagged with position information and shown in place as online maps, or displayed as a 'footprint' of your travel route.

Availability
The α350 Digital SLR camera will be available from the beginning of March in the following kits:
α350 body only
α350 with DT18-70mm F3.5-5.6 lens
α350 with DT18-70mm F3.5-5.6 and DT55-200 F4-5.6 lens
The α300 Digital SLR camera will be available from the beginning of April in the following kits:
α300 body only
α300 with DT18-70mm F3.5-5.6 lens
α300 with DT18-70mm F3.5-5.6 and DT55-200 F4-5.6 lens