Eastman Kodak Company introduced the new KODAK PLAYSPORT Video Camera, a rugged, durable and pocket-size HD video camera with an appetite for adventure. The KODAK PLAYSPORT Video Camera is specifically designed for consumers with active lifestyles, allowing them to capture full 1080p HD video – even underwater – with the touch of a button.
The KODAK PLAYSPORT Video Camera is waterproof up to 10 feet and features built-in software and USB cable output so users can edit and easily share with family and friends through sites such as YouTube and Facebook. The KODAK PLAYSPORT also features electronic image stabilization and KODAK Imaging Science for sharper videos with vibrant colors and less blur.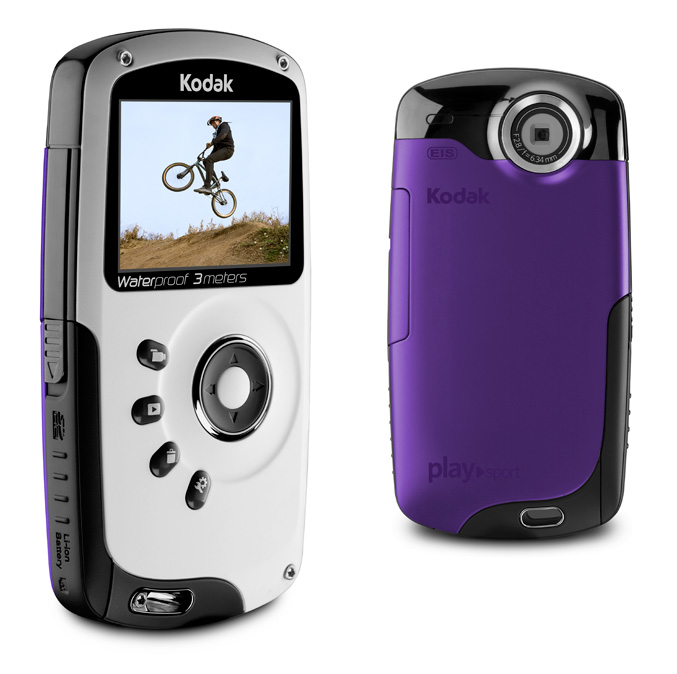 "Today's consumers want to easily capture and share life's moments anywhere they happen without trading off quality," said Phil Scott, Vice President of Marketing, Digital Capture and Devices, Kodak. "We designed the KODAK PLAYSPORT Video Camera with this in mind, combining the superior features of our HD digital video cameras with a rugged, waterproof exterior so consumers can capture their KODAK Moments in more places – from the inside of a halfpipe on a snowboard or while duck diving on your surfboard."
KODAK PLAYSPORT Video Camera Features:
Waterproof up to 10 ft. (3 m)
Full 1080p HD video capture at 30 fps
Electronic image stabilization
Brilliant 2.0" color LCD display
LCD Glare Shield
Capture 5 MP HD stills (16:9)
Edit and upload to the Web with built-in software and included USB cable
Smart face tracking technology
Incredible low-light performance
Expandable SD/SDHC Card slot for memory cards up to 32 GB, that can record up to 10 hours of HD video**
Li-Ion rechargeable battery with in-camera charging
HDMI cable output (HDMI cable included)
Remote control compatible (remote control sold separately)
MAC and PC compatible
The KODAK PLAYSPORT Video Camera will be available in Abyss (black), Wave Crash (blue) and Adrenaline Rush (purple) for US $149.95 MSRP beginning in April 2010 at major retailers including Best Buy and Amazon.com, as well as Kodak.com. The KODAK PLAYSPORT Video Camera is also now available for pre-orders on Amazon.com.
Colors and availability may vary by region
Product Accessories
A range of accessories are available for the KODAK PLAYSPORT Video Camera, including:
KODAK SDHC Memory Cards, available in 4, 8 and 16 GB customized for optimal video capture
KODAK Adventure Mount for helmet, handlebars and more
KODAK Flexi-Tripods
KODAK Cases, Camera Bags and Neck Straps
Remote control
KODAK Li-Ion Rechargeable Digital Camera Battery KLIC-7004
Battery charger options including KODAK Li-Ion Universal Battery Charger K7600-C, KODAK Solar Charger KS100-C+2, KODAK Portable Charger KP100-C+2
Source: Kodak