SANYO North America Corporation (SANYO) introduces three new Dual Cameras, the VPC-GH2, VPC-CG102, and VPC-CG20, featuring Full High Definition 1080 60i (1920×1080) video and up to 14 MP photo capability. Offering style, performance and value, these new additions provide a convenient way to capture both videos and photos in daily life or for special events. Available nationwide starting in March, 2010, the VPC-GH2 and VPC-CG102 will have an MSRP of $229 and the VPC-CG20 will MSRP at $199.
"Ultra-portability coupled with Full HD videos and high quality photos in one camera make them perfect for capturing life as it happens," said Tom Van Voy, General Manager of the Consumer Products Group for SANYO North America. "SANYO's new Dual Cameras deliver a number of next generation features at an incredibility affordable price. Consumers are going to be blown away."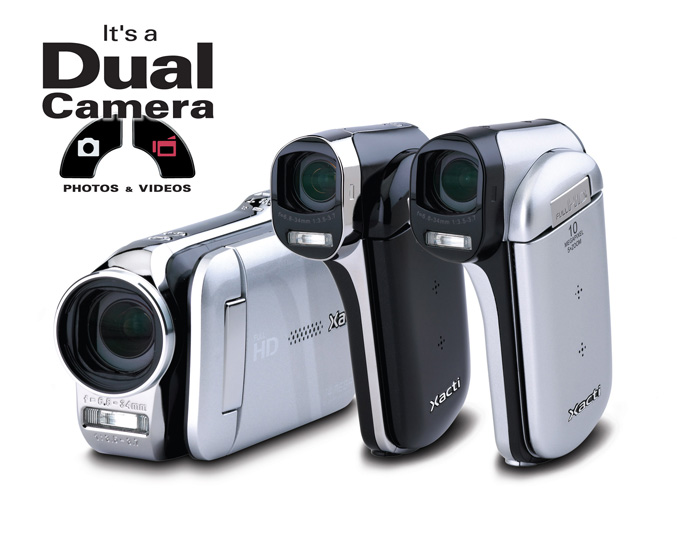 Style
The new Dual Cameras feature stylish, sleek designs that are easy to hold and compact for ultra-portability. The CG102 will be offered in black, the GH2 will be offered in silver, and the CG20 will be offered in silver and black. Small enough to fit in a pocket, they can be carried anywhere, allowing the freedom to take spontaneous photos and videos anytime.
Value and Performance
The SANYO GH2, CG102 and CG20 Dual Cameras record Full HD 1080 60i videos and up to 14 MP high resolution still photos, which can be saved to SD, SDHC or ultra-high capacity SDXC (from 64 GB to 2 TB) memory cards. SANYO developed a new, miniature high-speed image-processing engine that contributes to the reduction in size of these new Dual Cameras.
The GH2 and CG102 include a new "double-range zoom"*, which combines both a wide-angle and telephoto zoom for videos, switchable at the touch of a button, allowing up to 12x double-range zoom. This feature allows users to switch between different zoom ranges just like alternating between two lenses with different zoom ratios. In 35-mm film standards, this equals a video capture range from wide-angle 40 mm up to a 12x zoom of 480 mm, making it easy for anyone to zoom in on distant subjects with the touch of one-button. The CG20 features a 5x optical zoom lens.
SANYO's Dual Cameras are all thumb-operable, for easy, one-handed operation. The GH2 features dual-position recording buttons that allow videos or photos to be captured from the back or the front of the camera, which makes shooting lower angles more convenient.
Dual Cameras are an advanced, ultra-convenient solution for recording and sharing digital video and photos. Uploading photos and videos to the Web is quick and easy because the cameras record in formats optimized for instantly sharing on social networking sites like YouTube, Facebook, and others. Video is shot in MPEG4, AVC/H.264 format, recording the audio and video as one file, eliminating the need for special software to use on a PC, and making them easy to import, edit and view on PCs running Windows 7 and Windows Live Movie Maker. The imported or edited video can also easily be used to enhance business presentations, making them more effective.
*"Double-Range Zoom" is SANYO's proprietary zoom technology, combining two different kinds of 6x "Advanced Zoom"* achieved by utilizing 5x Optical Zoom. "Advanced Zoom" is a technology used for video zoom function, integrating sensor processing and optical treatment, which realizes wider angle as well as higher magnification zoom, by enlarging the video filming area on the image sensor. Unlike the digital zoom, "Advanced Zoom" technology achieves zooming without image degradation.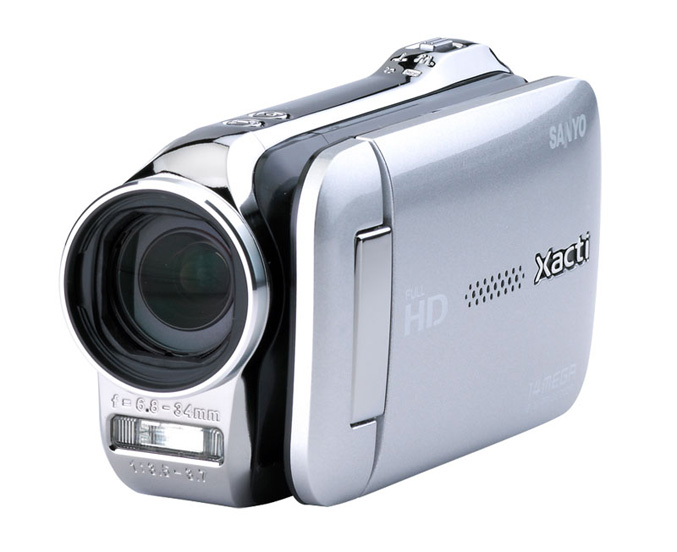 Main Features: VPC-GH2
Full HD videos: 1080 60i (1920 x 1080 pixels)
14MP photos
Compact, horizontal form factor
CMOS sensor (14.4MP)
38 mm wide-angle lens
5x optical zoom, 12x double-range zoom
Compatible with SD, SDHC, or SDXC cards
Wireless data transfer via Eye-Fi-SD cards*
2.7-inch TFT LCD display (can be turned 285 degrees)
"Face Chaser" and "Target a Color" functions
Mini-HDMI port
Rechargeable lithium-ion battery
Stylish silver color
Size: 1.5 x 4.3 x 2.2 inches (WxDxH)
Weight: approx. 5.5 ounces
Eye-Fi memory cards are sold separately, and specifications subject to change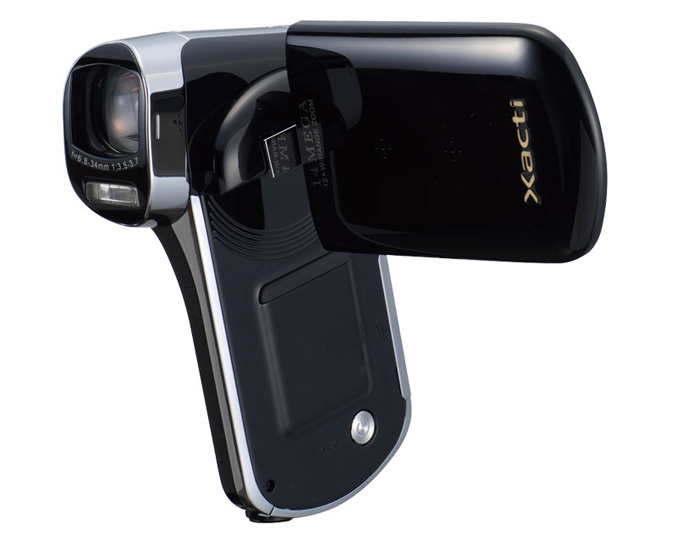 Main Features: VPC-CG102
Full HD videos, 1080 60i (1920 x 1080 pixels)
14MP photos
Compact, vertical form factor
CMOS sensor (14.4MP)
38 mm wide-angle lens
5x optical zoom, 12x double-range zoom
Compatible with SD, SDHC, or SDXC cards
Wireless data transfer via Eye-Fi-SD cards*
2.7-inch TFT LCD display (can be turned 285 degrees)
"Face Chaser" and "Target a Color" functions
Mini-HDMI port
Rechargeable lithium-ion battery
Stylish black color
Size: 3.37 x 1.47 x 4.34 inches (WxDxH)
Weight: approx. 5.5 ounces
Eye-Fi memory cards are sold separately, and specifications subject to change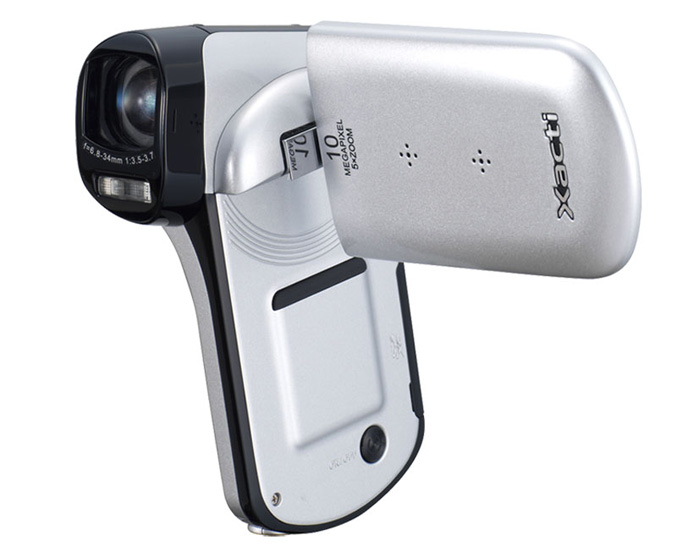 Main Features: VPC-CG20
Full HD videos, 1080 60i (1920 x 1080 pixels)
10MP photos
Compact, vertical form factor
CMOS sensor (10.7 megapixels)
38 mm wide-angle lens
5x optical zoom
Compatible with SD, SDHC, SDXC cards
Wireless data transfer via Eye-Fi-SD cards*
2.7-inch TFT LCD display (can be turned 285 degrees)
"Face Chaser" and "Target a Color" functions
Mini-HDMI port
Rechargeable lithium-ion battery
Stylish silver or black color
Size: 3.37 x 1.47 x 4.34 inches (WxDxH)
Weight: approx. 5.5 ounces
Eye-Fi memory cards are sold separately, and specifications subject to change
Source: Sanyo