Sony Professional today announced the latest additions to its XDCAM EX line-up, with a shoulder-mount PMW-350 camcorder and a hand-held PMW-EX1R. These exciting new models combine the fantastic HD imaging performance of XDCAM EX with a number of powerful new features, including standard definition DVCAM™ recording1 – the first time this has been available to XDCAM EX users.
The PMW-350 and PMW-EX1R have been designed to widen the appeal of XDCAM EX by offering class leading solid-state performance, with industry-wide native workflow via an established network of alliance partners.
"Since the award-winning PMW-EX1 was first introduced back in 2007, Sony has developed XDCAM EX into a family of products to meet the requirements of a growing number of users" said Bill Drummond, European Product Marketing Manager. "These new camcorders expand solid-state production to new applications and new levels of quality, with improvements made in features, performance, production flexibility and ergonomics."
PMW-350 Shoulder Mount Camcorder
The PMW-350 draws upon Sony's award-winning and unrivalled expertise in camcorder design. It uses three 2/3-inch Exmor™ CMOS sensors with 1920×1080 resolution for full HD imaging. Sensitivity is F12. The camcorder also features DVCAM recording via the CBK-DV01 option and is studio-configurable, with timecode in/out, genlock in, and HD-SDI and HDMI out.
Its design offers the best of both worlds in shoulder-mount technology: a low centre of gravity and light weight to ensure stability on the shoulder, while maintaining the familiar operational layout for which Sony camcorders have become renowned. Another key feature is an ultra-economical power consumption of 15W, offering longer operation on a single battery, along with a reduced carbon footprint.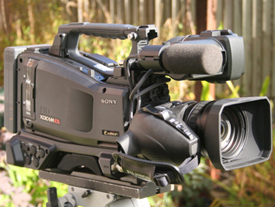 The camcorder will be available in two versions, the PMW-350L body-only model and PMW-350K with lens. The lens supplied with the PMW-350K has been developed by Fujinon, and offers auto and manual focus with a 16x zoom and a 2/3-inch bayonet mount. Independent focus, zoom and iris rings; auto focus mode; manual focus assist and a focal length of 8 to 128mm (equivalent to 31.5 to 503mm on a 35mm lens) are also key features.
"There's no doubt that the PMW-350 will appeal to many users who want to migrate to HD and memory from tape-based DVCAM. It's an exciting addition and along with Sony's Professional Disc-based XDCAM HD422 family represents our strongest ever tapeless line-up" commented Drummond.
PMW-EX1R Hand-held Camcorder
The PMW-EX1R is the successor to the PMW-EX1, Sony's first professional memory-based camcorder that revolutionised video production when launched in 2007. The PMW-EX1R adds a number of new features requested by users, including DVCAM recording, an HDMI output, a higher-resolution viewfinder, and one-push Auto Iris.
Like its new shoulder-mount counterpart, the PMW-EX1R features ergonomic enhancements, including an improved hand grip, one-click S&Q mode (Slow and Quick) and easy-to-access switches. Additional benefits of the PMW-EX1R include: smooth handle zoom transition, an image inversion option and up to 15 second picture cache recording.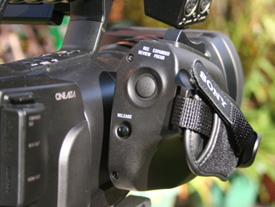 New SxS-1 Memory Card
The camcorders are not the only new options available to users. Sony is launching two new media options along with the new PMW-350 and PMW-EX1R. The first is Sony's new SxS-1 memory card which joins the existing SxS PRO™ memory media in the line-up. Developed in response to demand from users for an affordable but high capacity card, the 32GB SxS-1 will feature very high-speed data transfer speed (800Mbps) and high reliability. It provides an average lifetime of five years daily use, with life indication displayed in the viewfinder of the new camcorders.
The second new option is the MEAD-MS01 adaptor for use with Sony's Memory Stick Pro HG Duo HX Series media. Available in capacities from 4GB upwards, this media can be used as either an 'emergency' card for production or as a cost-conscious option for entry-level videographers.
Sony's current XDCAM EX models, the PMW-EX1 and PMW-EX3 camcorders and PMW-EX30 record deck, will also be compatible with the new SxS-1 and MEAD-MS01 with Memory Stick, through a software upgrade available in early 2010.
Additionally, users will be able to use the new PXU-MS240 mobile storage unit to transfer data from SxS PRO™ memory cards to the unit for back-up or off-load of video clips. The unit stores content on a removable hard disk drive (HDD) cartridge, model PXU-HC240, which can store up to 240GB of data.
The software supplied with the new camcorders, Clip Browser, is also being updated to version 2.6. It features a range of new functions, including: support for new recording formats2 and four channels of audio. An additional enhancement also means Clip Browser now automatically detects and corrects "flash bands" occurring in frames, and a manual mode allows users to select frames to correct by using a "preview" function.
The following is scheduled availability for the new products:
PMW-350K (with lens), January 2010
PMW-350L (body-only), January 2010
PMW-EX1R, December 2009
SxS-1 (SBS-32G1), December 2009
MEAD-MS01, December 2009
PXU-MS240 Mobile Storage Unit, October 2009
PXU-HC240 HDD Cartridge, October 2009
1 CBK-DV01 option required to add DVCAM record/replay to PMW-350
2 New Clip Browser recording formats are 1440×1080 (HQ) and DV-AVI
Source: Sony