The colourful, stylish Handycam® line-up for Spring 2010 is packed with advanced optical technologies and fun-to-use features that help you capture a lifetime of precious moments.
This season there's a choice of ten light, compact new Handycam® models that shoot on memory card and internal flash memory for fuss-free sharing of your favourite memories. They're joined by five feature-packed HDD models, offering extra-long recording times to store even more special moments.
The new range of Handycam® camcorders blends unique optical and technological innovation by Sony for best-ever image quality, whether you're capturing HD video or vibrantly detailed still photos.
Premium HD Flash Memory and HDD models (CX550V, XR550V, CX350V, XR350V, CX305) feature a high quality Sony G Lens™, with enhanced wide angle capability that captures approximately 2x larger shooting area compared with previous Handycam® camcorders. Now it's far easier to make sure nobody's left out of the picture at parties, birthdays and other special occasions. Wide angle performance of CX550V/XR550V models is a class-leading 29.8mm for video and 26.3mm for still images (35mm equivalent) in an even smaller body than their predecessors.
Want to fit even more into the frame? Light, compact and easy to carry, the optional Wide Conversion Lens (VCL-HGA07B) gives you an even wider view for up to 22.4mm, from expansive landscapes to tight group shots.
When you're shooting handheld, mid-range to flagship HD Handycam® models are now more effective than ever at cutting the effects of camera shake. New Optical SteadyShot Active Mode teams optical and electronic stabilisation systems, delivering best-ever '3-way' anti-shake performance from wide to telephoto end. Images are now up to 10x* steadier at wide end of zoom settings. At telephoto zoom settings, you'll still enjoy up to 2x* improved anti-shake performance for clearer, more stable results.
*Compared with previous Handycam® camcorders without Optical SteadyShot Active Mode.
Thanks to an improved electrical image stabilisation system, entry HD models also benefit from SteadyShot Active Mode for up to 10x shake reduction (at wide end of zoom setting) compared with standard SteadyShot.
Developed by Sony, the acclaimed Exmor R™ CMOS Sensor with 2x increase in sensitivity* is now available in all HD Handycam® models, as well as the Standard Definition range-topping DCR‑SX73. An innovative 'back-illuminated' design ensures that more light reaches photosensitive areas of the device without being obscured by connecting wires within the sensor. This boosts sensitivity compared with sensors that use a conventional 'front-illuminated' structure.
*Compared with equivalent front-illuminated CMOS sensors.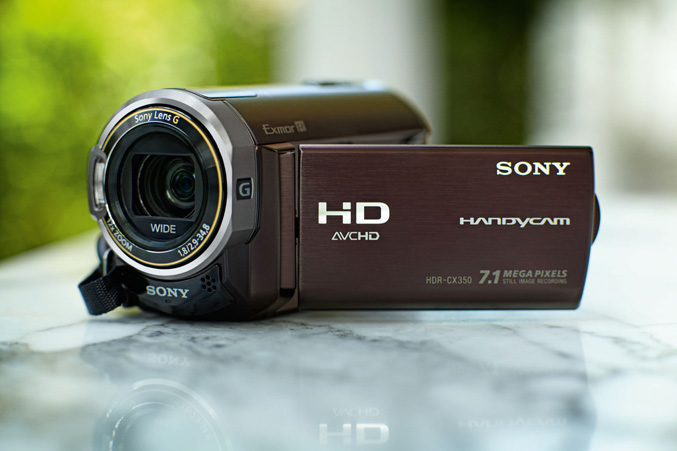 The resulting increase in sensitivity assures beautifully detailed, natural looking results with dramatically reduced picture noise. You'll really see the difference, especially if you're shooting in low-light where other camcorders struggle to capture clear, noise-free images.
Autofocus operation with new Quick AF is now more accurate and twice as fast compared to previous Handycam® camcorders. Thanks to faster focusing speeds, you'll enjoy consistently crisp and clear video clips – even when you're shooting in low light where many camcorders struggle to keep focus.
All HD models now support recording at up to 24Mbps, the highest bitrate offered by the AVCHD format: this allows you to capture every scene in the best quality available. It's a valuable addition for video enthusiasts needing to realise the full potential offered by the unique combination of G Lens, Exmor R™ CMOS Sensor, and powerful BIONZ image processing technologies developed by Sony.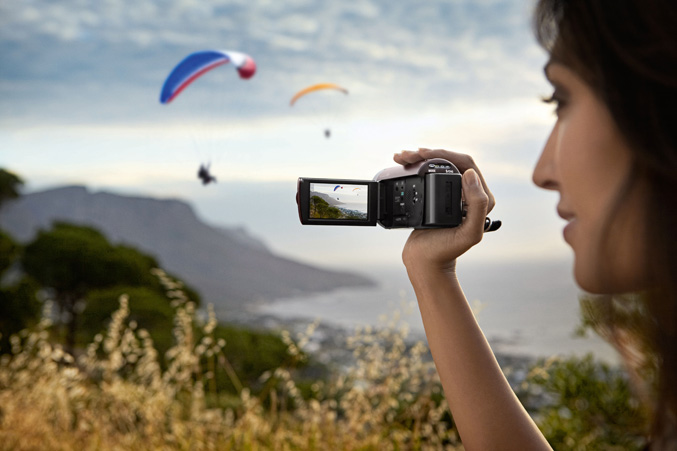 Already featured in Sony Cyber-shot cameras, Intelligent AUTO (iAUTO) takes away the guesswork from picking the optimum camcorder settings. Making its Handycam® debut this year, iAUTO combines recognition of Face Detection, your shooting situation (handheld or tripod), and ten different scene types. Based on this information, Handycam® automatically optimises shooting parameters to give clear, satisfying results based on up to 90 different scene combinations (60 combinations for 3.1M/1.6M HD model).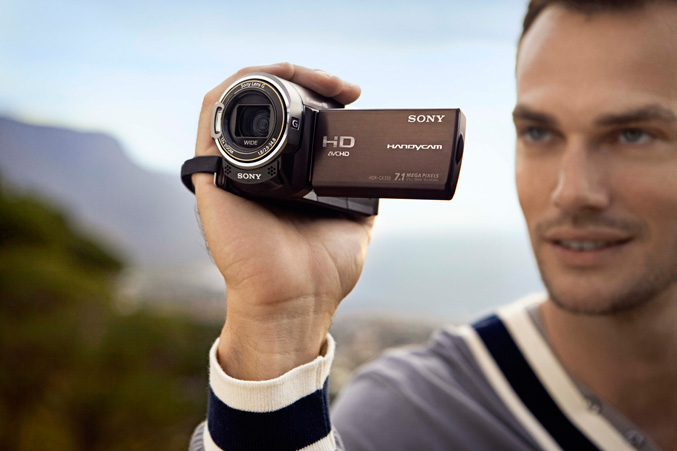 Enhanced by a sleek new slim-frame design, the Clear Photo LCD now gives an even better view when you're framing and reviewing scenes. Pixel count on the 6.7cm screen has been upped to 230k dots (from 210k dots), while viewing angle is boosted to 170 degrees to give everyone a clearer picture of your shots. Flagship CX550 and XR550 models are distinguished by a generously-sized 8.8cm Xtra Fine LCD. Featuring TruBlack technology used in flagship S-Frame digital photo frames by Sony, this screen assures superb image contrast and resolution to make viewing a pleasure.
New Golf Shot makes it easier than ever to check your swing, frame by frame. In Golf Shot mode, Handycam® starts capturing a continuous stream of high-speed images while you're still waiting for the action to start. At the end of the swing, press the Record button – and the entire sequence is grabbed at an incredible 200 frames per second for silky-smooth slow motion replay. Then see the results both as a slow motion video, and a composite image with every frame of movement shown by a series of thumbnail-sized images in a single still picture.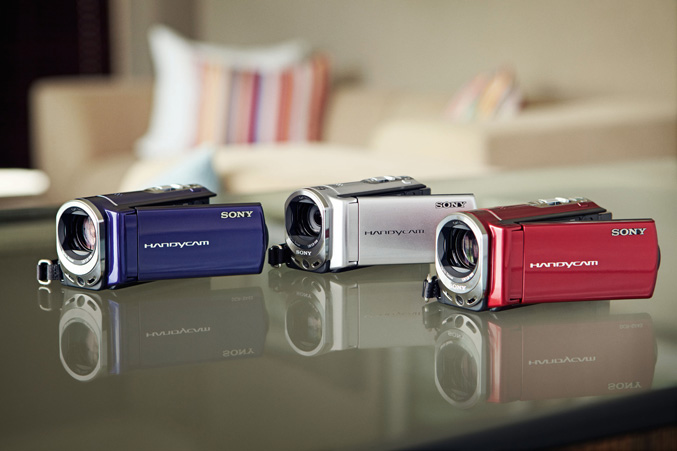 New Standard Definition models benefit from a CCD with higher sensitivity that improves image quality in low light. Face Detection for video and stills has also been added, letting you capture beautifully exposed images of family and friends.
Entry-level SD models (Flash Memory and HDD) now sport an on-board video light to brighten up parties, interiors and other dimly-lit scenes.
Featured on all HD and SD models, Direct Copy lets you copy footage directly from Handycam® to a compatible external hard disk drive* for PC-free back-up and archiving. Just connect the camcorder with the optional VMC-UAM1 USB adaptor cable and transfer all your footage for safekeeping. A lifetime's worth of video memories stored on your external HDD can be viewed easily on your HD television by using the various playback modes in your Handycam®, such as Map Index (GPS model only), Visual Index, and Highlight Playback.
*External HDD under 2TB with FAT32 file system and USB 2.0 interface. AC power recommended.
Supplied with all Handycam® models, latest PMB (Picture Motion Browser) software offers a new-look interface for easier management and enjoyment of your video and photo collection. PMB lets you browse through all your clips and still images with a unique Calendar view that automatically groups them by date. With PMB you can also burn your favourites to disc, email them to friends and family, or upload to sharing sites like YouTube™ with a few mouse clicks.
The simple integration for sharing content on Facebook® will also be available as a downloadable update to this software in spring. This complements the existing sharing capability with such sites as YouTube™ and Picasa™ Web Albums. With the new version, users will have the ability to share photos and videos on Facebook® directly from PMB software.
*Updates for PMB software will be available for download from Apr 2010 onwards.
A Slot for Memory Stick PRO Duo and SD/SDHC memory cards (sold separately) are offered to suit users' personal shooting preferences. There's a full range of optional accessories by Sony to help you get the best out of your Handycam®.
Safeguard your investment with the stylish LCM-HAC carry case with extra shock-absorbent protection for the camcorder's lens. Available in four colours, the LCS‑BBE is a soft pouch that protects your Flash Memory Handycam® from scratches when it's carried in a handbag or carry case.
Three new InfoLITHIUM V series batteries (NP-FV50/70/100) offer up to 15% increased capacity compared with previous models for extended shooting times.
All new Handycam® models are compatible with the VRD-MC6 DVD burner and VRD‑P1 DVDirect Express. Just touch a button and burn your Standard Definition or High Definition memories onto affordable DVD media for archiving, sharing or enjoying with friends on your Blu‑ray Disc™ or DVD player. With VRD-MC6, you can transfer your old footage from tape straight to DVD in a touch of a button.
The Spring 2010 Handycam® line-up of Flash Memory and HDD camcorders by Sony is available from February 2010.
Key technical specifications:
Model Name

HDR-XR550V

HDR-CX550V

HDR-CX305

HDR-CX115

DCR-SR58

DCR-SX33

Image Sensor

6.3mm(1/2.9 Type) Exmor R CMOS Sensor

6.3mm(1/2.9 Type) Exmor R CMOS Sensor

4.5mm(1/4 Type)
Exmor R CMOS Sensor

4.5mm(1/4 Type)
Exmor R CMOS Sensor

2.3mm(1/8 Type)
CCD

2.3mm(1/8 Type)
CCD

Gross Pixels

6.3M

6.3M

4.2M

4.2M

800K

800K

Still Image Pixels

12M

12M

7.1M

3.1M

340K

340K

Lens

Wide Angle Sony G Lens

Wide Angle Sony G Lens

Wide Angle Sony G Lens

Carl Zeiss
Vario-Tessar

Carl Zeiss
Vario-Tessar

Carl Zeiss
Vario-Tessar

Optical Zoom

10x

10x

12x

25x

60x

60x

Image Stabilization

Optical SteadyShot
Active Mode

Optical SteadyShot
Active Mode

Optical SteadyShot
Active Mode

SteadyShot
Active Mode

SteadyShot

SteadyShot

Intelligent AUTO

Yes

Yes

Yes

Yes

–

–

AVCHD 24Mbps Rec

Yes

Yes

Yes

Yes

–

–

HDD/Internal Memory

240GB HDD

64GB Internal Memory

16GB Internal Memory

–

80GB HDD

–

External Recording Media

Memory Stick PRO Duo (Mark 2), Memory Stick PRO-HG Duo,
SD Memory Card, SDHC Memory Card (Class4 or higher is recommended)

Audio system

5.1ch Surround with zoom mic

5.1ch Surround with zoom mic

Stereo, built-in zoom mic

Stereo, built-in zoom mic

Stereo, built-in zoom mic

Stereo, built-in zoom mic

Manual Dial / Ring

Dial (Focus, Exposure, AE shift, WB shift, Iris, Shutter Speed)

Dial (Focus, Exposure, AE shift, WB shift, Iris, Shutter Speed)

–

–

–

–

LCD Panel Size

8.8cm / 921k

8.8cm / 921k

6.7cm / 230k

6.7cm / 230k

6.7cm / 230k

6.7cm / 230k

fLCD Type

Xtra Fine LCD

Xtra Fine LCD

Clear Photo LCD

Clear Photo LCD

Clear Photo LCD

Clear Photo LCD

Color VF

Yes

Yes

–

–

–

–

GPS / MAP Index

Yes

Yes

–

–

–

–

Golf Shot

Yes

Yes

Yes

–

–

–

Face Detection

Yes

Yes

Yes

Yes

Yes

Yes

Direct Copy

Yes

Yes

Yes

Yes

Yes

Yes

Accessory Shoe

Yes

Yes

Yes

–

–

–

Interface

HDMI Out
A/V Remote
Audio Input
Headphone
USB

HDMI Out
A/V Remote
Audio Input
Headphone
USB

HDMI Out
A/V Remote
USB

HDMI Out
A/V Remote
USB

A/V Remote
USB

A/V Remote
USB

Supplied Battery

NP-FV50

NP-FV50

NP-FV50

NP-FV
Source: Sony