The US consumer electronics retailer Best Buy has accidentally leaked details about the upcoming Olympus TG-1 iHS toughcamera on its web site. The information was later taken down but the info had already circled the web.
The Olympus TG-1 iHS toughcam is an upcoming Olympus product that is damage and water proof and is designed to work in tough conditions. Olympus says the camera can withstand drops from a height of two meters and the device can also work at depths of up to 12 meters.
Specs-wise the Olympus TG-1 iHS comes with a 12-megapixel 1/2.3-inch CMOS sensor and 4.5-18 mm lens in front of it. The camera can record up to 1080p video and thanks to the TruePic VI sensor the light sensitivity reaches 6400 ISO.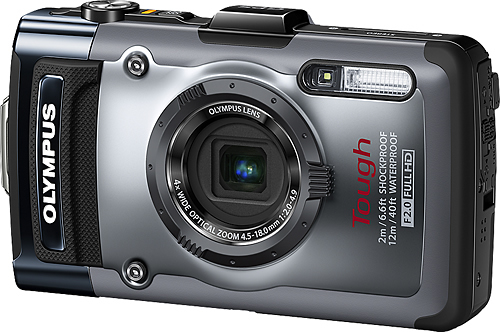 Sporting a 3-inch 610k dot OLED screen the Olympus TG-1 iHS also supports a burst shooting mode at 3 FPS and a continuous buffer of 200 shots, which is impressive. The super macro settings allow you to photograph objects as close as 0.4 inches, while the panorama mode makes it possible to compose large wide-angle shots in camera.
Selective scene modes, automatic white balance and 4x optical with 4x digital zoom complete the package. Quite impressive specs for a tough cam, most of which normally sacrifice image quality and settings in order to keep themselves robust.
The only downside is that all specs here are preliminary but they may as well become real once the camera becomes available for purchase.
Source: Pocket-lint.com