Casio America, Inc. and its parent company, Casio Computer Co., Ltd., today announced the release of another groundbreaking digital camera, the EXILIM Hi-Zoom EX-H10. With a thin, compact body and an ultra-wide angle 24mm, 10x optical zoom lens, this new model can take up to 1,000 shots*1 on a single battery charge — making it the perfect travel companion.
At the heart of the new EX-H10 is the EXILIM Engine 4.0, which delivers higher image quality and lower power consumption in an even more compact package. The new Engine's Multi-CPU*3 is specifically designed for high-speed image processing. Reflecting Casio's quest for perfection, the new camera provides the best in basic photography functions — beautiful imaging with reduced noise and long battery life for many hours of use. A high-performance 12.1-megapixel model, it also boasts a lens with outstanding optical capabilities — from wide angle to telephoto — and it features a number of Casio's totally original photographic functions.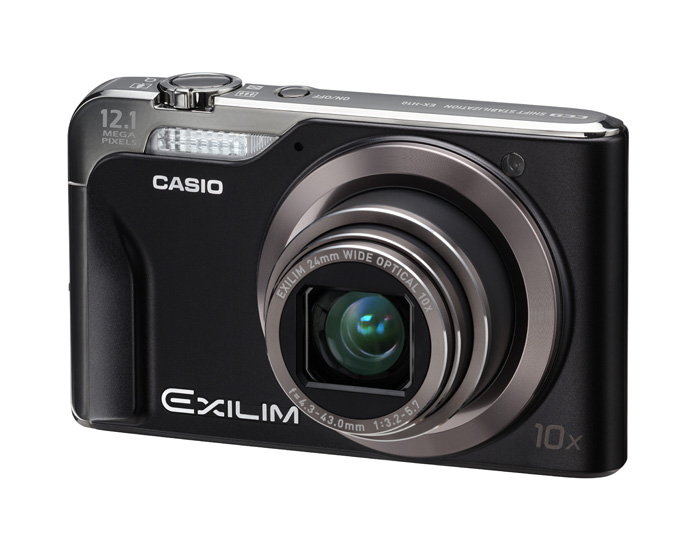 Ultra-wide angle 24 mm, 10X optical zoom lens
Only Casio could find a way to pack a 10X optical zoom lens, large 3.0-inch monitor and a CCD-shift image stabilization mechanism into such a slim, compact camera body, just .95" thin, convenient for travel. With ultra-wide angle starting at 24 mm (35 mm film camera equivalent) all the way up to 10x telephoto zoom, the photographer is ready for any scene — from huge buildings and other wonders at tourist destinations to distant figures in a landscape.
*1. As of June 11, 2009, based on a Casio survey of digital cameras with a 10X or greater optical zoom lenses.
*2. When photos taken in accordance with Camera & Imaging Products Association (CIPA) standards.
*3. A package comprising a high-speed dedicated image processing CPU in addition to the usual high performance CPU.
"The development of the ultra-wide angle 24mm continues Casio's dedication to creating digital cameras that are packed with innovative features and new technology," said Toshiyuki Iguchi, Senior General Manager of Casio's Digital Imaging Division at Casio America, Inc. "This new feature gives our camera enthusiasts the opportunity to capture their extraordinary moments in a variety of shooting environments."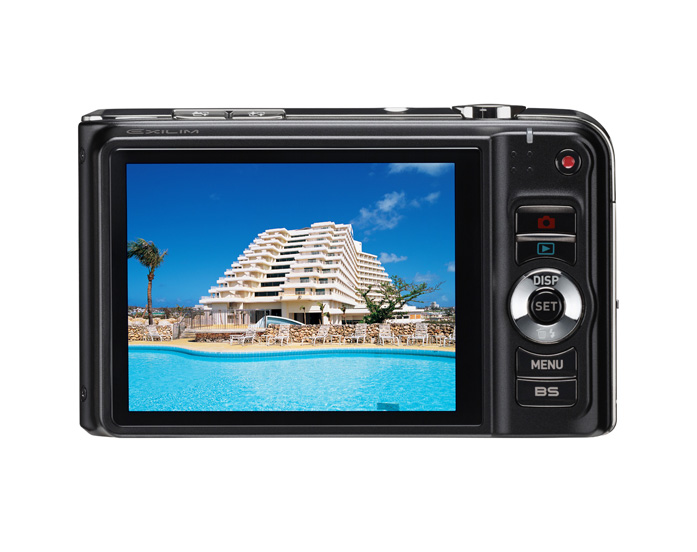 Advanced Dynamic Photo function
Casio's original Dynamic Photo function, which creates composite moving images using the camera's own high-speed image processing technology, now does even more. When a moving subject is cut out of a number of images and combined with a different still shot that forms the background, the size of the subject can be changed to suit the background image. Next, the Dynamic Photo video can easily be converted in-camera into a Motion JPEG movie file. Moreover, moving graphics such as hearts and bouquets of flowers are included so that users can have fun decorating their still images using the Dynamic Photo function. Casio not only allows users to have fun taking and viewing photos, but also provides innovative new ways for them to create original images, right on the camera.
1,000-shot long battery life
Casio has reduced energy consumption by improving the circuitry and operational controls and designing a higher capacity battery, enabling the user to take 1,000 shots on a single full charge. The EX-H10 provides a convenient solution for people on the go. It's possible to take 100 pictures every day of a 10 day vacation, without ever needing to recharge, eliminating the need to pack a charger. The long-life battery gives users approximately 11 consecutive hours of viewing on a single charge.
New Landscape Mode
The EX-H10 also features a new Landscape Mode for capturing beautiful scenic photography. Unlike earlier landscape photography modes, which enhance the saturation of an entire hue, users can now select between the Vivid Landscape option that uses image analysis to determine and vividly enhance only the most important colors in the landscape or the Mist Removal option that makes weather-affected misty scenes look clear and bright.
The new camera will begin shipping to retail in mid July. The EX-H10 will have an MSRP of $299.99 and will be available in black.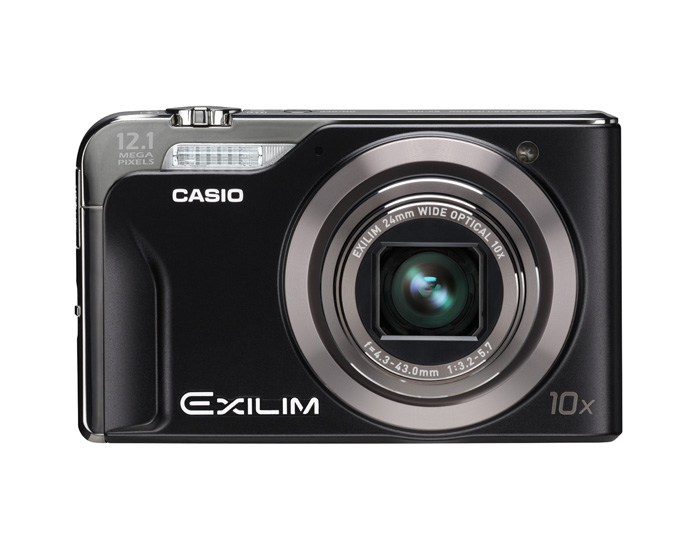 EXILIM Hi-Zoom EX-H10
A powerful zoom, compact digital camera with long battery life, perfect for a vacation.
Beautiful images with 12.1 effective megapixels
This camera's 12.1 megapixels of high-resolution imagery can render extremely fine detail in the subject. Moreover, the advanced image processing capability provided by the EXILIM Engine 4.0 ensures that color reproduction is clear and bright, and that images have a rich tonal gradation.
Ultra-wide angle 24 mm, 10X optical zoom lens
This lens delivers all the freedom of zoom photography — from an ultra-wide angle 24 mm useful for shooting in a small room or for photographing large subjects, to a 10X optical zoom that brings distant subjects up close. The camera also has a CCD-shift image stabilization mechanism.
Long battery life allows 1,000 shots on a single charge*
The low energy requirements of the circuitry and operational controls, particularly the EXILIM Engine 4.0 coupled with the high capacity battery, make it possible to take 1,000 shots on a single full charge.
Photo modes that make the most of the camera's high-speed image processing technology
Dynamic Photo function for creating composite moving images
This function allows the user to extract images of a moving subject and combine them with a still image to form a new background. This takes place inside the, without the need for computer editing. This mode allows the user to create a still image containing a moving subject. Casio has now improved its revolutionary Dynamic Photo function in the following ways:
* It is now possible to enlarge or reduce the size of the cut-out subject to suit the still image on which it will be placed
* A Dynamic Photo can be converted into a Motion JPEG movie file right on the camera
* Eight different moving graphics are included so that users can have fun decorating their still images
* Using computer software that comes with the camera, users can transfer still images from a computer to the camera to create a Dynamic Photo
Landscape Mode
The model has a dedicated button, making it easy to capture beautiful landscape photographs. Users can choose between the Vivid Landscape option, which vividly enhances only the most impressive colors, or the Mist Removal option, which produces clearer pictures when the atmosphere is misty.
Makeup Mode
The camera has a single dedicated button that helps create beautiful pictures of people's faces. This function ensures that faces are correctly focused and well exposed, adjusts the smoothness of skin and softens facial shadows caused by sunlight.
Handheld Night Scene function or Lighting function
The camera can automatically detect difficult situations, such as night scenes where there would normally be camera shake and backlit scenes where faces or backgrounds can be poorly exposed. After detecting problem area, the camera then automatically adjusts to the most appropriate settings. Users only have to press the shutter button to take great pictures.
High Resolution HD Movies
The EX-H10 features an HD Movie function. Just press the dedicated Movie button to take beautiful movies at 1280×720 pixels.
* Photography based on CIPA standards. Calculations based on an ambient temperature of 23°C; LCD monitor on; zooming back and forward from the wide end to the telephoto end every 30 seconds; flash used once every two shots; and the power turned on and off once every ten shots.
EX-H10 Specifications
EXILIM Hi-Zoom

EX-H10

Number of Effective Pixels

12.10 million

Image Sensor

1/2.3-inch square pixel CCD

Total Pixels

12.39 million

File Format
Still Images

JPEG (Exif Version 2.2, DCF 1.0 standard, DPOF compliant)

Movies

AVI format, Motion JPEG, IMA-ADPCM (monaural)

Audio (Voice Recording)

WAV format (monaural)

Built-in Flash Memory (Image Area)

35.7MB*1

Recording Media

SDHC Memory Card, SD Memory Card*2

Number of Recorded Pixels
Still Images

12M (4000 x 3000), 3:2 (4000 x 2656), 16:9 (4000 x 2240), 8M (3264 x 2448),
5M (2560 x 1920), 3M (2048 x 1536), VGA (640 x 480)

Movies

HD: 1280 x 720 (24 fps) / STD: 640 x 480 (30 fps) / LP: 320 x 240 (15 fps)

Recording Capacity
(Maximum Image Size Setting)
Still Images
(JPEG)
SD Memory Card 1GB*3

Approx. 122 shots (Fine) / 234 shots (Normal) / 350 shots (Economy)

Movies
Recording Time

Maximum Recording Capacity per File: 4GB*4

SD Memory Card 1GB*3

Approx. 5 min. 27 seconds (HD)

Continuous Shutter
High-speed Continuous Shutter

Approx. 10 frames per second at 1280 x 960 pixels (Up to 20 shots)
Approx. 4 frames per second at 1600 x 1200 pixels (Up to 8 shots)

Flash Continuous Shutter

Approx. 3 frames per second at 1600 x 1200 pixels (Up to 3 shots)

Lens
Construction

11 lenses in 10 groups, including aspherical lens

F-number

F3.2 (W) to F5.7 (T)

Focal Length

f=4.3 to 43.0mm

35mm Film Equivalent

Approx. 24mm ultra-wide to 240mm tele.

Zoom
Optical Zoom

10X

Digital Zoom

4X (40X in combination with optical zoom)

HD Zoom

62.4X (image size: 640 x 480 pixels)

Focusing
Focus Type

Contrast Detection Auto Focus

Focus Modes

Auto Focus, Macro Mode, Infinity Mode, Manual Focus

AF Area

Spot, Multi or Tracking

AF Assist Lamp

Yes

Focus Range*5
(From Lens Surface)
Auto Focus

Approx. 5.9"  to infinity (W)

Macro

Approx. 2.8"  to 20" (First step from widest setting)

Infinity Mode

Infinity (W)

Manual Focus

Approx. 5.9"  to infinity (W)

Exposure
Exposure Metering

Multi-pattern, center weighted, spot by imaging element

Exposure Control

Program AE

Exposure Compensation

-2EV to +2EV (in 1/3EV steps)

Shutter Type

CCD electronic shutter, mechanical shutter

Shutter Speed*6
Auto

1/2 to 1/2000 second

Night Scene

4 to 1/2000 second

Aperture*5

F3.2 (W) to F7.5 (W)*7

White Balance

Auto WB, Daylight, Overcast, Shade, Day White FL, Daylight FL, Tungsten, Manual WB

Sensitivity (SOS/REI)*8
Still Images

Auto, ISO64, ISO100, ISO200, ISO400, ISO800, ISO1600, ISO3200

Movies

Auto
Other
Recording Functions
Image Stabilization Mechanism

CCD-shift image stabilization

Make-up Mode

Dedicated Button  (12-level steps)

Landscape Mode

Dedicated Button  (Vivid Landscape: 2-level steps / Mist Removal: 2-level steps)

Handheld Night Scene

Yes

Lighting Function

Yes

BEST SHOT

Yes: 38 scenes

Dynamic Photo

Yes

Multi-motion Image*9

Yes

YouTube™ Capture Mode

Yes

AUTO BEST SHOT

Yes

Voice Recording

Yes

Face Detection

Yes

Auto Shutter

Yes

Self-timer

10 seconds, 2 seconds, Triple Self-timer

Built-in Flash
Flash Modes

Auto, Flash Off, Flash On, Soft Flash, Red Eye Reduction

Flash Range*4

Approx. 0.7 to 11.5ft (W), approx. 1.6ft to 6.5ft (T)

Monitor Screen

3.0-inch TFT color LCD (Super Clear LCD), 230,400 dots (960 x 240)

Timekeeping Functions
Date and Time

Recorded with image data

On-image Time Stamp Function

Yes

Auto Calendar

To 2049

World Time

162 cities in 32 time zones, city name, date, time, summer time

Input/Output Terminals

USB/AV port

USB

Hi-Speed USB

Microphone

Monaural

Speaker

Monaural

Power Requirements

Rechargeable lithium ion battery (NP-90) x 1

Battery Life
Number of Shots*10
(CIPA Standards)

Approx. 1000 still images

Continuous Playback
(Still Images)

Approx. 11 hr.

Continuous Recording
(Voice Recording)

Approx. 21 hr. 30 min.

Dimensions (Excluding Projections)

4(w) x 2.5(H) x .96(D) in.

Thinnest part: .87 in.

Weight (Excluding Battery and Accessories)

Approx. 5.8 oz.

Bundled Accessories

Rechargeable lithium ion battery, lithium ion battery charger, AC power cord, USB cable, AV cable, strap, CD-ROM

Source: Casio