Pentax Imaging Company has introduced its new generation adventure series digital cameras – the PENTAX Optio WG-1 and PENTAX Optio WG-1 GPS. The rugged compacts are designed to be waterproof up to 10 meters (33 ft), dustproof, shock-resistant for drops of up to 1.5 meters (5 ft), coldproof of minus 10 degrees, and crushproof to withstand falls up to five feet and up to 220 pounds (100kgf kilogram-force).
These cameras have rugged aluminum-alloy body and feature 14 megapixel sensor, wide angle 5X internal optical zoom lens (28-140mm equivalent) and 2.7-inch  LCD. The camras are capable of 720p HD recording at 30 frames per second, also include Face Detection technology and Digital Microscope mode for close observation of the microscopic world. There's also built-in flash, HDMI output, USB 2.0 port, IR control compatibility, support for Eye-Fi's wireless SD card and the camra comes with a woven web fabric strap with a carabiner, so be abale to attach it to a backpack and other outdoor gear.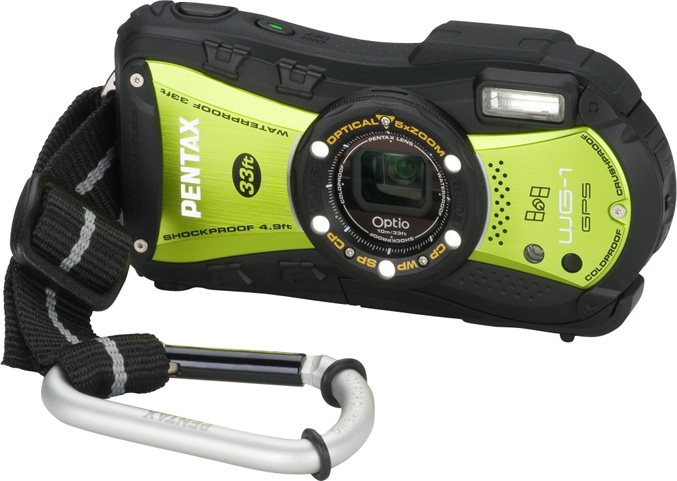 The camera is available in two versions with and without GPS, the Optio WG1 comes in black/blue and purple, and the Optio WG1-GPS comes in green and grey/black. They will be available in April and will cost $349.95 and $399.95 respectively.