A bold, new waterproof digital camera jumped into the swimming pool today. PENTAX Imaging Company announced the Optio WS80, the newest contender in the durable, affordable digital camera category.
Available in two bold, his-and-her's designs, the water and dustproof Optio WS80 is a perfect choice for travel, outdoor activities and families. Featuring a 10 megapixel CCD and a 5X internal optical zoom housed in a slim, palm-sized body that is less than an inch thick, the Optio WS80 has a large 2.7 inch LCD with 230,000 dot resolution for easy composition.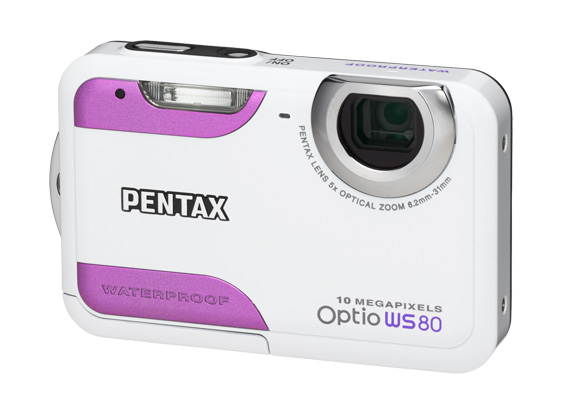 With waterproof construction that can withstand depths up to five feet (1.5 meters), the Optio WS80 captures underwater photos and video including high resolution, widescreen, HD video up to 720p at a full-speed 30 frames per second. Other features include:
Fast Face Detection technology sees up to 32 faces in as little as 0.03 of a second for easy portrait photography.
Smile Capture automatically releases the shutter when a subject smiles and Blink Detection alerts the photographer if the subject's eyes are closed during the exposure.
PENTAX Shake Reduction (SR) technology features Pixel Track SR, Digital SR, and Movie SR, stabilizing your images and video for beautiful, blur-free results.
PENTAX Auto Picture mode automatically selects from eight shooting modes for beautiful images in any setting.
Sensitivity up to ISO 6400 boosts shutter speeds to freeze subject movement for blur-free images even in low lighting.
Available in two eye-catching color options, black with orange accents or white with purple accents, the PENTAX Optio WS80 will ship in September 2009 for $249.95 USD.
PENTAX Optio WS80 Major Features
Exceptional waterproof performance for underwater shooting and adventure
The palm-sized Optio WS80 assures reliable waterproof performance that allows underwater photography up to five feet for up two hours (JIS Class 8 standard). The WS80 also features the PENTAX-exclusive, highly water-repellent SP (Super Protect) coating on the protective glass panel that covers the zoom lens. As a result, the Optio WS80 may be rinsed clean with fresh water if it becomes covered with dirt or sand. Coupled with remarkable dustproof capabilities equivalent to JIS Class 6, the Optio WS80 may be used without worry in many different situations where water or dirt is a major concern.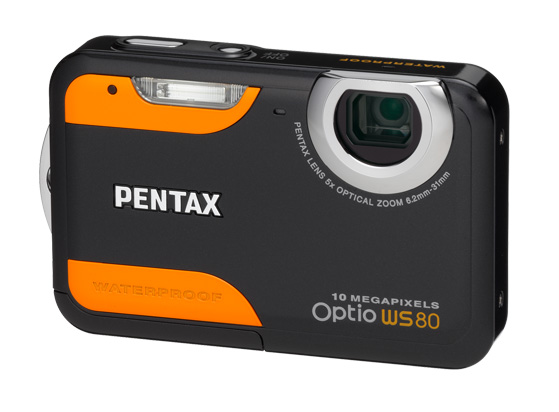 High-quality images delivered by 10.0 effective megapixels
Combining 10.0 effective megapixels with the PENTAX-developed imaging engine and high-performance PENTAX zoom lens, the Optio WS80 produces brilliant, high-resolution prints with edge-to-edge sharpness even when images are enlarged.
High-performance optical 5X zoom lens
The slim, palm-sized Optio WS80 features an optical 5X zoom lens covering focal lengths from 35mm to 175mm in the 35mm format. The camera offers an Intelligent Zoom function that extends the zoom range up to approximately 28.5X for even tighter zooming in on the subject.
High-quality, widescreen, HD movie recording
The Optio WS80 captures beautiful, flawless HD movie clips at 16:9 aspect ratio (1280 x 720 pixels)* at a frame rate of 30 frames per second. The camera also comes equipped with advanced, user-friendly features designed to facilitate movie recording: the Movie SR (Shake Reduction) mode, which automatically compensates for camera shake during movie shooting; and the Underwater Movie mode, which automatically optimizes color settings for underwater movie shooting.
*When the Optio WS80's AV output terminal is used, movie clips are output as normal image-size data. If the user wishes to play back movie clips at high-definition-TV proportions (1280 x 720 pixels), the data must be transferred to a personal computer for playback.
High-speed Face Detection, with a range of user-friendly features
The Optio WS80's advanced Face Detection AF & AE function captures 32 faces in sharp focus and perfect exposure in a mere 0.03 seconds. It also accurately detects a subject facing the camera at an angle or with a tilted head. The Optio WS80 offers other user-friendly features, including:
• A Smile Capture mode automatically releases the shutter the moment the camera detects the subject's smile.
• A Blink Detection function warns the photographer when a subject's eyes close at the time of shutter release.
• A Small Face filter helps reduce a subject's face so that it appears smaller in proportion to the body to produce more flattering well-balanced portraits.
Triple anti-shake protection to prevent different types of camera shake
Pixel Track SR mode
When recording still images, the Optio WS80's Pixel Track SR (Shake Reduction) mode effectively compensates for camera shake by processing affected images.
High-Sensitivity SR mode*
When it detects low-lighting conditions in still-image shooting, the Optio WS80 automatically raises its sensitivity to as high as ISO 6400, making it possible to use a higher shutter speed. This effectively minimizes the adverse effects of camera shake and subject motion blur under poor lighting conditions.
Movie SR mode**
During movie recording, the Optio WS80 prevents blurry images by effectively minimizing annoying camera shake.
* When the High-Sensitivity SR mode is selected, the recorded size is fixed to 5M (2592 x 1944 pixels).
** When the Movie SR mode is selected, the angle of view becomes narrower than normal shooting.
Large 2.7 inch LCD monitor for effortless image viewing
The Optio WS80 features a large 2.7 inch extra bright color LCD monitor so photographers may view on-screen images, menus and mode-settings with ease while shooting and during playback.
Additional Features:
Interval shooting mode, convenient for fixed-point observation of starry skies, flowers and plants
High-speed 9 point AF system, with Auto-Tracking function, to maintain constant focus on a moving subject
Auto Picture mode automatically selects one of eight shooting modes for the optimum results in a wide variety of shooting conditions
A variety of digital filters including Toy Camera and Retro to add distinctive visual effects to recorded images
Dynamic Range adjustment prevents overexposed and underexposed areas in images
Digital Wide function creates a panoramic, extra-wide-angle image (equivalent to an image taken with an approx. 25.4mm lens in 35mm format) from two images
Digital Panorama mode creates a single panoramic picture from as many as three images
Style Watch function displays the time with pushbutton operation, even when the camera's power is turned off
Image recovery function recovers accidentally erased images
Frame composite function (with 90 frames stored in the camera) shoots or composes images with decorative photo frames
Source: Pentax