Ricoh Co., Ltd. (president and CEO: Shiro Kondo) today announced the development and release of the GXR interchangeable unit camera system featuring the world's smallest and lightest  digital camera with the ability to change lenses.
The new GXR is an interchangeable unit camera system in which lenses are changed by using a slide-in mount system to attach camera units to the body. The lens, image sensor, and image processing engine are integrated into the camera units so the body itself does not contain an image sensor.

With world-leading small size and low weight* enabling easy carrying, the GXR interchangeable unit camera system features a highly rigid magnesium alloy body and multiple camera units that can be changed to best fit the scene to be photographed. You can enjoy easy lens changes as well as amazing image quality and shooting flexibility. Concealing infinite possibilities in its small body, the GXR is a revolutionary camera system that pioneers a new realm of photography.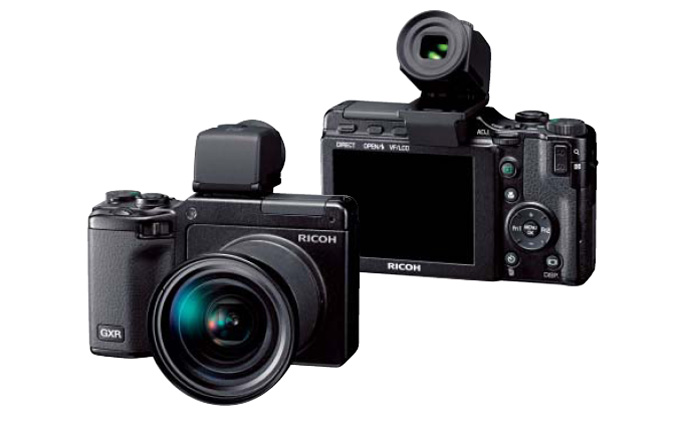 Distinctive characteristics
1. Lens, image sensor, and image processing engine comprise an integrated unit which can be changed to match the scene being photographed.
2. World's smallest and lightest* digital camera with interchangeable lenses
3. System potential expanded through use of interchangeable units
Main features of the new GXR
1. Ideal form for an interchangeable lens camera: The interchangeable unit camera system
By integrating lens, image sensor, and image processing engine into a single optimized unit, we were able to created a compact camera with interchangeable lenses.
The adoption of this new system has made it possible to achieve both "pocket size for go-anywhere portability" and "the highest image quality for every photographic situation and subject."
Since the image sensor is not exposed when lenses are changed, the camera's structure makes it inherently difficult for dirt and dust to get inside.
Putting image processing engines in both the body and the camera units, our focus was on achieving the highest image quality.
2. Elegant design
For the exterior, we utilized die cast magnesium, which has a strong track record in the GR series, and we covered the surface with a corrosion-resistant "pear-skin" coating. The end result is a body with superior levels of durability, light weight, and feel in hand.
Building on the operation control designs of the GR series and GX series, the GXR has several types of customizable buttons as well as the new DIRECT button, which the photographer can use to see many current settings at a glance. Sophisticated shooting settings can now be made faster than ever before.
The directional pad, the three My Settings, the ADJ.lever, and the function buttons all contribute to the even greater operability achieved by the GXR.
The grip form allows the GXR to be firmly held despite its small size, and the suitably yielding rubber material on the grip surface enables the camera to feel like an integral part of the hand.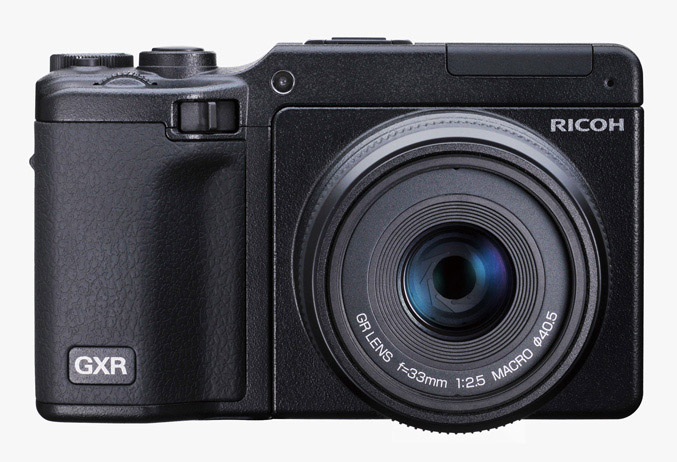 3. Even greater power of expression
The automatic exposure modes include program shift mode, shutter priority mode, and aperture priority mode.
Picture settings can be customized with nine setting levels for easy creation of a diverse range of images.
ISO3200 facilitates shooting in low light conditions.
4. Enhanced rapid shooting capabilities help capture fleeting shutter chances
The Pre-AF function accelerates focusing speed by adjusting the focus to match subject movement.
The full press snap function shoots at a preset distance for a one-push full-press of the shutter-release button.
When shooting subjects up close, the camera automatically switches to macro mode so macro photography can now be enjoyed without having to worry about switching modes.(Auto macro setting)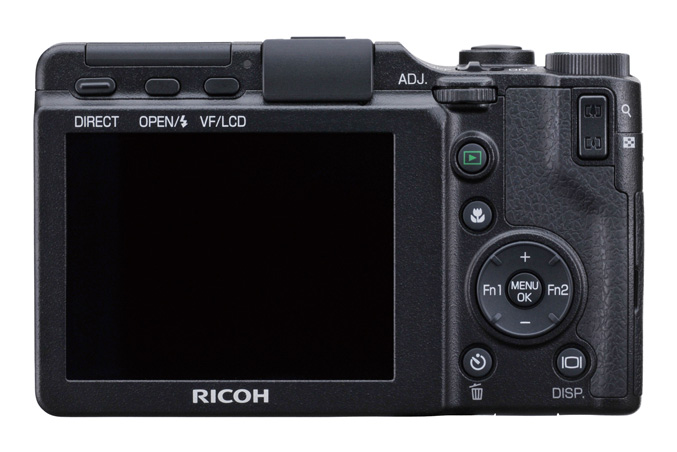 5. High-definition 3.0-inch 920,000-dot VGA LCD picture display
The high-resolution LCD picture display provides a wide viewing angle and high contrast. The screen has a fluorine coat to prevent soiling, a hard coat to prevent scratches, and an anti-reflection coat to give excellent visibility even outdoors in bright sunshine.
With 100% sRGB coverage for color reproduction, the picture display vividly reproduces image colors.
6. Wide range of functions
Tilt indicator utilizing an acceleration sensor.
Three grid guides useful for framing images while shooting.
Image flag function to enable the quick display of specific images from among those in the camera. Up to 20 images can be flagged.
The new DIRECT screen enabling current settings to be displayed and changed.
7. Features of the GR LENS A12 50 mm F2.5 MACRO camera unit
This camera unit uses a 23.6 mm x 15.7 mm (APS-C size) CMOS sensor with approximately 12.30 megapixels. In combination with image processing engine GR ENGINE III, it achieves high-image-quality photography with high definition, low noise, and smooth tonal gradations.
A newly developed GR LENS with an 8-group, 9-element configuration (aspherical lens: 1 element, two surfaces) is featured. Representing a further advancement in the GR tradition of high image quality, the lens thoroughly corrects for various types of aberrations. Despite the compact size, it is also a full-fledged macro lens with a floating lens structure. At shooting distances from infinity down to the 1/2x maximum magnification macro range, it achieves strong imaging power all the way to the edge of the frame. In addition, the low level of vignetting means that the photographer can enjoy rich and genuine bokeh effects.
The manual focus ring is perfect for use in macro photography as it makes highly precise focusing possible. It can also be used to make fine manual adjustments to the focus after autofocus is done.
8. Features of the RICOH LENS S10 24-72 mm F2.5-4.4 VC camera unit
This camera unit uses a 10.00 megapixel 1/1.7-inch CCD sensor boasting high-sensitivity capabilities enhanced through the adoption of an new process. In combination with advanced image processing engine Smooth Imaging Engine IV, it achieves high-image-quality photography with high definition and low noise.
The lens is a 24 mm to 72 mm high-performance 3x wide-angle zoom with superior usability. Utilizing a 7-group, 11-element configuration (aspherical lens: 4 elements, 4 surfaces) that includes special low-dispersion lenses, this lens achieves high dimensions of both compactness and imaging power.
A camera shake correction function (image-sensor-shift type) is used to reduce hand- motion blur.
The self-retaining lens cap has been a popular GX series option, and a GXR version is available as option LC-2.
9. New options enhance series expandability
Two soft cases, one for each camera unit.
The GXR can use the GR DIGITAL III external flash (GF-1), which can do TTL flash using auxiliary flash.
Convenient for shooting in bright outdoor situations, the newly developed 920,000-dot- equivalent high-definition LCD viewfinder is removable and can be tilted up to 90 degrees. With a 100% field of view, it displays information in the same way as the picture display, thus enabling the photographer to shoot in a film camera style.
10. Functions expanded using firmware
Function-enhancing firmware releases for the GR DIGITAL series have proved very popular, and this practice will be continued for the GXR. By updating their firmware, GXR owners will be able to use the latest functions.
GXR Options
| Product | Model |
| --- | --- |
| Hood & Adapter *1, *4 | HA-3 |
| Wide Conversion Lens *2, *4 | DW-6 |
| Teleconversion Lens *2, *4 | TC-1 |
| External TTL Flash *1 | GF-1 |
| LCD Viewfinder *1 | VF-2 |
| Cable Switch | CA-1 |
| Soft Case *1, *4 | SC-55S |
| Soft Case *1, *3 | SC-55L |
| Neck Strap *1 | ST-3 |
| Self-retaining Lens Cap *1, *4 | LC-2 |
| AC Adapter *1 | AC-5 |
| Rechargeable Battery *1 | DB-90 |
| Battery Charger *1 | BJ-9 |
*1 Newly introduced options.
*2 Hood & adapter required when using the conversion lenses.
*3 For use with GR LENS A12 50 mm F2.5 MACRO
*4 For use with RICOH LENS S10 24-72 mm F2.5-4.4 VC
* All of the focal lengths in this release are converted to the equivalent values for a 35 mm film camera.
Source: Ricoh