Samsung has started the production of an ultra fast microSD card. Boasting a capacity of 6 GB the microSDHC card runs at the same UHS-1 (Ultra High Speed-1) spec normally used for the latest full-size SD cards, giving it performance that would previously have been reserved for pro memory for DSLRs and video cameras.
This is the reason why the new card comes with sequential read speed of about 80 MB/sec or roughly four times the 21 MB of regular microSD cards.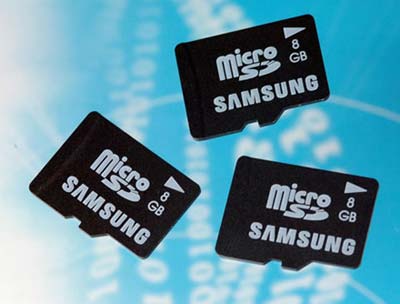 The new card targets LTE-capable smartphones and tablets, where flash memory speed could bottleneck the connection. It should nonetheless be useful for cameras that take microSD storage and support UHS-1. This achievement was made possible thanks to Samsung's combination of its more recent 20-nanometer manufacturing process to build 64-gigabit (8 GB) chip layers as well as a toggle DDR2 interface that can saturate the newly available bandwidth.
Sadly, there's no information on the pricing or on the release schedule but mass production hints of an upcoming official release.
Source: Electronista