Nikon Introduced today the new digital camera entitled COOLPIX S80, which comes with a bright three and a half inch ultra high resolution OLED touch screen.
The Nikon COOLPIX S80 Touch-Screen Digital Camera offers an easy-to-use interface that gives the photographer easy control over the functions of the camera, including zooming and playback. When the photographer rotates the camera for vertical shooting, the display functions also automatically rotate. This provides ease when shooting photos.
The Nikon COOLPIX S80 Digital Camera comes equipped with a large 3.5-inch ultra high resolution OLED touch screen display that produces clear and crisp images with bright vivid colors and contrast. The OLED display offers a wide viewing angle of 180 degrees and an anti-reflection coating. With the COOLPIX S80 you can shoot, view and share photos and high-definition movies at 720p.
"Our consumers not only rely on our compact digital cameras for beautiful photos and brilliant technology, but also as a reflection of their personal style," said Bo Kajiwara, director of marketing, Nikon Inc. "The COOLPIX S80's slim, sophisticated design, touch screen technology and excellent features make it fun for consumers to capture high quality images and share their memorable moments."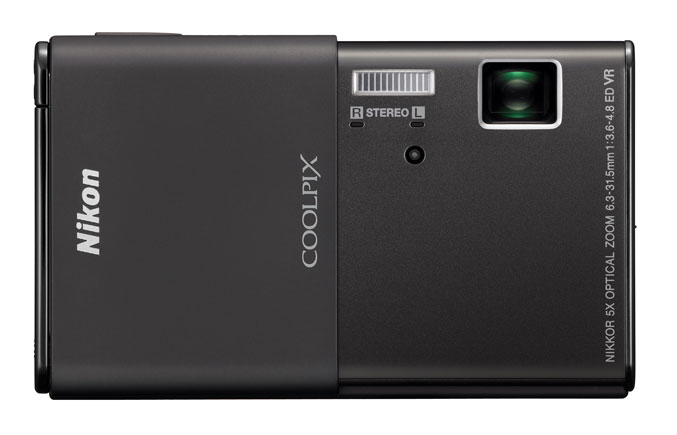 The COOLPIX S80 Digital Camera measures at 0.7 inches, providing great portability to the consumer. The digital camera can be turned off and on by sliding the lens cover.
A function called "The Paint Function" offers the amazing ability to write and draw on images via the touch screen during playback, while the Retouch Menu functions lets consumers to adjust the image's Color Options, Soft Focus, Selective Color, Cross Screen, Miniature Effect and Fish-Eye Effect. A rating function is also include, allowing consumers to rate their photos with up to five stars, and also add animated moving stamps.
The HDMI output port lets photographers connect their digital camera to an HDTV, in order to view their compositions on a big screen, or play recorded high definition video footage.
The COOLPIX S80 Digital Camera is equipped with a 14.1 megapixel CCD sensor and a 5x Wide-Angle Optical Zoom-NIKKOR ED Glass Lens (35-175mm and 35mm equivalent). It also features a five way vibration reduction Image Stabilization System including Optical and Gybrid VR, Motion Detection and ISO settings up to 6400 + Best Shot Selector.
In-Camera Red-Eye Fix, Face Priority AF, Smile Timer, Blink Warning, Blink Proof and Skin Softening are also features incorporated in the COOLPIX S80 Smart Portrait System.
The Nikon COOLPIX S80 Touch-Screen Digital Camera is expected to be available in fall 2010 for the price of $329.95 in red, black, blue, pink, gold and silver/brown.