Nikon Corporation is pleased to announce the newest addition to its family of quality DX-format digital SLRs, the D5000. With a robust feature set and simple operability backed by Nikon's superlative technology, the D5000 is the ideal choice for both entry-level digital SLR users and those looking for an upgrade to raise their level of photographic expression.

An innovative 2.7-in. Vari-angle monitor, outstanding 12.3-megapixel image quality, D-Movie capability, and expanded Scene Modes deliver renowned Nikon quality in a fun, easy-to-use digital SLR.



The D5000 features a versatile Vari-angle LCD monitor that can be viewed in normal position flush against the camera back, or swung out and rotated and/or tilted. This unequaled freedom of movement adds a unique level of creativity to Live View shooting, allowing easy viewing from virtually any perspective. When not in use, the monitor can be stowed with the LCD panel facing the camera back, essentially becoming its own rugged monitor cover. Measuring 2.7 inches with 230,000-dot resolution, the monitor provides 100% scene coverage in Live View and assures accurate image review.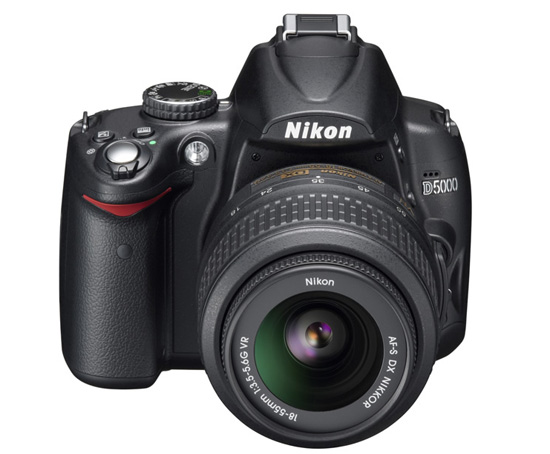 The D5000 inherits the same brilliant image quality from Nikon's highly regarded DX-format digital SLR, the D90. Featuring a 12.3 effective megapixel CMOS sensor, Nikon's exclusive EXPEED image processing system, and compatibility with a comprehensive selection of NIKKOR lenses, the D5000 produces highly detailed images that exhibit smooth tonal gradation, outstanding color reproduction, and low noise across a wide ISO sensitivity range. EXPEED also contributes to streamlined handling of advanced imaging features such as Nikon's original Scene Recognition System with Face Detection and Active D-Lighting.
In addition to superior imaging capabilities, the D5000 offers excellent photographic performance thanks to continuous shooting as fast as 4 frames per second, advanced 3D Color Matrix Metering II for outstanding exposure accuracy, 11-point selectable autofocus, and four Live View AF modes, along with automatic exposure and white balance bracketing functions. There is also a new Quiet Shooting mode that reduces mirror cycling noise for quieter shooting in environments where minimal noise is desired.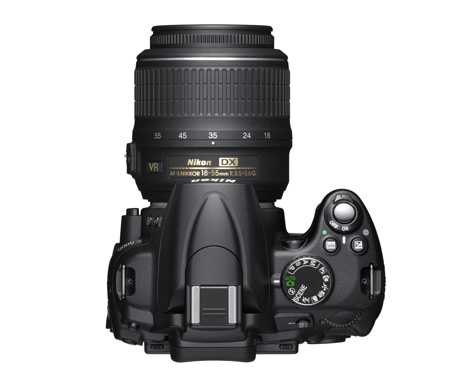 Ease-of-use is a hallmark of Nikon digital SLRs and the D5000 successfully carries on this tradition, both in form and function. The compact, agile body boasts an intelligent layout with controls sensibly positioned for easy operation, while 19 automatic Scene Modes add point-and-shoot ease for beautiful results in a wide variety of challenging shooting situations. Scene Modes even include example images for each mode to make selection easy for anyone.
Extensive in-camera image control is available using Nikon's Picture Control System, which allows users to customize key image capture characteristics to suit personal preferences. For additional creative control, the D5000 includes a comprehensive set of in-camera editing functions via its Retouch Menu that enhance photos with a variety of effects — without the need for a computer.
Combining famous Nikon quality and high performance, the D5000 opens the door to a level of creative expression never before possible in a camera so fun.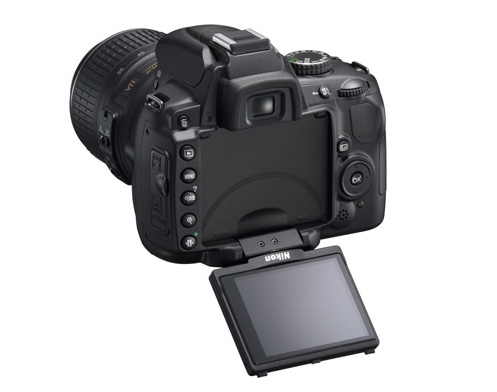 Nikon D5000 Feature Highlights
New Vari-angle monitor
The innovative Vari-angle monitor swings down approximately 90° and rotates 180°, allowing users to easily shoot from interesting angles in Live View mode. Featuring a bright 2.7-in. 230,000-dot LCD, the new monitor provides a comfortable view from virtually any shooting perspective. The monitor can also be stowed with the LCD panel neatly tucked against the camera back to protect the screen when not in use.
Nikon DX-format 12.3-megapixel CMOS image sensor
At 12.3 effective megapixels, the D5000 produces high-resolution images with outstanding enlargement capability. The high signal-to-noise ratio results in images with extremely low noise even when shooting at high ISO settings. Normal ISO sensitivity is ISO 200 to 3200. For added shooting versatility, a Hi 1 setting increases sensitivity to ISO 6400 while a Lo 1 setting decreases it to ISO 100.
Specially designed EXPEED image processing system
The D5000 is equipped with Nikon's exclusive EXPEED image processing system. This leading-edge technology provides the power to process the large amount of data generated by the D5000's 12.3-megapixel CMOS sensor. EXPEED realizes excellent resolution, long tonal scale, and superb color while also making possible fast processing of the D5000's advanced imaging functions such as Scene Recognition with Face Detection, Live View AF, and Active D-Lighting — all of which demand tremendous processing capability.
Live View shooting
Nikon's versatile Live View shooting, now enhanced by the D5000's Vari-angle monitor, can be accessed with one-touch ease by pressing the Live View button. Autofocus with Live View has been further improved by the addition of Subject tracking AF, which automatically locks onto a pre-selected subject and maintains focus on it even if it momentarily leaves the frame. This mode joins three other contrast-detect AF modes with which the D5000 is equipped: Face priority AF (which automatically detects up to five faces in a scene then focuses on the closest face); Wide area AF (which offers a large AF area for optimal handheld shooting) and; Normal area AF (which provides pin-point focusing accuracy for excellent results when using a tripod).
Movie clips with D-Movie
In response to user demand for video shooting capability in digital SLRs, the D5000 includes Nikon's D-Movie function. First available on the Nikon D90, D-Movie gives users the flexibility to shoot Motion JPEG movie clips in different formats at a smooth 24 frames per second. For high-quality playback on HDTVs, the D5000 produces clips at 1,280 x 720 pixels. Users who want to view on standard computer monitors or upload to photo sharing websites can shoot at 640 x 424 pixels or 320 x 216 pixels, respectively. Because the D5000's sensor is much larger than that of a typical camcorder, movie clips display superior image quality and low noise even when shot at high ISO settings. Additionally, the D5000's compatibility with NIKKOR AF-S and AF-I lenses opens up a wide range of possibilities for dramatic expression, from fisheye and wide-angle shots to long telephoto scenes and extreme close-ups.
19 Scene Modes
Scene Modes empower users to obtain great looking shots in a variety of situations with point-and-shoot ease. These modes adjust exposure, white balance, Active D-lighting, and Picture Control settings depending on the selected mode. Six commonly used modes can be selected using the D5000's mode dial, while the remaining 13 are accessed by setting the mode dial to SCENE then simply turning the command dial to make the selection. To assist in determining the best mode, the D5000 displays a sample photo as each mode is selected. Newly added modes are Pet portrait, Candlelight, Blossom, Autumn colors, Food, Silhouette, High key, and Low key.
Scene Recognition System with Face Detection System
In order to accurately adjust exposure and white balance as well as assist autofocus, the D5000 utilizes a 420-pixel RGB sensor to analyze color and illumination over the entire scene milliseconds prior to exposure. This allows the D5000 to better evaluate scene content, resulting in improved exposure for better image quality while also boosting autofocus performance. Additionally, the D5000 detects human faces using its Face Detection System.
Active D-Lighting
The D5000 incorporates Nikon's Active D-Lighting function to vastly improve details in the shadows and highlights of high-contrast scenes. Like the Scene Recognition System, Active D-Lighting utilizes the 420-pixel RGB sensor to analyze a scene then adjust exposure to achieve images that closely resemble what the human eye sees. During processing, this function also restores details in areas of the image that exhibit image loss. There are six Active D-Lighting settings — Auto, Extra high, High, Normal, Low, and Off — along with a bracket mode that allows users to shoot one image with Active D-Lighting and one without.
11-point AF system with Multi-CAM 1000 autofocus module
Employing 11-point autofocus driven by Nikon's Multi-CAM 1000 autofocus module, the D5000 delivers fast, precise focus over a wide area of the frame when shooting through the optical viewfinder. Four versatile AF modes are available: single-point AF for stationary subjects, especially ones that are off-center; dynamic-area AF for moving subjects; auto-area AF when you want the D5000 to automatically determine the proper focus method and; 3D-tracking (11 points) AF for maintaining focus on subjects even if the composition changes.
Picture Control System
The Picture Control System of the D5000 gives users the ability to customize key image capture characteristics to suit personal preferences. Six settings are available — Standard, Neutral, Vivid, Monochrome, Portrait, and Landscape — along with the ability to create up to nine custom Picture Control settings.
Photo editing
After shooting, the D5000's newly expanded photo editing functions allow for in-camera retouching, lessening the need for a computer to enhance or modify images. The D5000 introduces several new editing options under its Retouch Menu, including Soft Filter, Perspective Control (which helps correct distortions in perspective), and Color Outline (which creates monochrome outlines of objects in images by eliminating color and tonal gradations). Each editing function is applied to a copy of the image, with the original left unmodified.
Nikon Integrated Dust Reduction System
Dust reduction is handled by the Nikon Integrated Dust Reduction System. This is a comprehensive solution that reduces generation and accumulation of dust and also provides measures to remove dust. A key element of the solution is the Airflow Control System, which directs dust away from the image sensor. The system also includes an image sensor cleaning function that activates automatically when the D5000 is powered on. This vibrates the low-pass filter (located in front of the sensor) to free it from dust.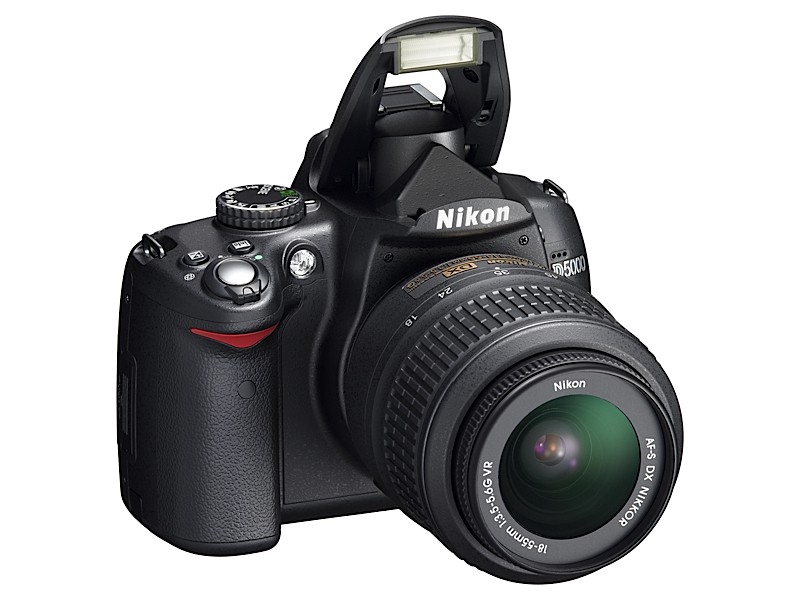 Nikon D5000 Other Features
On-demand grid lines both when shooting via the optical viewfinder and in Live View mode.

Extensive playback options that allow viewing of images one at a time or in batches of 4, 9, and 72 as well as Calendar view that organizes images by shooting date and time. A histogram display is also available that shows exposure data for a magnified area of the image.

Direct HDTV connectivity via built-in HDMI (High-Definition Multimedia Interface) connector.

Highly durable shutter unit tested to 100,000 cycles.

Compatible with all NIKKOR AF-S and AF-I lenses that have an autofocus motor.

Built-in flash with a guide number of approx. 17/56 (ISO 200, m/ft., 20°C/68°F) and support for Nikon's i-TTL flash control.

Support for the Nikon Creative Lighting System when using SB-900 or SB-800 Speedlights, or the SU-800 Wireless Speedlight Commander.

Long-lasting Rechargeable Li-ion Battery EN-EL9a that provides up to 510 shots per charge. (CIPA standard, with AF-S DX NIKKOR 18-55mm f/3.5-5.6G VR and flash fired at full power once every other shot.)

Compatible with the optional ML-L3 Wireless Remote Control. There are two shutter release modes available when using the control: Quick mode for immediate triggering of the shutter release and Delayed mode, which delays triggering for two seconds.

Compatible with the optional GPS Unit GP-1, which automatically appends longitude, latitude, altitude, and time information to the EXIF data of each image.

Compatible with the optional Remote Cord MC-DC2, which enables remote shutter release and time (bulb) exposures.

Includes Nikon ViewNX image browsing and editing software, which lets you organize, label, and select images as well as perform NEF (RAW) image editing adjustments and conversions.

Image data from the D5000 can be used with optional Nikon Capture NX 2 photo-editing software, which features patented U Point® technology and powerful tools for quick and easy photo editing, including enhanced NEF (RAW) Editing.
Nikon Digital SLR Camera D5000 Specifications
Type
Type
Single-lens reflex digital camera
Lens mount
Nikon F mount (with AF contacts)
Effective picture angle
Approx. 1.5 x lens focal length (Nikon DX format)
Effective pixels
Effective pixels
12.3 million
Image sensor
Image sensor
23.6 x 15.8 mm CMOS sensor
Total pixels
12.9 million
Dust-reduction system
Image Sensor Cleaning, Image Dust Off reference data (optional Capture NX 2 required)
Storage
Image size (pixels)
4,288 x 2,848 [L], 3,216 x 2,136 [M], 2,144 x 1,424 [S]
File format
NEF (RAW)
•JPEG: JPEG-Baseline compliant with fine (approx. 1:4), normal (approx. 1:8), or basic (approx. 1:16) compression
•NEF (RAW) + JPEG: Single photograph recorded in both NEF (RAW) /and JPEG formats
Picture Control System
Can be selected from Standard, Neutral, Vivid, Monochrome, Portrait, Landscape; storage for up to nine custom Picture Controls
Media
SD memory cards, SDHC compliant
File system
DCF (Design Rule for Camera File System) 2.0
DPOF (Digital Print Order Format)
Exif 2.21(Exchangeable Image File Format for Digital Still Cameras)
PictBridge
Viewfinder
Viewfinder
Eye-level pentamirror single-lens reflex viewfinder
Frame coverage
Approx. 95% horizontal and 95% vertical
Magnification
Approx. 0.78 x (50mm f/1.4 lens at infinity; -1.0 m-1)
Eyepoint
17.9 mm (-1.0 m-1)
Diopter adjustment
-1.7 to +0.7 m-1
Focusing screen
Type B BriteView Clear Matte screen Mark V with focus frame (framing grid can be displayed)
Reflex mirror
Quick-return type
Lens aperture
Instant return, electronically controlled
Lens
Compatible lenses
•AF-S and AF-I NIKKOR: All functions supported
•Type G or D AF NIKKOR not equipped with an autofocus motor: All functions supported except autofocus
•Non-Type G or D AF NIKKOR not equipped with an autofocus motor: All functions supported except 3D color matrix metering II and autofocus
•IX-NIKKOR and AF-NIKKOR for F3AF: Not supported
•Type D PC NIKKOR: All functions supported except some shooting modes
•AI-P NIKKOR: All functions supported except 3D color matrix metering II
•Non-CPU: Autofocus not supported. Can be used in exposure mode M, but exposure meter does not function
•Lens with maximum aperture of f/5.6 or faster: Electronic rangefinder can be used
Shutter
Shutter type
Electronically controlled vertical-travel focal-plane shutter
Shutter speed
1/4,000 to 30 s in steps of 1/3 or 1/2 EV, Bulb, Time (with optional ML-L3 Remote Control)
Flash sync speed
X = 1/200 s; synchronizes with shutter at 1/200 s or slower
Release
Release modes
Single-frame, continuous, self-timer, quick-response, delayed remote, quiet
Frame advance rate
Continuous high speed: up to 4 fps (manual focus, manual or shutter-priority auto exposure, 1/250 s or faster shutter speed; other settings at default values and memory remaining in memory buffer)
Self-timer
Can be selected from 2, 5, 10, and 20 s duration
Exposure
Metering
TTL exposure metering using 420-pixel RGB sensor
Exposure method
Matrix: 3D color matrix metering II (type G and D lenses); color matrix metering II (other CPU lenses)
Center-weighted: Weight of 75% given to 8-mm circle in center of frame
Spot: Meters 3.5-mm circle (about 2.5% of frame) centered on selected focus point
Exposure range (ISO 100 equivalent, f/1.4 lens, 20°C/68°F)
•Matrix or center-weighted metering: 0–20 EV
•Spot metering: 2–20 EV
Exposure meter coupling
CPU
Exposure modes
Auto modes (auto, auto [flash off]), Advanced Scene Modes (Portrait, Landscape, Child, Sports, Close up, Night portrait, Night landscape, Party/indoor, Beach/snow, Sunset, Dusk/dawn, Pet portrait, Candlelight, Blossom, Autumn colors, Food, Silhouette, High key, and Low key), programmed auto with flexible program (P), shutter-priority auto (S), aperture-priority auto (A), manual (M)
Exposure compensation
±5 EV in increments of 1/3 or 1/2 EV
Exposure bracketing
3 frames in steps of 1/3 or 1/2 EV
Exposure lock
Luminosity locked at detected value with AE-L/AF-L button
ISO sensitivity (Recommended Exposure Index)
ISO 200 to 3200 in steps of 1/3 EV. Can also be set to approx. 0.3, 0.7, or 1 EV (ISO 100 equivalent) below ISO 200, or to approx. 0.3, 0.7, or 1 EV (ISO 6400 equivalent) over ISO 3200, ISO sensitivity auto control available
Active D-Lighting
Can be selected from Auto, Extra high, High, Normal, Low, or Off
Active D-Lighting bracketing
2 frames
Focus
Autofocus
Nikon Multi-CAM 1000 autofocus sensor module with TTL phase detection, 11 focus points (including 1 cross-type sensor) and AF-assist illuminator (range approx. 0.5–3 m/1 ft. 8 in.–9 ft. 10 in.)
Detection range
-1 to +19 EV (ISO 100 equivalent, 20°C/68°F)
Lens servo
•Autofocus: Instant single-servo AF (AF-S); continuous-servo AF (AF-C); auto AF-S/AF-C selection (AF-A); predictive focus tracking automatically activated according to subject status (AF-A)
•Manual (M): Electronic rangefinder supported
Focus point
Can be selected from 11 focus points
AF-area modes
Single-point AF, dynamic-area AF, auto-area AF, 3D-tracking (11 points) AF
Focus lock
Focus can be locked by pressing shutter-release button halfway (Single-servo AF) or by pressing AE-L/AF-L button
Flash
Built-in flash
Auto, Portrait, Child, Close-up, Night portrait, Party/indoor, Pet portrait modes: Auto flash with auto pop-up
P, S, A, M, Food: Manual pop-up with button release
Guide number (m/ft.) at 20°C/68°F
•At ISO 200: Approx. 17/56, 18/59 with manual flash
•At ISO 100 equivalent: Approx. 12/39, 13/43 with manual flash
Flash control
•TTL: i-TTL balanced fill-flash and standard i-TTL flash for digital SLR using 420-pixel RGB sensor are available with built-in flash, SB-900, SB-800, SB-600, or SB-400 (when combined with matrix metering or center-priority metering)
•Auto aperture: Available with SB-900, SB-800, and CPU lenses
•Non-TTL auto: Supported flash units include SB-900, SB-800, SB-80DX, SB-28DX, SB-28, SB-27, or SB-22s
•Range-priority manual: Available with SB-900 and SB-800
Flash modes
Auto, auto with red-eye reduction, fill-flash, auto slow sync, auto slow sync with red-eye correction, and rear curtain with slow sync
Flash compensation
-3 to +1 EV in increments of 1/3 or 1/2 EV
Flash bracketing
2 or 3 frames in steps of 1/3, 1/2, 2/3, 1, or 2 EV
Flash-ready indicator
Lights when built-in flash or SB-900, SB-800, SB-600, SB-400, SB-80DX, SB-28DX, or SB-50DX is fully charged; blinks for 3 s after flash is fired at full output in i-TTL or auto aperture modes
Accessory shoe
Standard ISO 518 hot-shoe contact with safety lock
Nikon Creative Lighting System (CLS)
Advanced Wireless Lighting supported with optional Speedlights SB-900, SB-800, or SU-800 as commander.
Sync terminal
Hot Shoe Sync Terminal Adapter AS-15 (optional)
White balance
White balance
Auto (TTL white-balance with main image sensor and 420-pixel RGB sensor); 12 manual modes with fine-tuning; preset manual white balance, white balance bracketing
White balance bracketing
3 frames in steps of 1
Live View
AF modes
Face priority AF, wide area AF, normal area AF, subject tracking AF
Focus
Contrast-detect AF anywhere in frame (camera selects focus point automatically when face priority or subject tracking AF is selected at the time of Live View shooting)
Movie clips
Image sizes (pixels)
1,280 x 720/24 fps, 640 x 424/24 fps, 320 x 216/24 fps
File format
AVI
Compression format
Motion-JPEG, with monaural sound
Monitor
LCD monitor
Vari-angle type, 2.7-in., approx. 230k-dot, TFT LCD, approx. 100% frame coverage and brightness adjustment
Playback function
Full-frame and thumbnail (4, 9, or 72 images or calendar) playback with playback zoom, movie playback, stop-motion movie playback, slide show, histogram display, highlights, auto image rotation, and image comment (up to 36 characters)
Interface
USB
Hi-Speed USB
Video output
Can be selected from NTSC and PAL; images can be displayed on external device while camera monitor is on
HDMI output
Type C HDMI connector; camera monitor turns off when HDMI cable is connected
Accessory terminal
•Remote Cord MC-DC2 (optional)
•GPS Unit GP-1 (optional)
Supported languages
Supported languages
Chinese (Simplified and Traditional), Danish, Dutch, English, Finnish, French, German, Italian, Japanese, Korean, Norwegian, Polish, Portuguese, Russian, Spanish, Swedish
Power source
Battery
One Rechargeable Li-ion Battery EN-EL9a
AC adapter
AC Adapter EH-5a (optional; requires EP-5 power connector)
Tripod socket
Tripod socket
1/4 in. (ISO 1222)
Dimensions/Weight
Dimensions (W x H x D)
Approx. 127 x 104 x 80 mm / 5.0 x 4.1 x 3.1 in.
Weight
Approx. 560 g / 1 lb. 4 oz. without battery, memory card, or body cap
Operating environment
Temperature
0–40°C / 32–104°F
Humidity
Less than 85% (no condensation)
Accessories
Supplied accessories (may differ by country or area)
Rechargeable Li-ion Battery EN-EL9a, Quick Charger MH-23, Eyepiece Cap DK-5, Rubber Eyecup DK-24, USB Cable UC-E6, Audio Video Cable EG-CP14, Camera Strap AN-DC3, Accessory Shoe Cover BS-1, Body Cap, Software Suite CD-ROM
•PictBridge is a trademark. •HDMI, the HDMI logo and High-Definition Multimedia Interface are trademarks or registered trademarks of HDMI Licensing LLC. •Products and brand names are trademarks or registered trademarks of their respective companies.
Specifications and equipment are subject to change without any notice or obligation on the part of the manufacturer.
Source: Nikon