Sharp Corporation has developed and will introduce a CMOS camera unit designed for vehicle rearview monitoring systems. The 1/3.7-type RJ642A10000Q CMOS camera unit features a resolution of 320,000 pixels with the industry's thinnest profile of 19.5 mm.
The use of automotive cameras is spreading widely mainly in the Japanese market for rearview monitoring systems that give the driver a view behind the vehicle to avoid accidents and to check parking position. In addition, in the US, there is a move to legislate the use of rearview monitors and other devices to improve safety behind the vehicle.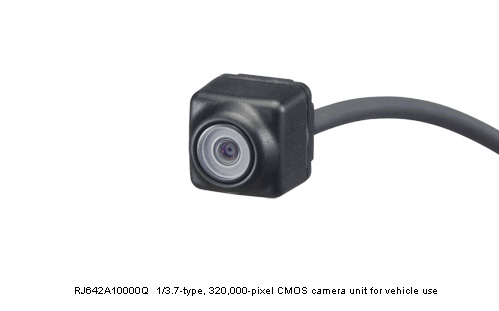 This device is a single camera unit integrating a high-sensitivity CMOS image sensor with on-board image processing circuitry and a lens inside a dustproof and waterproof enclosure with an attached video output cable. The unit occupies only 7 cc of space, about one-third the volume of previous models3, thanks to high-density mounting technology developed for camera modules used in mobile phones. Due to its compact size and thin profile, it can be installed without interfering with the design aesthetics of the vehicle. In addition, when connected to a car navigation system or LCD monitor, guide lines can be overlaid on the display to indicate the vehicle width.
Features
Compact, thin-profile unit (volume: 7 cc; thickness: 19.5 mm) allows mounting on a vehicle without interfering with design aesthetics.
Vehicle width guide lines can be displayed on a connected LCD monitor.
Dustproof and waterproof (IP67).
Source: Sharp