Looxcie (look-see) wearable camcorder, is like a Bluetooth headset, but is capable to capture and share video clips. You just...
A new top-end JVC HD Everio video camera is now available, JVC announced yesterday. The new GZ-HM1 HD Everio offers...
Sony professional expands its Super 35mm digital motion picture cameras with another model, wich will be offered at a price...
Dedicated video enthusiasts can enjoy absolute creative control over capturing pristine HDV 1080i images on HDV tape with the new...
SANYO North America Corporation (SANYO) introduces three new Dual Cameras, the VPC-GH2, VPC-CG102, and VPC-CG20, featuring Full High Definition 1080...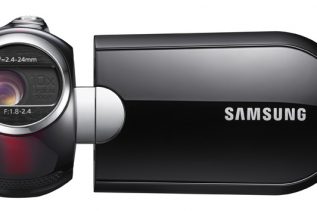 Samsung Electronics America Inc., a market leader and award-winning innovator in consumer electronics, today announced the SMX-C14 and SMX-C10, two...
Eastman Kodak Company introduced the new KODAK PLAYSPORT Video Camera, a rugged, durable and pocket-size HD video camera with an...