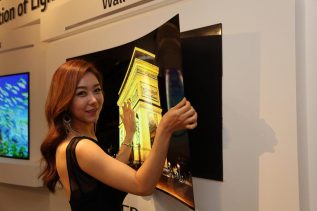 LG Display, a division of LG, has demonstrated the world's first OLED display that is less than a millimeter thick....
BenQ officially broadened the company's extensive LCD TV lineup with the launch today of the 37" SK3731 and 32" SK3231...
Welcome to the Wonderland. Finally your grandma will stop taking your laptop to watch Tom Jones clips on Youtube. As...
PowerColor unveils all-new multimedia solution that "will change the way" you view entertainment in your home, allowing you to view...
The most popular video service in the world, DirectTV, and the world leader in 3D TV Technology, Panasonic, announced the...
Gateway Inc. today introduces the Gateway LT21 Series netbook, which helps customers stay productive and connected for longer than ever...
HDMI Licensing, LLC, the agent responsible for licensing the High-Definition Multimedia Interface® (HDMI®) specification, announced, on behalf of the HDMI...