The Taiwanese company A-Data has announced the market availability of two new mSATA solid-state drives – the XPG SX300 and the Premier Pro SP300. Both mSATA SSDs target customers who want to get the most out of newer motherboards with mSATA ports and bring their PC storage performance as close as possible to the performance of a single primary SSD drive.
Taking a look at the XPG SX300 we'll find support for the latest SATA 3.0 standard, which allows the drive to reach read and write speeds of 550 MB/sec and 505 MB/sec respectively while 4K random writes reach 85 000 IOPS. The A-Data XPG SX300 is available in capacities of 64 GB, 128 GB and 256 GB and are suitable for power users that are looking for the best in speed and capacity. The 64 GB model will sell for 89.99 USD, the 128 GB model will retail for 149.99 USD and the most spacious 256 GB model will cost 299.99 USD.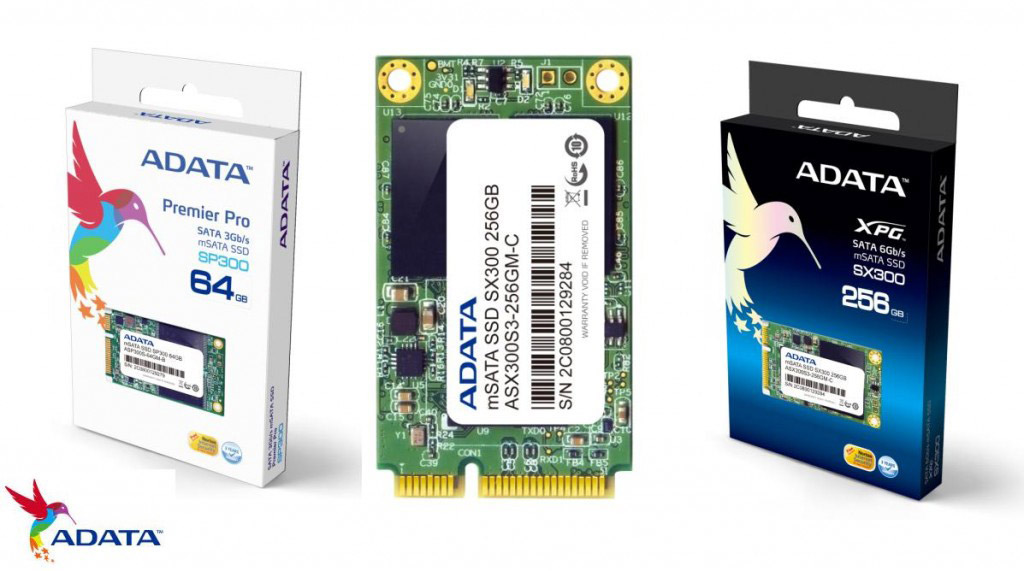 The other model – the Premier Pro SP300 also comes with SATA 3.0 support but being a more budget-oriented model targets customers who are price conscious. Available in 24 GB, 32 GB and 64 GB capacities the Premier Pro SP300 reaches 280 MB/sec and 260 MB/sec of read and write speeds with 4K random writes reaching 46 000 IOPS. The Premier Pro SP300 is best used in systems with a slower mechanical hard drive, where it can significantly boost performance. The 24 GB model will sell for 49.99 USD, the 32 GB model will cost 59.99 USD, while the 64 GB model will retail for 79.99 USD.
Both mSATA SSD drives come with an optimized firmware for work with NAND Flash memory that improves performance by 7 per cent compared to drives with a SandForce controller. The SX300 and SP300 also support Intel Smart Response Technology and comply with ATA/ATAPI-7 standard. Other supported technologies include S.M.A.R.T. and NCQ command sets as well as TRIM. Lastly the two new mSATA drives feature 1.2 million hours of MTBF and a 3-year warranty.
The A-Data XPG SX300 and Premier Pro SP300 are available now at retailers in Canada and the USA.
Source: Techpowerup