Advanced Micro Devices (AMD) has announced that it plans to enter the memory market with own branded memory modules. The memory will be sold in the United States only.

AMD will not be making the memory – instead it will be manufactured by Patriot Memory and sold by Visiontek. The main advantage of the new memory is that it will be pre-tested on AMD-based platforms with accelerated processing units and central processing units.
"AMD has been supplying and validating memory for AMD Radeon graphics cards for several years. Based on this experience, adding system memory to our product line was a clear opportunity for us. This move provides our partners and end-users with a trusted brand synonymous with quality – we can help ensure performance and reliability with AMD Memory," said Matt Skynner, corporate vice president and general manager of AMD GPU division.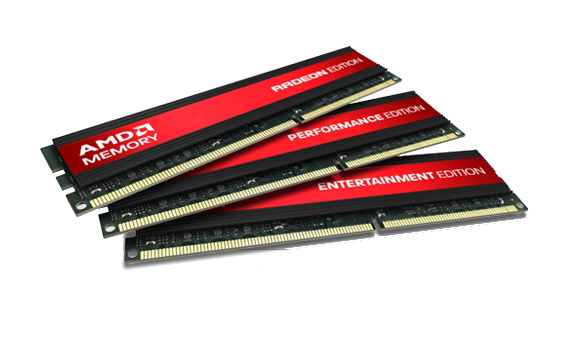 The new AMD branded memory will be based on DDR3 memory technology and will come in three capacities – 2 GB, 4 GB and 8 GB.  Three product lines will be maintained – Entertainment, Performance and Radeon Edition.  The Entertainment lineup will feature 1333MHz and 1600MHz speed RAM, Performance series support speeds up to 1600MHz with low latency and will come in matched pairs, the Radeon Edition memory will run at 1866MHz, and will be tuned, tested and certified for specific AMD platforms to enable maximum performance at competitive pricing.
Analysts, however, do not expect AMD to make substantial profit in a highly competitive and commoditized market with numerous well-known brands.
Source: Xbitlabs