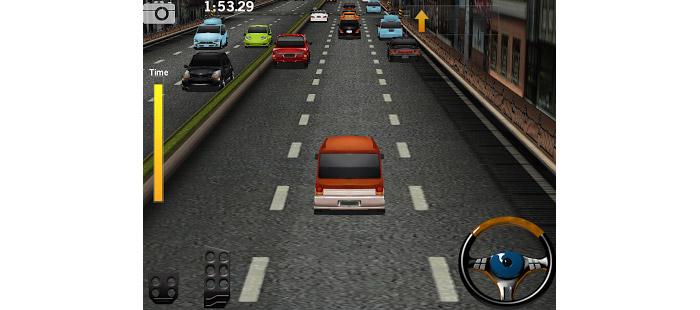 Dr. Driving is the latest creation of SUD Inc. – a company known for making driving simulators. In fact Dr. Driving is the successor to Dr. Parking or so the company says and the game is so good you can find it in Top 15 of Google Play as of now.
In Dr. Driving you assume the role of a driver who's got missions such as drift as much as you can, drive fuel efficiently, drive softly and park softly or drive fast and park as fast. Your first car, as expected, is a piece of junk but later you can upgrade the car in pretty much every department or simply get a new and better one. Of course you can do all of this using real money (yes, the game has in-game purchases) but if you log into the game using Facebook instead of not creating a profile, you will get 100 in-game Gold that you can use to upgrade or fix your car and you can play without looking at ads. Sounds reasonable, doesn't it?
The game is definitely fun but you have to be really careful when driving or you will often find yourself crashing into walls, other cars etc. When you do crash a nice-looking female officer will give you a ticket; moreover your car takes damage but it can't go lower than 10% percent. Strangely enough no damage is seen in the game and going lower on the percentage does not affect how your car behaves.
Dr. Parking is definitely a nice time-killer and the game can be played anywhere anytime. It does not tax your device as it requires just 5.2 MB of space but despite the small file size the game comes loaded with nice graphics and sound, so being in the top Google Play games does not seem so unexplainable.
You can get the game here: Dr. Parking
Happy driving!
Source: Google