Freecom, a company active in the external hard drive business, has announced a rather unusual product – an external portable hard drive that comes in a square form factor.
The new product differs from the usual rectangular form of hard drives but still comes in the well-known 3.5-inch form factor. Called Hard Drive Sq (from Square) the hard drive is specifically designed for use with notebooks, PCs, Smart TVs and digital video recorders.
On the outside the new Freecom product comes shielded in a plastic chassis with a thin metallic coating that protects the drive from damage and scratches.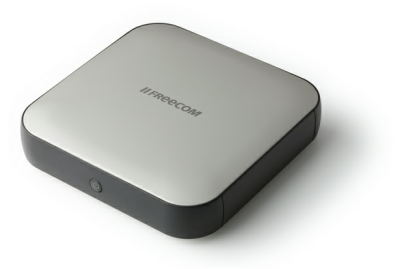 The Freecom Hard Drive Sq uses USB 3.0 for connectivity and thanks to the new USB standard the data exchange speed reaches 150 MB/sec. Available in 1 TB, 2 TB and 3 TB capacities the new drive is also backwards compatible with the USB 2.0 interface.
In Europe the 1 TB model will sell for 160 EUR, the 2 TB drive will cost 190 EUR, while the most spacious 3 TB version will retail for 250 EUR.
Source:  Videoaktiv.de