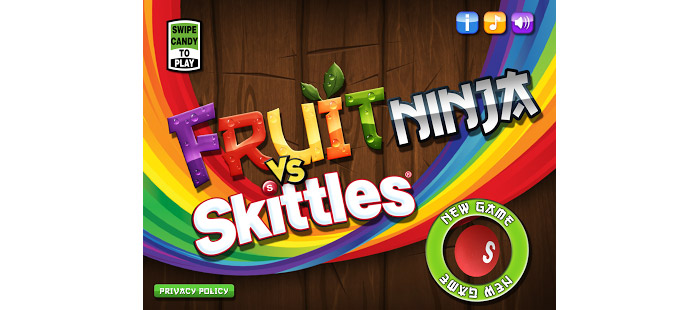 Fruit Ninja vs Skittles is a simpler version of the popular Fruit Ninja app that makes you slice various fruits while avoiding bombs that kill you. The new game offers one mode only but this does not make it boring in any way – instead it offers some fresh ideas that make the game play fun!
The app has you cutting fruits but every once in a while you also get flying Skittles candy that you must cut in half as well. The new thing here is that there is special Skittles candy that falls from the sky and it gives you special powers. One type of candy slows down time and when this happens you can cut candy and fruits in slow motion, which gives you more time to do so and better accuracy. Another type of special candy doubles points. In addition during such periods of time you get no bombs! The goal is quite simple – make as many points as possible.
Unlike the original Fruit Ninja bombs here do not kill you. Instead they take 100 points off for every bomb detonated and they also destroy all candy that is on the screen. You get one minute of time per game so games do not last long. At the end of the game and only if you fill the Skittles rainbow with colors a special pińata in the form of a horse shows on the screen – cut it as many times as possible for even more points!
Fruit Ninja vs Skittles is a fun game that offers maybe even more fun when compared to the original Fruit Ninja. Get the game right here: Fruit Ninja vs Skittles.