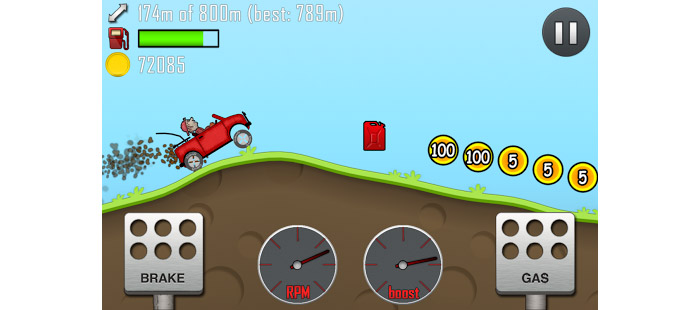 Here's one fun application that will make you use not only your imagination but also your common sense. Hill Climb Racing will make you think, laugh and endure failure – all at the same time and in a fun way!
Hill Climb Racing places you in the boots of Newton Bill, a driver of a car that must complete various distances to earn money and fame, of course. Along the tricky way you will pick up the occasional gas container too that will keep your car running. The real fun is when you drive though – you have break and gas pedals as well as RPM and boost odometers that will tell you how you are doing. The goal here is to cover distances and not get your car overturned – but when you consider the terrain this will be a difficult but fun task. Find out how well you can drive!
All in all Hill Climb Racing is a simple but fun game that will have you smile while you play it. The game is easy to learn and play but make sure you don't get too mad when you overturn your car – and this will happen for sure!
Get Hill Climb Racing on Google Play next time you visit the online store.