IOGEAR introduced a new keyboard called Multi-Link Bluetooth Keyboard with Touchpad which can operate wirelessly with up to six Bluetooth enabled devices, including games consoles, home theatre PCs, and smartphones.
The GKM611B model feature slim and low profile design, a slip resistant base, utilizes Bluetooth 2.0 technology and provides up to 30-foot range.  It has an integrated touch pad with left and right mouse buttons  which allows you to get "rid off" the mouse. It is powered by two AA batteries,  and weighs 1.90 lbs.  Iogear says that switching between devices is done "easily" and once a user switches to the desired Bluetooth-enabled device, custom hotkeys provide even greater convenience with push-button access and management for TV, videos, pictures, music, Internet browser, volume control and more.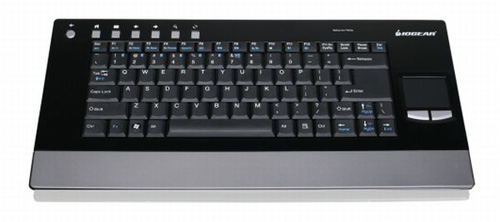 IOGEAR's Multi-Link Bluetooth Keyboard with Touchpad will be shipping late in Q1, 2011 for $79.95.