Monster Digital, a leading innovator and developer of advanced memory and storage solutions, has enhanced its SSD product line with a new SSD series known as "Daytona Series". The company is especially proud of the new line saying it brings leading edge SSD technology to just about any customer. The line is especially suitable for laptops and offers great performance at a lower cost.
The new Daytona 2.5-inch drives are available in 90 GB, 120 GB, 240 GB and 480 GB capacities and offer 550/515 MB/sec of read/write speed and 60K IOPS but the real advantage is their enhanced reliability. Monster Digital says the drives provide fantastic reliability at 2,000,000 hours of MTBF thanks to the absence of moving parts. The company also says the Daytona series is 5 times faster than conventional 7200 rpm hard drives and 10x as reliable.
Monster Digital CEO Jay Tandon noted: "Demand for high-performance SSDs continues to build among today's computer users. Everyone wants faster access speeds, longer laptop battery life and the reliability only SSDs can offer. With our new Daytona Series, we are providing an easily accessible, high-speed option for reliable storage with significantly lower energy consumption and silent operation compared to conventional HDD drives. They are the ideal choice for people who want the very best performance and efficiency. Our new Daytona drives are especially well suited to laptops. If your ultrabook doesn't have a SSD, install a Daytona drive with our upgrade kit today. You'll be amazed at your computer's new performance."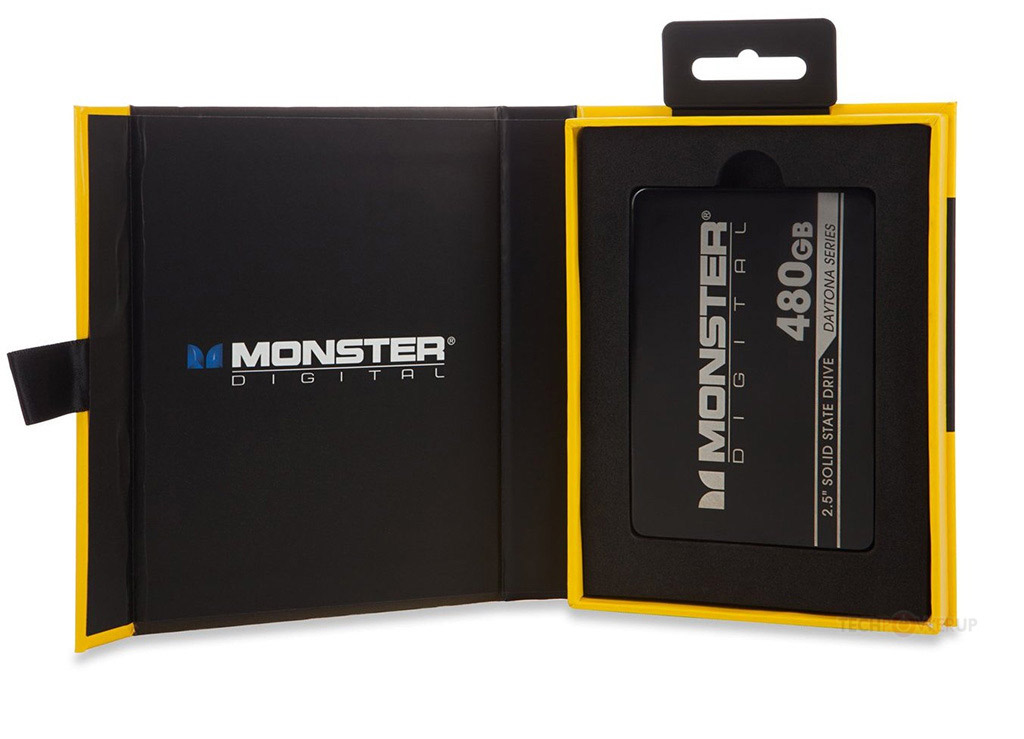 Moreover the new drives come with the do-it-yourself "Easy Installation Kit" that allows you to install the drive at home without need for professional help. The all-inclusive kit contains everything needed to safely, quickly and easily upgrade. The package includes easy-to-follow cloning software, a SATA 3/USB 3.0 adapter, 3.5" drive bay adapter, and quick start guide. It also includes a link to a helpful installation video and even a screwdriver with all the bits necessary to safely and securely install the new SSD drive in just about any computer. Notably, the kit duplicates a computer's existing hard drive onto the SSD, ensuring a seamless transition and an exact clone of all data. The kit will be available at the end of September.
The Daytona drives also boast very low power consumption, a fact that makes them especially suitable for laptops. The drives consume less than 5 watts while operating with idle power consumption of less than 200 milliwatts. There's also 256-bit AES encryption.
The Daytona drives cost 99.99 USD for the 90 GB model, 109.99 USD for the 120 GB model, 229.99 USD for the 240 GB model and 479.99 USD for the 480 GB model. In case you want the Easy Installation Kit then prepare some more cash – it will be available for a suggested retail price of 134.99 USD for 120GB, 234.99 USD for 240GB, and 484.99 USD for 480GB models.
Source: Techpowerup