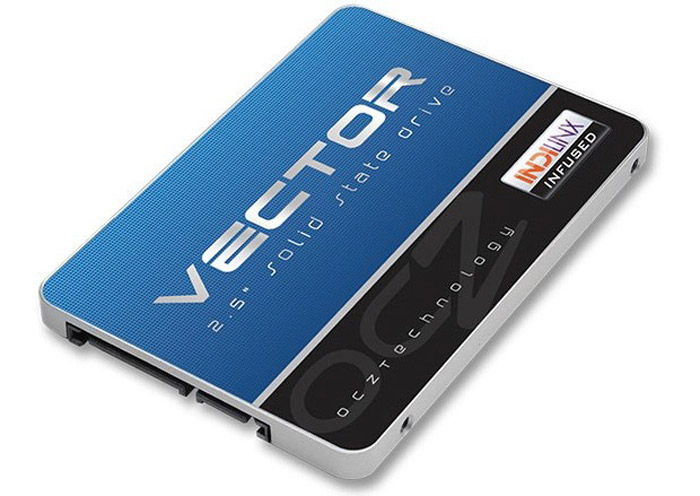 OCZ has announced a new line of solid-state drives that will be known as Vector. The new devices are all based on Indilinx's Barefoot 3 controller and support the SATA 3.0 interface for blazing fast data access speeds.
The OCZ vector SSD drives also offer a form factor of 2.5 inches, just 7 mm of thickness and MLC NAND flash memory – for a total of three capacities – 128 GB, 256 GB and 512 GB. As to performance the Vector line offers 550 MB/sec of read speed and 530 MB/sec of write speed (400 MB/sec for the 128 GB model). The drives also reach 95 000 IOPS of read speed and 100 000 IOPS of write speed (90 000 IOPS for the 128 GB model). The Indilinx Barefoot 3 controller also comes with a smart algorithm that prolongs the drive life (up to 5 years) and reduces drive wear.
"The development of the Indilinx Barefoot 3 controller architecture is a crowning achievement in our company's history, being our first controller silicon and firmware completely designed in-house from start to finish using all of the OCZ technology development teams," said Ralph Schmitt, CEO for OCZ Technology. "These are the first SSD products delivered under the new OCZ and leverages cutting-edge controller technology to deliver a groundbreaking level of sustained performance and reliability for customers seeking a superior SSD for their high performance computing applications."
In case you decide to buy one of OCZ's new Vector drives you will also get an adapter that will allow you to install the Vector drive in a 3.5-inch bay, 5 years of warranty and Acronis's True Image software. Pricing is unknown.

Source: OCZ