US gaming gear company Razer has excited its fans with the introduction of the Razer Deathstalker Ultimate – a new generation of gaming keyboards that packs some really impressive specs and functions in one single keyboard.
The first thing that you will notice in the Deathstalker Ultimate is the integrated LCD panel. Complemented by a touchpad and the custom Switchblade interface, the keyboard offers a number of first time seen functions, which has prompted Razer to call it the world's smartest keyboard.
The Deathstalker Ultimate is in fact a full size keyboard with chiclet keys that support anti-ghosting technology with up to ten simultaneous key presses. The keys' backlight and the five extra macro buttons come in three colors too.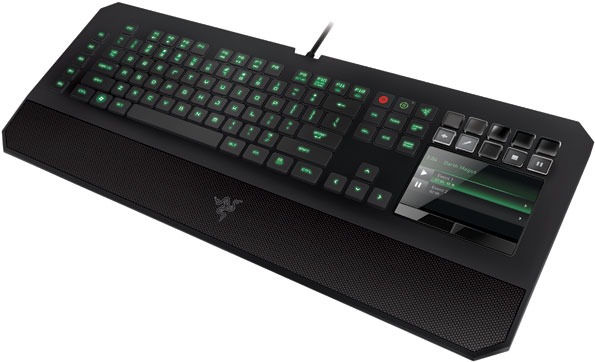 This is all good but the thing that really steals the show is the integrated Switchblade UI. It is located right where the Numpad keys are supposed to be – and in the Deathstalker Ultimate case they are all missing. The Switchblade UI is actually a 4.05-inch display that not only shows information in games but also from Windows applications. The screen can also power its own widgets for e.g. Facebook, Twitter or Youtube, or through a simple press of a button transform into a touch screen for those who wants e.g. gesture control.
"With the Switchblade UI on the Razer DeathStalker Ultimate, we wanted to offer gamers an enriching and intuitive gaming experience built for total game control," said Robert "RazerGuy" Krakoff, VP of Razer USA.
And above the LCD screen you will find ten fully programmable LED keys with 80 Hz update frequency that can show different icons depending on what function you assign to them. This keyboard function can be controlled through the Razer Synapse 2.0 bundled software – and it uses cloud storage, which means you will never lose your settings.
The new Razer Deathstalker Ultimate is a really innovative keyboard but innovation has a price too. The keyboard will cost 249.99 USD when it hits stores this fall. Razer will also be launching a cut-down version of the Deathstalker Ultimate – known simply as Deathstalker. This keyboard will come without LCD and LED keys and this will make it cheaper – the Deathstalker will cost just 79.99 USD.

Source: Nordichardware.com