The Razer Ouroboros gaming mouse was first sighted earlier this year but now Razer has officially unveiled it.
The official and final specs are as follows – the mouse measures 116 x 71 x 42 mm for a total weight of 135 grams (115 grams without batteries) and sports an ergonomic design that includes a black chassis with green lights. Suitable for both right and left-handed users the Razer Ouroboros packs a precise positioning system called 4G Dual Sensor System that provides the impressive 8200 dpi of sensitivity. This gaming-grade mouse sensor combines a laser and an optical sensor to enhance tracking precision and detect surfaces 10 times faster than previous generation sensors. Its dpi clutch lets you temporarily reduce or increase the dpi as you game, so you can go from high-sensitivity assault to more measured sniper, then back to assault again as needed.
"Designed for excellence and total ownage, the Razer Ouroboros was intended to be wielded by all serious gamers looking to win any FPS, RTS or RPG with custom-made dominance," said Robert "RazerGuy" Krakoff, president of Razer USA. "We are proud to introduce it as Razer's first gaming mouse that features optimized, customizable, ambidextrous ergonomics that better fit the curvature of any and every hand size and personal grip style by delivering ultimate comfort, control, power and built-in intelligence to ascend to gaming immortality."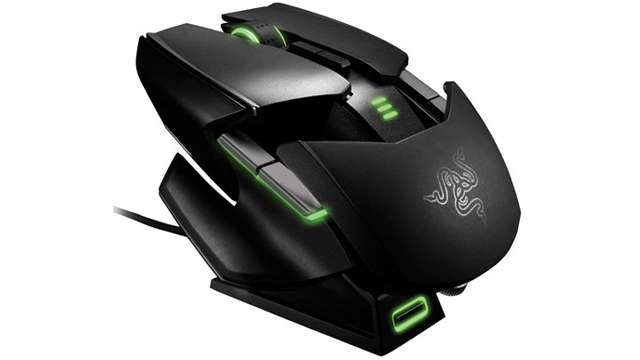 The Razer Ouroboros also thinks of any gamer out there featuring a design that can be easily adjusted to fit your hand in the most comfortable way possible. During design tests Razer scientists discovered three main factors in design – length of the mouse, back arch and grip profile. This is the reason why Razer Ouroboros comes with an adjustable palm rest capable of moving up to 0.9 inches (around 20 mm) to fit better varying hand sizes.
In addition the Ouroboros comes with two interchangeable side panels for altering the footprint of the mouse to suit claw, palm or hybrid grip styles, and it has an adjustable back tilt angle to ensure palm support for gaming comfort and endurance. Powered by a single rechargeable AA battery, the Razer Ouroboros ensures a minimum of 12 hours of drag-free, lag-less play.
The Razer Ouroboros will become commercially available in Q4 2012 for a price of 129.99 USD or 129.99 EUR depending on where you live.
Source: Tech2.in.com