The Chinese company RunCore, known for its storage devices and mostly SSDs, has announced a new SSD series that will carry the Pro VI moniker.
The 2.5-inch RunCore Pro VI SSD series comes in a very thin chassis – just 7 mm – and has been primarily designed for use in ultrabooks. Despite the small measures the SSDs boast high read and write speeds that reach 550 MB/sec and 380 MB/sec respectively. As to the IOPS (Input Output Operations per Second) the Pro VI series reaches 80 000 IOPS while reading and 60 000 IOPS while writing.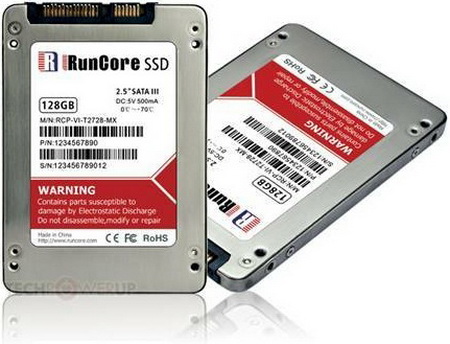 The drives also fully support SATA 3.0, the so-called Wear Leveling technology that increases storage safety and prolongs drive life and 32 MB of cache. ECC is also present.
Capacity-wise the new RunCore Pro VI series will range from 32 GB to 512 GB. Pricing and availability are unknown.
Source: HWP.ru