SanDisk has proudly presented the company's fastest USB 3.0 flash drive to date. Sporting complete USB 3.0 support the SanDisk Extreme USB 3.0 flash can write and read data at speeds that reach 190 MB/sec. Such speed will allow you to transfer a 3 GB file in 20 seconds or a 40 GB file in just four minutes, not to mention smaller files that will be transferred almost immediately.
"Whether consumers are seeking super-fast transfer speeds, maximum storage capacity or a stylish fashion statement, we offer a drive to meet their needs," said Bob O'Keefe, vice president, retail marketing, SanDisk. "SanDisk pioneered the USB drive and now offers one of the broadest line-ups in the industry, with a wide range of form factors and reliability that consumers can count on to store their important files."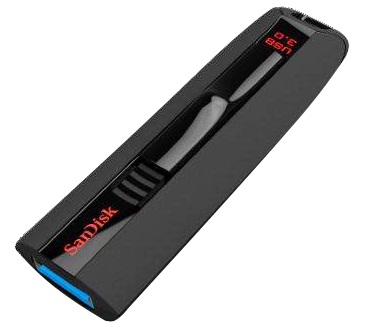 The SanDisk Extreme USB 3.0 flash drive is available worldwide now and comes with a 3-year warranty. The drive is available in capacities from 16 GB to 64 GB and costs between 64.99 USD and 159.99 USD depending on capacity.
Source: Legitreviews