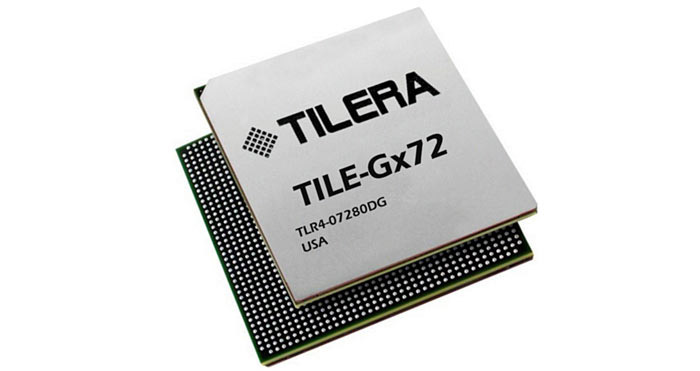 Tilera Corporation has announced a new chip that will power the next generation of cloud, network and multimedia infrastructure – please meet the Tile-Gx72 processor.
So far so good but the really unusual thing about this chip is that it comes with no less than 72 processing power-efficient cores. Each three-issue superscalar core has its own L1 and L2 cache for a total of 23 MB of on-chip cache and there's also support for virtual memory, 64-bit extensions, iMesh two-dimensional interconnect, DDC distributed coherent cache and TileDirect direct-to-cache I/O. Furthermore the Tile-Gx72 has eight 10 Gb/s Ethernet ports that can be configured as thirty two 1 Gb/s ports as well as six PCI-E ports with 24 lanes for SerDes.
As any CPU out there the Tilera Tile-Gx72 chip has four integrated DDR3 memory controllers with ECC memory support and a massive number of I/O capabilities.
Tilera, however, failed to disclose the price of the Tile-Gx72 but given its capabilities, the chip isn't going to be cheap. The market availability date was also not announced.
Source: Tilera