Wix.com offers a range of interactive web designs, drag-and-drop features and user-friendly tools. Being regarded as one of the best website builders by publications such as Forbs, CNN and The New York Times, the cloud-based web development platform is a real game-changer. The number of people who have decided to trust and rely on the top-of-the-line Internet services of Wix has grown exponentially since 2010. Having more than 70, 000, 000 users, the site is the ultimate example of how things should be done. In its attempt to give customers the experience and results they want, Wix.com successfully deals with variety, quality and value.
Web Development Technology
Starting with Adobe Flash technology, the site moves to HTML5 web development technology later on in 2012, offering users bigger choice and development comfort. The HTML5 website builder combines interaction, creativity and ease of use. Additionally, it provides with a venue for experimenting with titles, content, pictures and much more. It includes graphics, fonts, layout tools, image galleries, apps, domain hosting and other management, design, development and marketing applications. The visual richness just pleases the eye. What is more, users are enabled to try out on their own and build their website from scratch. Using either applications by Wix or third parties, customers are enabled to bring fresh characteristics to their website which can differentiate it from any other. Integrating more functionalities like forums, contact forms, e-commerce and plug-ins is yet another advantage of choosing this particular platform. The options are merely countless.
How does it work?
Getting started with Wix is easy and it does not require previous experience with similar platforms. It is perfect even for people who are jut discovering how to use the Internet space. The simple to read and understand instructions guide people through all development phases and steps. Precisely, all you need to do is registering by entering your email. And nothing else. After creating an account, a window shows up. It introduces you to a choice of different site types and templates. When you get access to the online Wix Editor, you are enabled to edit, alter, fix and recreate your page. Using the platform gives you a feeling of limitlessness. You can drag an element from one place to another. You can arrange and rearrange, position and reposition. There is a snap-to-grid which makes sure that all elements are symmetrically put. In case you want to benefit from a custom URL, custom icons, a Web store and no Wix ads, you will have to create a paid account. The prices for such accounts range from $4.08-per-month to $24.90-per-month for a VIP plan. The latter is comprised of shopping card, priority support and enough storage space of 20GB.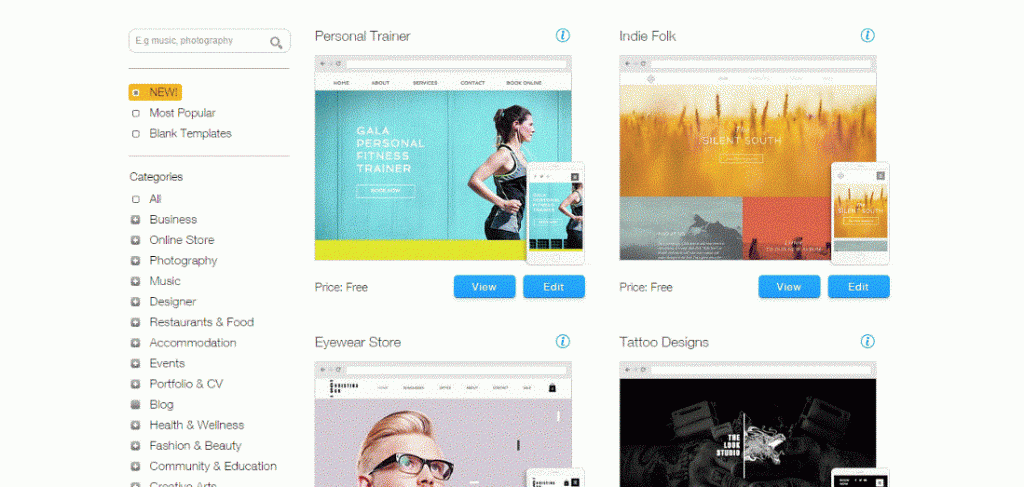 Based on personal experience, Wix.com enables users to create attractive and professional-looking websites without difficulties. There is plentiful choices in terms of templates, tools, functions, apps, graphics, images and so much more. The more you dig, the more you will find and the more delighted you will be. The best part about it? After a while, using the platform becomes intuitive.