Seiko Epson Corporation  and Infineon Technologies, today announced the successful development of the next generation of advanced global positioning system (A-GPS) technology. XPOSYS(TM), the new GPS single chip design, is optimized for mobile devices for the consumer market; especially cellular phones with navigation features.
– Highest Sensitivity, Halved Power Consumption and Smallest Footprint



Compared to existing solutions in the market, the XPOSYS manufactured in a 65 nanometer process will provide increased performance and new levels of user experience. Sensitivity has been increased from -160dBm to -165dBm – unique in today's positioning technology – allowing for pinpoint positional accuracy even when indoors or in urban canyons. Furthermore, power consumption has been reduced by 50%, increasing the battery life of products in which it is included. The footprint has been reduced to fit into a printed circuit board (PCB) area of only 26mm2. This is 25% less than the smallest GPS chip solution available today and provides, together with only 9 external passive components, design flexibility and substantially lower system cost for device manufacturers.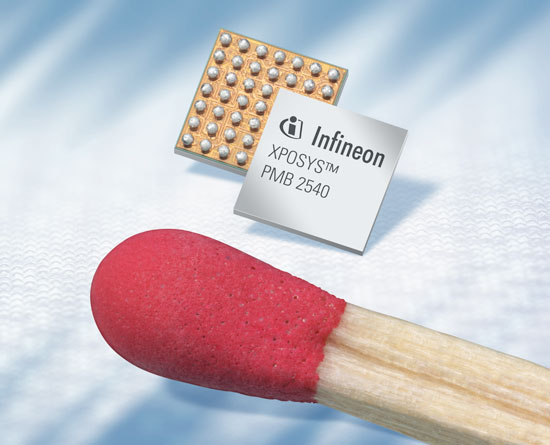 "We're very excited about this cooperation, which matches our GPS baseband IP with Infineon's number one radio frequency design," said Yutaka Kitazawa, Head of Epson's GPS Business Development Division. "We're convinced that this partnership between two great companies with excellent technologies enables us to offer best-in-class solutions for the worldwide GPS market."
"We are honoured to have such a strong partner with us. This is a perfect symbiosis, with Epson offering one of the best GPS baseband solutions worldwide, long term experience and the leading position in the Japanese domestic market," said Weng Kuan Tan, Vice President and Division President for the Wireless Division at Infineon.
Market forecasts by leading analysts predict strong growth of GPS features in mobile handsets, in addition to portable navigation devices (PNDs) and automotive embedded devices. According to market researcher iSuppli, the GPS penetration in handsets will rise from the 2008 level of 19% to 35% by 2012. In unit terms, this translates into 238 million GPS-enabled mobile handsets in 2008, rising to 543 million units in 2012. In addition, portable navigation devices (PNDs), automotive systems and vehicle-device solutions are gaining popularity. Strategy Analytics is forecasting PND sales to exceed 100 million units by 2013 globally.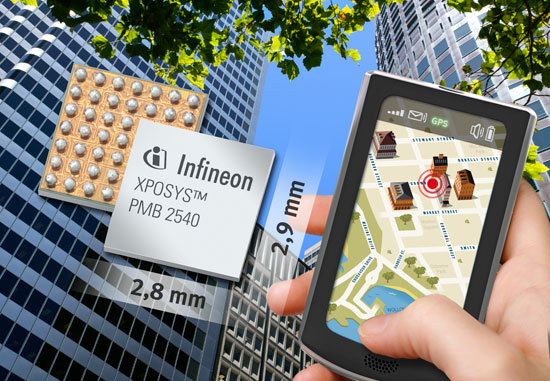 Availability
Samples are available now. Volume production is expected to start by mid-2009.
About Infineon
Infineon Technologies AG, Neubiberg, Germany, offers semiconductor and system solutions addressing three central challenges to modern society: energy efficiency, communications, and security. In the 2007 fiscal year (ending September), the company reported sales of Euro 7.7 billion (including Qimonda sales of Euro 3.6 billion) with approximately 43,000 employees worldwide (including approximately 13,500 Qimonda employees). With a global presence, Infineon operates through its subsidiaries in the U.S. from Milpitas, CA, in the Asia-Pacific region from Singapore, and in Japan from Tokyo. Infineon is listed on the Frankfurt Stock Exchange and on the New York Stock Exchange (ticker symbol: IFX).
Further information is available at www.infineon.com