iPod Touch has been introduced by Apple, equipped with the amazing iPhone 4 features like Apple's crisp Retina Display, FaceTime Video Calling, High Definition Video Recording, A4 Chip, 3-axis gyro, Apple's iOS 4.1 and a Game Center. Being the thinnest and lightest iPod Touch ever, it also features forty hours of battery life while playing music, and seven hours of battery life while playing video footage.
"We've put our most advanced technology inside the iPod touch," said Steve Jobs, Apple's CEO. "Whether you're listening to music, playing games, making FaceTime video calls, browsing the web, capturing HD video or watching TV shows and movies, the iPod touch with its Retina display, A4 chip and 3-axis gyro is more fun than ever."
The iPod Touch is equipped with Apple's advanced Retina Display which has a resolution of 960 x 640 pixels, making games, videos, text and images look smooth and realistic.
The iPod Touch now has a front-facing camera and an integrated microphone to make FaceTime video calls over wireless internet possible. iPod Touch and iPhone 4 users can share video calls by one tap of the FaceTime application.
The rear-facing camera now offers high definition video recording. Recorded High-Definition video can be sent via e-mail or YouTube after being recorded. The iMovie application allows consumers to edit captured video footage and add dynamic effects.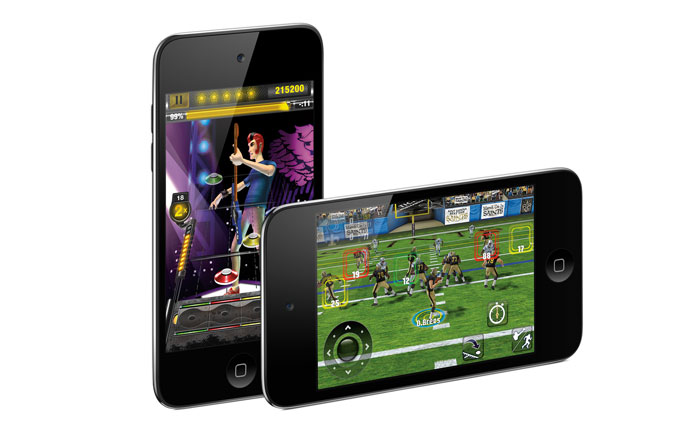 The included Apple A4 chip provides the consumer with an exceptional processor and graphics performance power, along with the long battery life mentioned earlier. The 3-axis gyro combined with the advanced technology of Apple makes on the iPod Touch the best they have ever been on any other mobile device.
The for iPod Touch Game Center allows consumers to challenge any friends on a match, or be automatically transferred into a random opponent match. Over 65,000 game and entertainment applications are available on the App Store for the iPod Touch.
iTunes Ping can be accessed with easy by music lovers directly from their iPod Touch, allowing them to follow favorite artists and discover the music their friends are talking about or listening to.
The newest version of the Apple iOS is version 4.1, and is the most advanced mobile operating system yet, enabling multitasking, folders and Game Center.
The iPod Touch by Apple will be available for purchase next week for the price of $229 for the 8GB model and $299 for the 32GB model, while the 64GB model is priced at $399 on the Apple Store.