Olympus Corporation commenced international sales of the 38DL PLUS Ultrasonic Thickness Gage. This new device offers the ability to inspect object without the need for destruction or disassembly. The nondestructive testing device will go on sale in Japan in the fall of this year, 2010.
The ultrasonic thickness gage is used to determine the thickness of the selected object or objects by emitting and measuring the time required for ultrasonic waves to bounce back. The device is used to inspect products made from plastic, metals, glass, composites and various other materials.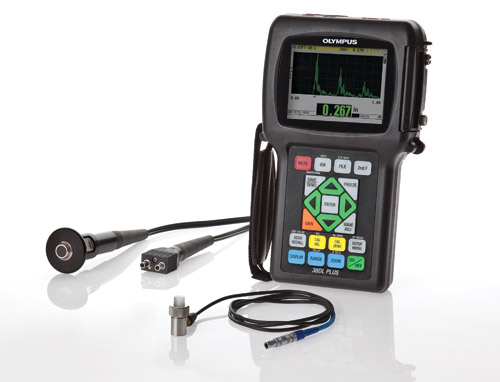 The existing thickness gage devices that are already manufactured by Olympus have been designed for a specific range of applications. This means that every device has its own type of inspection. The new 38DL PLUS offers users to configure this single device to carry out a very wide range of inspection tasks by purchasing software for additional capabilities. This includes thickness measurement at resolutions of up to 0.001 mm, or the ability to take simultaneous thickness reading of individual layers in multilayered materials.
The new 38DL PLUS Ultrasonic Thickness Gage can be also used with confidence in a wide range of weather conditions and under harsh site conditions, thanks to the various durability standards that it is designed to meet.