Pocket Radar™, the world's first and only palm-sized speed radar device that puts consumers in the action, has been named one of 2010's top new consumer technologies by the Consumer Electronics Association. The announcement came earlier today at the 2010 International Consumer Electronics Show's (CES) New York Press Preview, the annual sneak peek of the hottest new products and upcoming technology trends held in New York City.
Selected as a 2010 Innovations Design and Engineering Award Honoree in the highly competitive personal electronics category, Pocket Radar's sleek, compact, palm-sized, ultraportable design, combined with break-through speed radar technology and point-and-shoot functionality, provides users with extremely accurate, real-time speed measurements of moving objects with the touch of a button.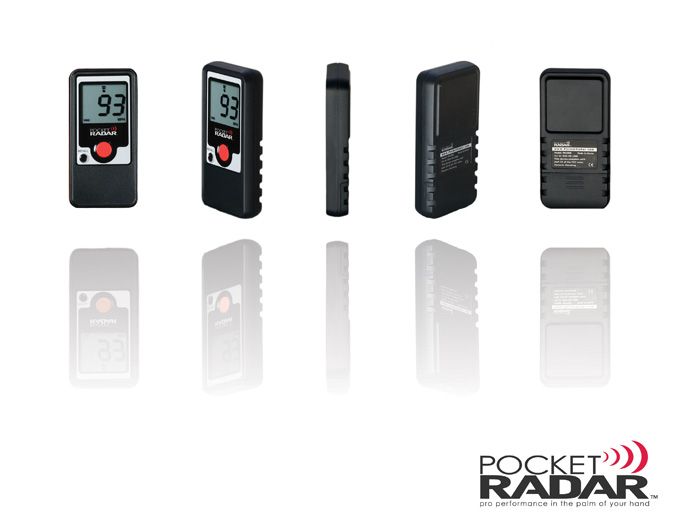 "Pocket Radar's design and technology is ushering in a new era in speed radar technology as its small size, light weight and extremely accurate speed measurements transforms the way in which players, coaches, fans and everyday consumers experience the action," said Steve Goody, Pocket Radar's CEO and cofounder. "In creating the world's most compact speed radar device, all aspects of Doppler radar technology have been re-assessed, re-engineered and re-built to achieve a revolutionary break-through that delivers full-sized performance in the palm of your hand."
Using proprietary digital signal processing algorithms and state-of-the-art intelligent target acquisition techniques to provide users with industry leading accuracy and speed measurement detection across all ranges, Pocket Radar sets a new standard for performance. Designed to be used by both professionals and everyday consumers in a wide range of applications, from coaches clocking baseball pitch speeds, to athletes seeking improved performance, to NASCAR® racing fans looking to enhance their viewing experience and become part of the action, Pocket Radar forges a new standard in speed radar performance.
Pocket Radar utilizes a Doppler radar signal detection and processing system coupled with re-engineered microwave and antenna components to deliver the same powerful performance of traditional bulky radar guns, in a device compact enough to easily fit into a shirt pocket. Accurate to within 1 mile per hour, Pocket Radar is able to take 10,000 speed measurements using one set of AAA batteries. Its small size and easy-to-use point-and-shoot functionality means that Pocket Radar users can get right to the action, while others are still setting up and turning on their traditional, bulky radar speed guns.
Set to be on display at CES Unveiled on January 5th, 2010 in Las Vegas, Nev. and at booth #13148 during the 2010 International Consumer Electronics Show, January 7 – 10, Pocket Radar will be available to consumers beginning Spring 2010. For more information on Pocket Radar, visit www.PocketRadar.com.
Source: PR-Inside