Verbatim, a Mitsubishi Chemical company, will use advanced materials technology to deliver commercial and domestic LED lighting that gives users more control over quality of light. The company is expecting to market lamps with a near-daylight colour rendering index (CRI) of 98 during 2011.
Verbatim LED lighting, sometimes known as solid state lighting, will be available in wholesale and retail outlets throughout Europe by the end of 2010. Initially, the company plans to sell lamps with many of the most common shapes and base fittings including A-lamps, candle lamps and directional MR16s, with a choice of E14, E27, GU5.3 and GU10 bases to follow later. The products will be suitable for direct replacement of incandescent and halogen lamps. Typical energy savings will be 80%, compared with conventional lighting, and the products will have much longer life of around 35,000 hours, equivalent to 10 years at 10 hours per day, depending on operating conditions.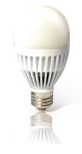 The first family of lamps will be based on a blue light-emitting chip LED technology. They will be competitively priced, available in cool and warm white, and have a typical colour rendering index (CRI) similar to that of other products currently in the market. The next generation of lamps, planned for 2011, will use a violet light emitting chip with red, green and blue phosphors. These products, also in warm white, will offer further improvements in CRI with a typical average value of 98. This is very close to natural light. Verbatim's parent company, Mitsubishi Chemical, manufactures both phosphors and LED chips and has decades of experience in these technologies.
The company is working with partners to develop complete lighting solutions that include fixtures and electronic control of both brightness and colour rendering through simple, user-friendly interfaces.
Gary Milner, President, Verbatim EUMEA: "However energy-conscious they are, people will not buy lighting that compromises the quality of their work or home environments. Our goal is to provide competitive low energy lighting that is indistinguishable from incandescent lighting in terms of colour rendering, where that is the consumer preference. We'll also develop a family of tunable products that make lighting adaptable to suit the mood that users want to create."
Source: Verbatim