BFG Technologies®, Inc., the leading North American and European supplier of advanced NVIDIA-based 3D graphics cards, power supplies, and the Phobos™ High-Performance Gaming/Home Theater System, announced the BFG GeForce® GTX 275 OC™ graphics card that offers outstanding PC gaming performance and advanced processing power in other applications from which even non gamers can benefit.
The BFG GeForce GTX 275 OC with CUDA™ technology provides superior gaming performance as well as advanced GPU computing performance for everything from video transcoding to video and photo editing. Whether it's transferring HD videos in minutes to your portable video player using the Badaboom™ Media Converter, "upscaling" standard definition movies to near HD quality with Arcsoft SimHD™, or rapidly editing digital photos using Adobe CS4™, the BFG GeForce GTX 275 OC graphics card does it all with outstanding performance and reliability.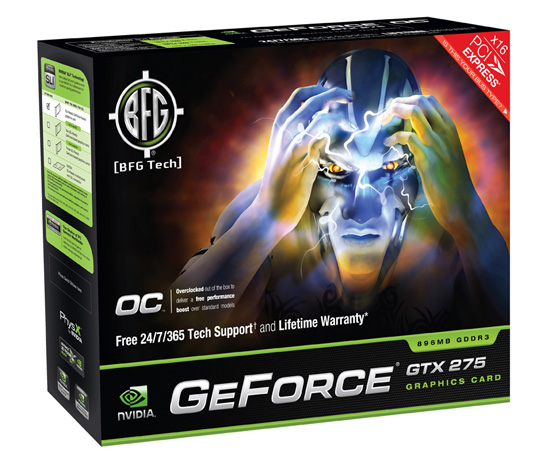 "Graphics cards based on NVIDIA® GPU technology increasingly offer more and more benefits to end users than just better gaming", said John Malley, senior director of marketing for BFG Technologies. "We're really seeing a myriad of new PC applications taking advantage of the GPU's large number of cores. Without the GPU's advanced processing abilities, the CPU's small number of processing cores would struggle to efficiently process the advanced features that these newer applications offer. And consumers can confidently purchase this great new technology from BFG Tech knowing that we offer a rock solid lifetime warranty, free 24/7/365 expert technical support, and a 100 Day Trade Up Program."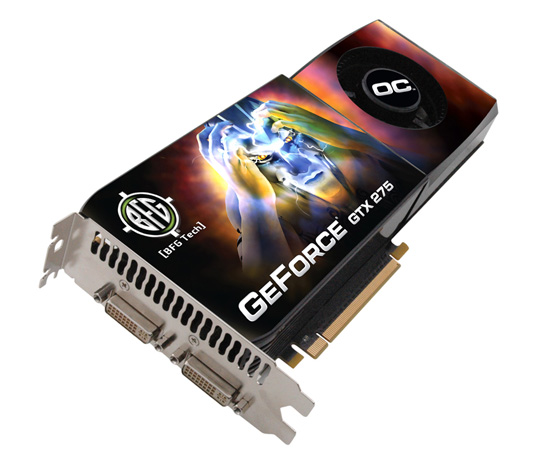 BFG GeForce® GTX 275 OC™ 896MB PCIe Graphics Card with CUDA™ Technology
• Memory: 896MB GDDR3
• Core Clock: 648MHz (vs. 633MHz standard)
• Shader Clock: 1440MHz (vs. 1404MHz standard)
• Memory Data Rate: 2304MHz (vs. 2268MHz standard)
• Processor Cores: 240
Eligible for the BFG Trade Up program
Within 100 days of purchase, the BFG GeForce® GTX 275 OC graphics card can be traded up to a BFG graphics card of greater performance and price, and the customer only pays the difference in price, plus applicable taxes and shipping. Currently the Trade Up program is only available in North America. Learn more at www.bfgtech.com/tradeupprogram.aspx.


Availability
The BFG GeForce® GTX 275 OC graphics card will be available for preorder starting April 2, 2009 at leading online retailers in North America and Europe. Visit www.bfgtech.com for more information.
Source: BFG