The Taiwan-based company Thermaltake has unveiled what it claims to be the world's first gaming mouse that comes with a cooling fan. The so-called Black Element Cyclone gaming mouse relieves "your gaming tension and sweat" thanks to a fan that blows right onto your fingers.
In case you don't feel like cooling your hand you can turn off the fan and unplug it from the mouse, as it is fully detachable. But even when it's there it's hardly noticeable – it generates just 21.7 dB of noise. The cooling fan is not the only perk of the mouse – the Black Element Cyclone also features a 6500 dpi Laser Sensor Engine that ensures you'll get the most performance while gaming.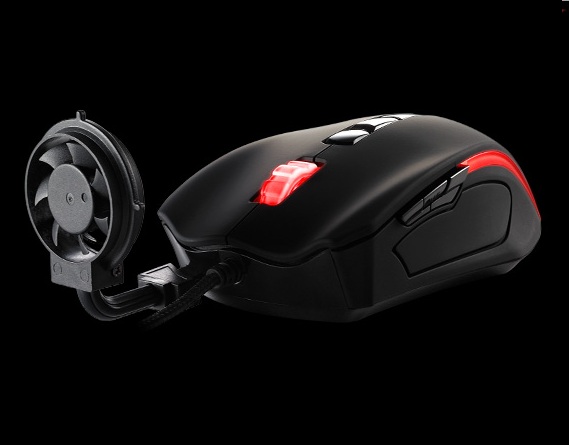 This is not all, however – designed for FPS and MMORPG games the Black Element Cyclone allows the gamer to adjust the weight (just 22.5 grams) of the mouse. In case of need you can remove the integrated 4.5-gram plates from the cover plate that hides itself at the bottom of device.
No information on pricing and availability though.
Source: Gizmochunk