GIGABYTE Technology Co. LTD., a leading manufacturer of motherboards and graphics cards, launched the GIGABYTE Ultra Durable VGA graphics accelerator GV-N250ZL-1GI.
Supporting NVIDIA's latest processors-GTS 250, GIGABYTE GV-N250ZL-1GI features 1GB GDDR3 memory and 128 stream processors to enable gamers to enjoy enhanced gaming performance. In addition, the GV-N250ZL-1GI is equipped with the latest NVIDIA SLI® , NVIDIA PureVideo® HD, NVIDIA PhysX™, NVIDIA CUDA™ technology and Microsoft DirectX 10. Output interfaces support Dual-Link DVI, D-Sub, and HDMI with HDCP. The GIGABYTE GV- N250ZL-1GI gives gamers ultra stable and ultra cool gaming resolutions.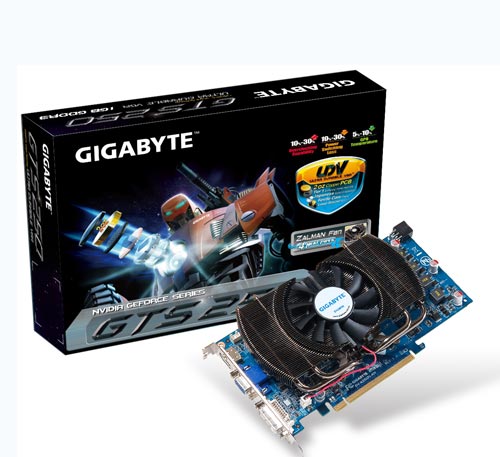 GIGABYTE Unique Technology: Ultra Durable VGA

GIGABYTE GV- N250ZL-1GI features GIGABYTE latest innovative technology-Ultra Durable VGA. GIGABYTE unique technology Ultra Durable VGA features 2 oz copper PCB board, Samsung/Hynix memory, Japanese solid capacitor, Ferrite Core Chokes, and Low RDS (on) MOSFET to deliver incredibly low GPU temperature, unrivaled overclocking capability, low power switching loss, and guaranteed longer life. Compared with traditional graphics accelerators, Ultra Durable VGA graphics accelerators can lower GPU temperature by 5%~10%, lower power switching loss by 10%~30%, and increase overclocking capability by 10%~30%. GIGABYTE Ultra Durable VGA graphics accelerators can provide truly "high-performanced" and "green" graphic card resolutions.
High Gaming Resolution and Dedicate Image
GIGABYTE GV- N250ZL-1GI with NVIDIA PhysX technology provides a new class of physical gaming interaction for a more realistic gaming experience. Via NVIDIA PhysX technology, gamers are able to experience realistic 3D game effects such as complex characters and explosion. NVIDIA CUDA technology further enables the GPU's processor cores to accelerate the most demanding system tasks delivering incredible performance improvements over traditional CPUs. Integrated with unique NVIDIA SLI® Technology, GIGABYTE GV- N250ZL-1GI is able to offer amazing performance scaling for the world's fastest gaming solution under Windows Vista with solid, state-of-the-art drivers. GIGABYTE GV- N250ZL-1GI integrated with NVIDIA PureVideo® HD technology enables gamers to enjoy ultimate HD Movie experience on a PC with HDCP image protection. GIGABYTE GV-N250ZL-1GI supports the latest video output interfaces, including Dual Dual-Link DVI and HDMI, for the highest dual 2560X1600 screen resolution.
GIGABYTE Unique Technology: Ultra Durable VGA 5 High Quality Components

2 oz Copper PCB
2 oz copper PCB board doubles the copper inner layer of pCB board and provides unrivaled performance compared with traditional 1 oz PCB board.
Tier 1 Samsung and Hynix Memory
Ultra Durable VGA promises 1st tier Samsung/Hynix memory built with 100% fully testing
Japanese Solid Capacitor
Solid capacitors contain a solid organic polymer, while electrolytic capacitors use a common liquid electrolyte. Our cards use Japanese solid capacitors made by leading Japanese manufactures and offer better electronic conductivity for unrivaled performance.
Ferrite Core Chokes
Ferrite core chokes are comprised of a compound of iron-oxide whose properties hold energy much longer than common iron-core chokes at high frequency. They are able to store energy longer and prevent rapid energy loss at high frequency.
Low RDS (on) MOSFET
Lower RDS(on) MOSFETs are specially designed to produce lower switching resistance for faster electric current charging and discharging.

For more details of GIGABYTE GV-N250ZL-1GI, please visit the GIGABYTE VGA website:
http://www.gigabyte.com.tw/Products/VGA/Default.aspx